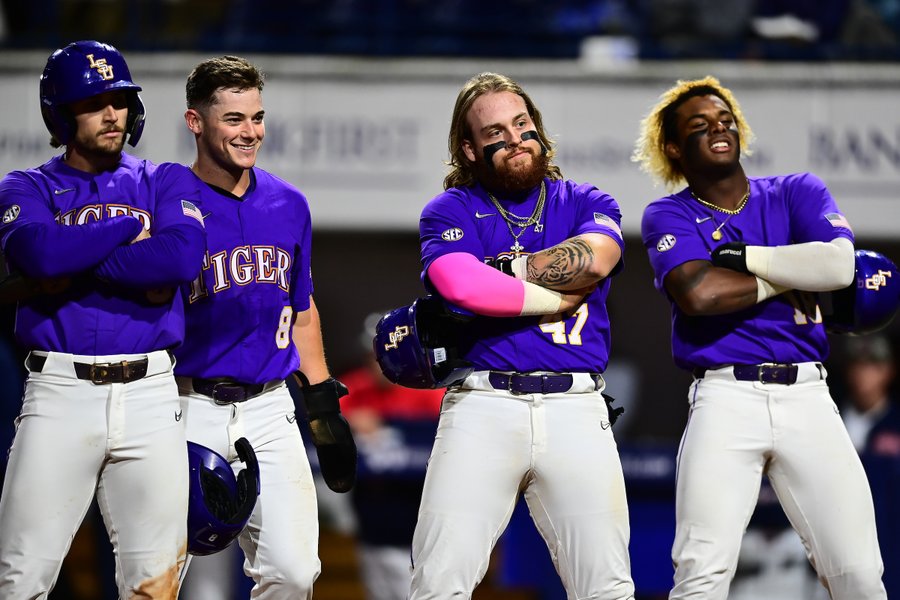 Tommy "Tanks" White paraded through a jam-packed Swayze Field in Oxford on Friday night, took no prisoners, and had at least those clad in purple "Doing The Tommy" while Ole Miss and its Rebel faithful could only watch and lament the wasteland the LSU slugger left in his path.
No. 1 LSU rode White for all he was worth, which proved to be more than enough.
White's fifth-inning grand slam, his third this season, quickly restored LSU to the lead it had relinquished only minutes before in the bottom of the fourth when Will Furniss' 3-run home run off Paul Skenes put the Rebels up momentarily, 3-2.
White's grand slam put LSU back in the lead, 6-3, and the Tigers never looked back, beating the defending national champions, 7-3, in Game One of the Southeastern Conference series.
White's grand slam was not only his team-leading 13th home run, but he also added to his nation-leading RBI total (66).
It should have been 67 RBI by that point, but White's first-inning RBI single – a sizzling shot past Ole Miss shortstop Jacob Gonzalez into left field – drove in Dylan Crews who had tripled off the top of the wall one at-bat before – was inconceivably ruled an error.
Skenes (7-1) picked up the win, striking out 11 in six full innings. He gave up three earned runs on four hits and walked three batters.
Ole Miss (21-17, 3-13) starter Xavier Rivas (5-3) was charged with the loss. He allowed six runs – five earned – on four hits in 4.1 innings with three walks and six strikeouts.
"Anytime you go on the road in this league, you're going to take a punch, and we did, and the response is what I'm proud of," LSU coach Jay Johnson said. "Our hitters continue to take great at-bats and set the stage tonight for Tommy's grand slam.
"It was a really good team win; I thought everybody played their roles in the game really effectively tonight."
LSU grabbed a 1-0 lead in the top of the first when Crews tripled and scored when Ole Miss shortstop Gonzalez was charged with an error on the hard-hit grounder by White.
The Tigers extended the lead to 2-0 in the third when second baseman Gavin Dugas doubled, moved to third on leftfielder Tre' Morgan's groundout and scored on Rivas' wild pitch.
Ole Miss struck for three runs in the fourth when Furniss, the son of LSU legend Eddie Furniss, launched his third home run of the year.
LSU regained the lead in the fifth on White's grand slam to the center-field fence. It was not only White's third grand slam of the year, but LSU's sixth this season.
The Tigers added a run in the eighth when right fielder Brayden Jobert singled, stole second base and scored on catcher Alex Milazzo's single.
LSU freshman left-hander Griffin Herring earned his second save of the season. He worked the final three innings and allowed no runs on no hits with two walks and three strikeouts.
Tommy Tanks knows how to party 🥳@tommywhite44 | SECN+ pic.twitter.com/U6xXLXdBxX

— LSU Baseball (@LSUbaseball) April 22, 2023
Mid 1 | Tommy picks up an RBI to put the Tigers on the board first

LSU – 1
OM – 0
📺 SECN+ pic.twitter.com/vj5cDv5wnQ

— LSU Baseball (@LSUbaseball) April 22, 2023
20 tallies two K's@Paul_Skenes | SECN+ pic.twitter.com/e0r4P9U8sW

— LSU Baseball (@LSUbaseball) April 22, 2023
End 2 | Paul tallies two more K's

LSU – 1
OM – 0
📺 SECN+ pic.twitter.com/u1asTd0bZp

— LSU Baseball (@LSUbaseball) April 22, 2023
Mid 3 | That'll plate a Tiger

LSU – 2
OM – 0
📺 SECN+ pic.twitter.com/3etBUtsBrC

— LSU Baseball (@LSUbaseball) April 22, 2023