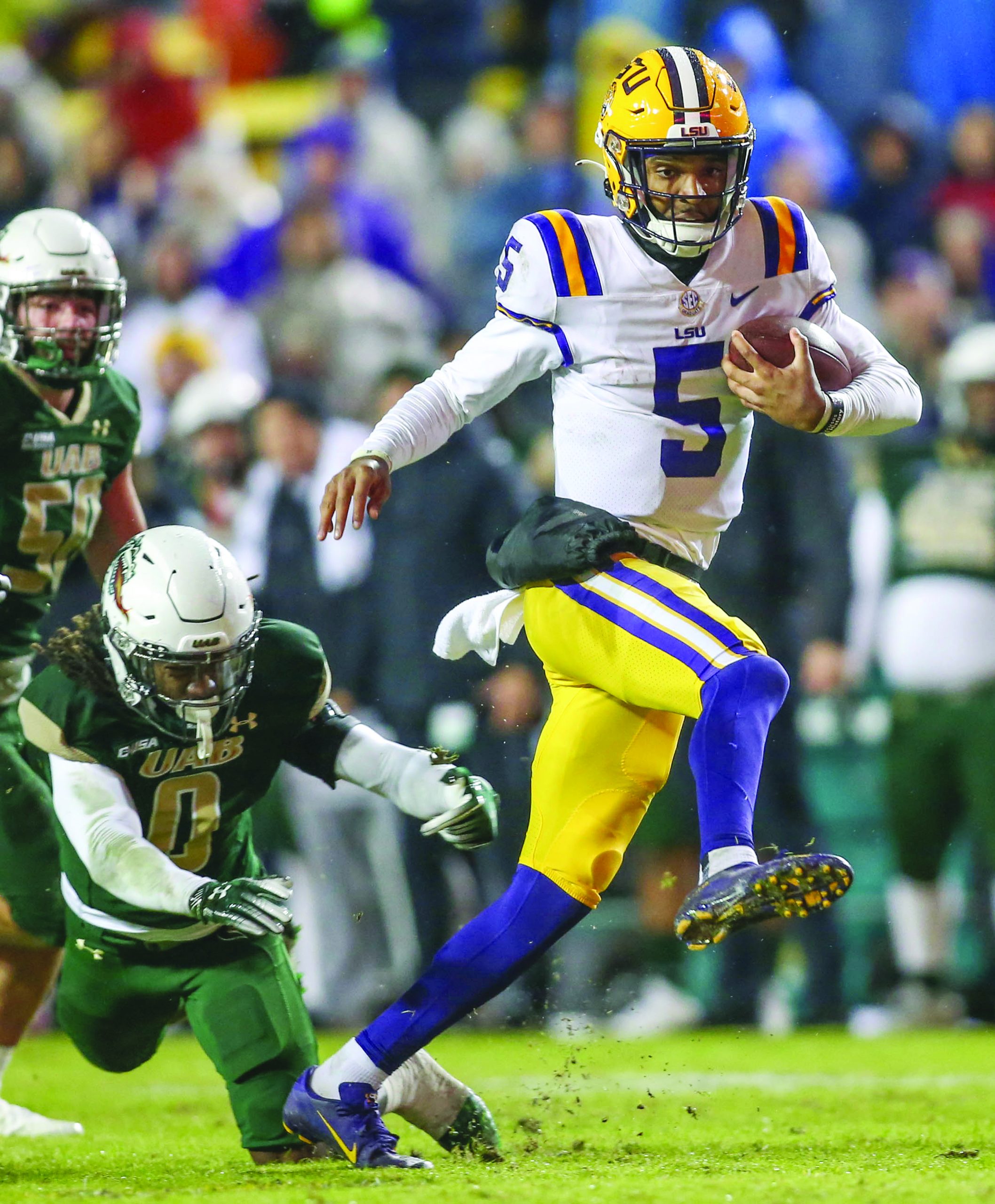 What if Jayden Daniels had never decided to transfer to LSU? He was not going to originally. He almost didn't.
Then, when he did, to the surprise of almost everyone, including his family and friends, the question becomes what if he would not have won the Tigers' starting job?
He wasn't named LSU starting quarterback until starting lineups were announced minutes before the season-opener in New Orleans against Florida State.
And, then, Daniels did not entrench himself as LSU's starting quarterback right off the bat, though there were glimpses along the way of what he could do. Like the 99-yard drive in the final 1:24 against Florida State to pull LSU to within one point at 24-23 and a certain overtime just as soon as Damian Ramos booted the point after – which was blocked.
Turns out, that 99-yard drive he led against the Seminoles provided more than a glimpse of what Daniels would do.
Daniels has one more year of eligibility remaining and decided Dec. 22 to return for the 2023 season.
Can you even imagine the magical season that became LSU's in 2022 without Daniels – the smooth, fast, gliding and electrifying duel-threat quarterback.
He ended up developing a rapport with his receivers, improving as a passer, learning how to read defenses, becoming more patient in the pocket, and leading LSU in both rushing and passing? Through13 games, Daniels rushed for 818 yards and 11 touchdowns. He completed 68.5% of his passes for 2,774 yards and 16 TDs.
Starting at the top, where would LSU have been against Alabama without Daniels – without his 25-yard
touchdown glide on the Tigers' first play of overtime; without his instant-classic slight roll to the right then strike to freshman tight end Mason Taylor at the pylon to complete the successful two-point conversion that sealed the win over Bama, 32-31.
Daniels was not going to transfer from Arizona tate to anywhere originally, much less LSU.
"There wasn't even talk of him leaving internally within the family," Daniels' dad, Jay, told Brody Miller of The Athletic. "Then, in February, he got a call out of the blue."
Just like that, Daniels was entering the transfer portal.
Three weeks later, Daniels committed to LSU and new coach Brian Kelly.
Daniels ended up beating out Garrett Nussmeier to start against Florida State. It was a week-to-week
thing at first.
For the first six games, Daniels looked uncomfortable in the pocket and out of sync with his receivers.
His accuracy was inconsistent, and Daniels consistently failed to take advantage of the one-on-one matchups downfield. He rarely pushed the ball downfield, though dynamic as a runner, but LSU had trouble getting anything going in the passing game.
A lot of fans wanted Daniels benched. But Kelly said Daniels was one of the only things keeping LSU
afloat.
At Florida in Gainesville, Daniels lit it up, passing for 349 yards, and six touchdowns, three passing
and three rushing. Against unbeaten Ole Miss the next week, he accounted for five touchdowns – two
passing and three rushing.
Then came Bama. The rest is history. Another chapter awaits in 2023.