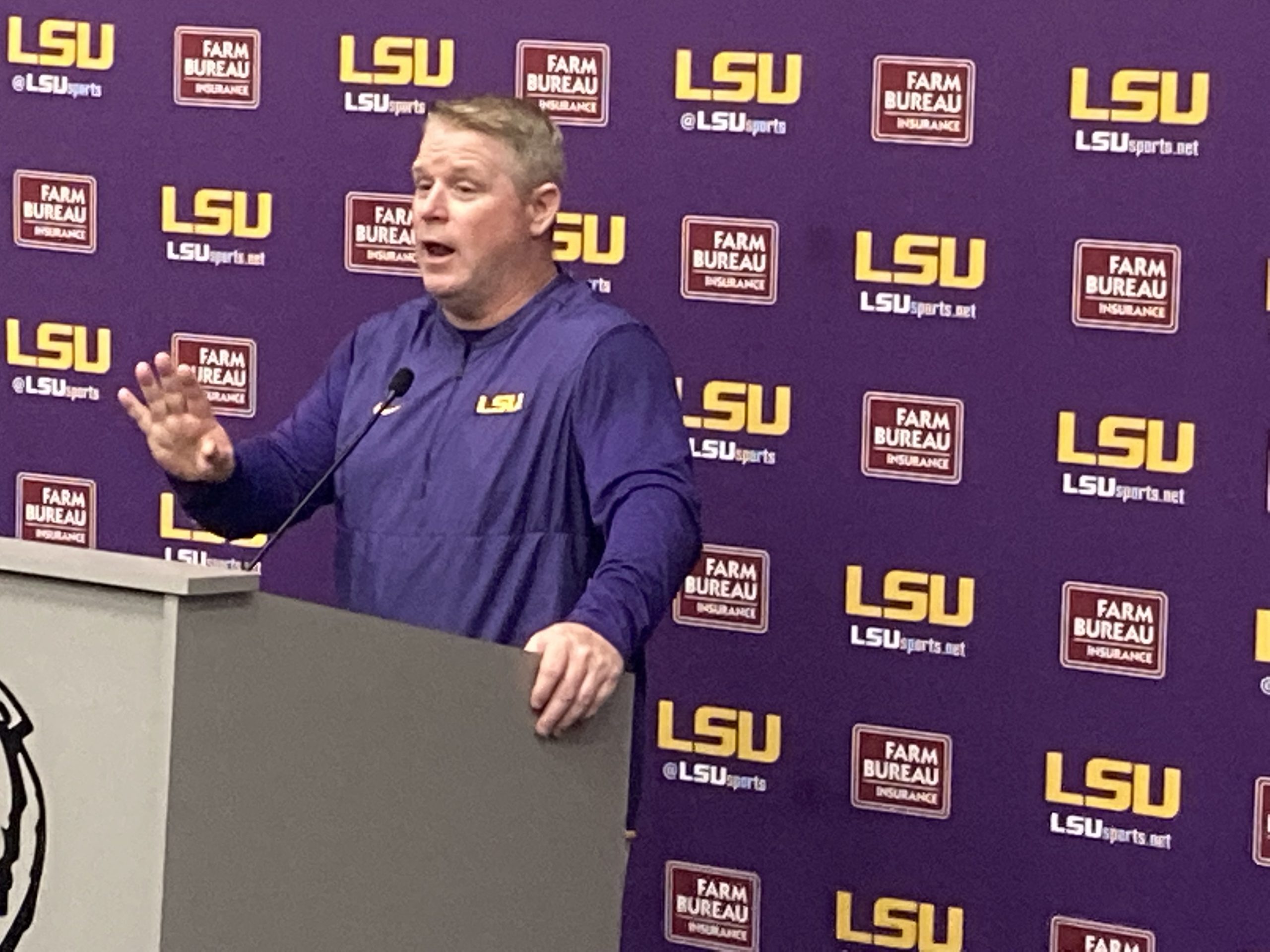 With LSU's Sept. 4 season-opener against Florida State fast-approaching, battles to start at several key positions remain unsettled.
Quarterback is by far the biggest, with Arizona State transfer Jayden Daniels and redshirt freshman returnee Garrett Nussmeier still vying for the No. 1 job.
Kicker isn't far behind.
New Tigers special teams coordinator/recruiting Brian Polian shed some light on that fight, and others, when he met with media members Thursday night.
Here's some of what Polian, who previously was head coach at Nevada from 2013-16 and a special teams coordinator during two stints at Notre Dame and one each at Texas A&M, Stanford and Buffalo, had to say:
* On the kicking situation with LSU searching for a successor to Cade York, a fourth-round selection of the Cleveland Browns in the 2022 NFL Draft:
"The kicker battle is still up in the air.
"I know everybody had high hopes for … (true freshman) Nathan Dibert, but we all have to remember freshmen are still freshmen. It's a quantum leap from high school football in the suburbs of Michigan to Death Valley.
"So, Damian Ramos (a redshirt freshman from Baltimore) has had a fantastic camp. Trey Finison, the (grad) transfer from Northwestern, has had a very good camp. And in the last, probably, 6-to-8 days here, Dibert has really come on here after a little bit of an adjustment period at the start."
Polian said Ramos has 50-to-52-yard field goal range and that he hit a 54-yarder during a two-minute drill in practice last week.
* On punter Jay Bramblett, a transfer from Notre Dame and the lone former Fighting Irish player to join Polian and head coach Brian Kelly in making the move from South Bend to Baton Rouge:
"Jay Bramblett has been everything that we thought he would be in terms of his ability on the field, the job that he's done leadership-wise with our group of specialists, and then I think Jay has had a good presence in the locker room.
"I know that as we have gone through this (preseason) camp there have been some 'firsts' for our football team in the way that Coach Kelly does things. I know that some of the veterans have used Jay as a resource in terms of 'What is Coach looking for here?' and 'What is this that we are doing.' And I think that became valuable in the locker room."
Bramblett was a three-year starter at Notre Dame.
* On backup punter Peyton Todd:
"I will say this: While Jay (Bramblett) is going to be our punter, (redshirt freshman) Peyton Todd has a come a mile from where he was in the spring. He has really had a good camp, and we are very encouraged about his future. I think he's excellent.
"Big, strong guy. When he connects, you can hear it, and his consistency has been much better."
* On the punt return game:
Receiver Malik Nabers, reserve safety/nickelback Sage Ryan and Ohio State transfer cornerback Sevyn Banks have been getting the most work at punt return.
"I didn't know a whole lot about Sage," Polian said with reference to Ryan, a redshirt freshman from Lafayette Christian Academy and the nephew of former LSU and ex-NFL linebacker Trev Faulk.
"Cortez (Hankton, LSU's receivers coach) and I were talking over the summer about possible candidates back there to return punts, and a bunch of guys came to us and said, 'Go back and watch Sage's high school film.'
"He was an electric offensive player. And we put him back there, and he's really a natural at catching."
FUNNY GUY
Polian also brought a little levity to his meeting with media members, including this gem to kick things off: "What do you guys want to talk about? Quarterback? I have no idea."
Another early Polian quip: "I apologize. I've got 'camp voice.' So my karaoke days are over for a while."
WEATHER MAN
Polian – a Brooklyn native whose father is former Buffalo Bills general manager, Carolina Panthers GM and Indianapolis Colts GM and president Bill Polian – even offered some commentary on the weather.
"Nobody told us that there was monsoon season in Louisiana," he said.
"Nobody told me how (it's) hot, and there's never a cloud in the sky, and it goes from 95 to the biggest raindrops I've ever seen in my life in 10 minutes."
MISC.
Polian also said deep snapper Slade Roy, a transfer from East Carolina, "has been awesome." … Core special teams unit candidates, according to Polian, include safety Major Burns; linebackers West Weeks, a transfer from Virginia, along with Kolbe Fields, a transfer from South Carolina, and true freshman Harold Perkins; cornerbacks Colby Richardson, a transfer from McNeese, and true freshman Jaelyn Davis-Robinson; receiver Jaray Jenkins; and running backs Josh Williams and Nick Demas, both of whom started their LSU careers as walk-ons. "Colby Richardson has been great," Polian said. "West Weeks has been fantastic." … Nabers, running back Armoni Goodwin and reserve receiver Evan Francione are the leading candidates to handle kickoff returns, according to Polian. "That has not kind of worked itself out quite yet," he said.