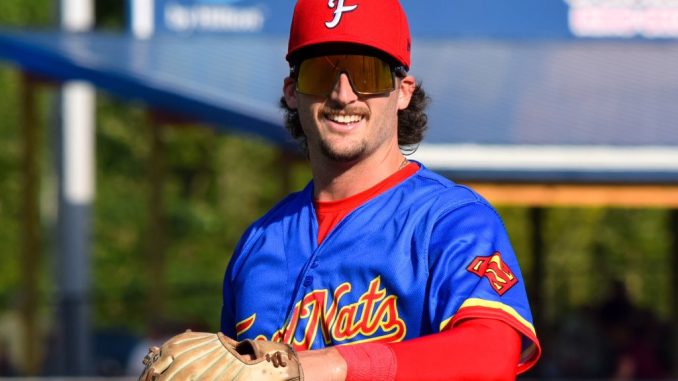 The seventh multi-hit game Sunday for former LSU All-American Dylan Crews was his final one in a uniform of the Fredericksburg Nationals.
Crews, who was 2-for-5 with a double in the Nationals' 7-0 win over the Augusts Green Jackets, was promoted after the game to the Washington Nationals' Double-A affiliate in Harrisburg, Pennsylvania.
Crews, the reigning Carolina League Player of the Week, was the No. 2 overall pick in this year's MLB Draft by the Washington Nationals behind former LSU teammate Paul Skenes of the Pittsburgh Pirates.
The time for Crews in Single-A ball lasted 14 games where the center fielder batted .335 with a .645 slugging percentage. He had 22 hits in 62 at bats, scored 16 runs with three doubles, five homers and 24 RBIs. He struck out 19 times and walked six times.
Former LSU second baseman Gavin Dugas, a sixth-round pick of the Washington Nationals, is batting .148 through nine games in Fredericksburg. He's homered once and driven in four runs.
Harrisburg, which hosts the Reading (Pa.) Phillies on Tuesday, are 22-23 in the second half of the Southwest Division's Eastern League and four games out of first place.