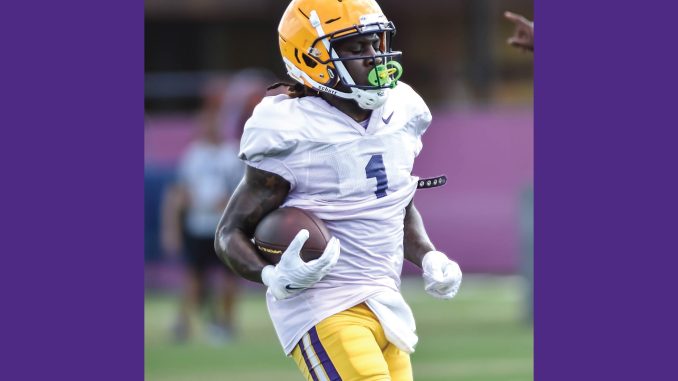 Edna Karr football coach Brice Brown can't wait for the college football world to see this season what he witnessed for four years.
In wide receiver/special teams standout Aaron Anderson, the Cougars had a rare four-year starter that put the world on notice by returning the opening kickoff of his freshman year for a touchdown. He accounted for approximately 85 scores, some in jaw-dropping fashion, during his standout career.
"We knew he was an athlete, but was he that good?" Brown said during an August of Anderson, who had two older brothers that played for Karr. "I said the depth chart's going to change fellas and it changed the first game. It was unbelievable and dynamic. He's always been special. All we had to do was give him the ball."
A five-star wide receiver prospect and state's No. 1 player in 2022, the 5-foot-9, 190-pound Anderson backed off his original commitment to LSU when then head coach Ed Oregon was fired. The Tigers tried to move quickly, hired Brian Kelly in December and by the time he assembled a coaching staff that included ace recruiter and New Orleans-area coaching legend Frank Wilson, Anderson had committed to Alabama.
"When coach Kelly was hired, and coach Frank was brought out they may have had one week left," Brown recalled before the NCAA signing period. "If Coach Frank would had two or three weeks to recruit Aaron, I think it could have gone either way because coach Frank is such a great recruiter. He knows what the players need and sometimes he gives them what they don't want to hear."
For the first time in his playing career Anderson was sidelined with a meniscus tear at Alabama that required surgery. While the Crimson Tide moved on preparing for and playing the 2022 season, Anderson was left to deal with the isolated moments brought on by the rehabilitation process.
Anderson recovered to play in one game against Austin Peay, didn't record any statistics and redshirted.
"That was the first time he had to watch somebody do something he's been doing most of his life," Brown said. "I think it's humbling, I think it put things in perspective for him. He got a chance to get his grades in a great position."
Anderson wanted a change, though, with the opportunity of getting closer to family a driving force in his desire for a transfer. He saw what Kelly and Wilson were able to do in their first seasons at LSU, helping the Tigers to a 10-4 record, SEC Western Division title that featured a 32-31 overtime win over Alabama and a trip to the SEC Championship Game in Atlanta.
Not only was LSU able to provide a program with a track record of stability and an upward trajectory, but the Tigers featured a spread offense that was friendly to playmakers and a special teams unit in dire need of a game-changing return man on both kickoffs and punts.
Anderson will be the team's starter at punt returner and part of a wave of talented wide receivers when No. 5 LSU opens the season against No. 8 Florida State at Camping World Stadium in Orlando at 6:30 p.m.
"He just wanted to get closer to home," Brown said. "It wasn't what Alabama was doing wrong. It had more to do with what LSU was doing right and I think that was intriguing to him. I love how he handled how he left Alabama. It wasn't a long and drawn-out process. It wasn't a bidding war for NIL.
"It was just about wanting to come back home; do you guys want me?" Brown added. "Coach Kelly said yes, and it was done. It wasn't a sweepstakes of what can you do for me. It was more about him wanting to return closer to his family and that was it. He did great at handling that. With this life of NIL, it could have gone the other way. He didn't approach it that way and I think LSU appreciates that."
LSU announced a group of transfer portal signees in December that included Anderson who couldn't wait to get started. Although he played a game for the Crimson Tide and was 100% healthy, Kelly chose not to rush his complete return to the field and held him out of spring practice and the spring game.
The message?
"This is why we appreciate LSU so much," Brown said. "It wasn't about him playing in the spring, it was more about getting him healthy. Even though he wanted to remind people, 'I'm still that dude'. They said to hold on, let's get you ready for the (Sept. 3) Florida State matchup. That's what you really appreciate about LSU and coach Kelly about how he takes care of the players from a mental health standpoint and physical health. My respect for him has grown 1,000%."
During his visits in August to practice Brown saw a different side of Anderson.
"With him in Baton Rouge, we talk to him once or twice a week," he said. "Every time I was at practice, he had a smile on his face, which wasn't always the case when he was in Tuscaloosa. He's in a great space mentally and that's the important thing."
Two weeks into fall camp Kelly acknowledged Anderson's impending imprint on the team's offense and special teams.
"I think as we continue to build this offense, I think you'll see him involved with touching the ball in other areas as well from the backfield and in special teams," he said in August. "He's got speed, explosiveness. He's kind of what we thought he would be."
Anderson's eye-popping resume' at Karr included 74 receptions for 924 yards and 14 touchdowns in '21. He also returned five kickoffs for touchdowns, giving him 20 for his career to go with more than 6,000 yards.
The sight of Anderson playing slot receiver in LSU's offense, coupled with his contributions on special teams that are expected to pump energy into a once lifeless return game, has Brown anxiously waiting to see the results of the player that earned legendary status in New Orleans.
"When the ball's in the air he always sees the ball," Brown said. "He's explosive. His first step is electric, and his start and stop is second to none. He can't wait to be on that stage for the Florida State game to show everybody that yeah, he was a good high school player, but he's going to be a great college player as well. That's what he's focusing on."