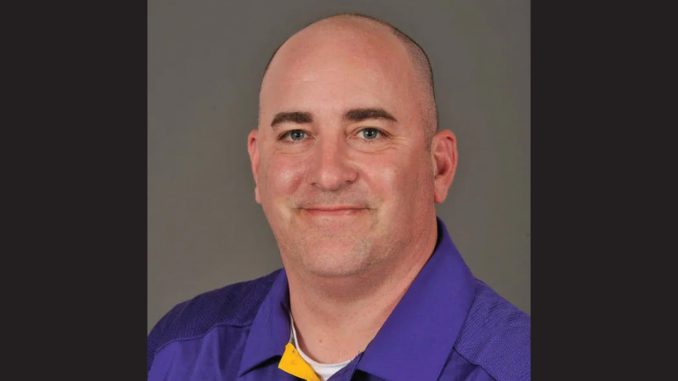 Listen to Chris Blair, the Voice of LSU Football, talk about Brian Kelly and his staff with Louisiana Radio Network's Jeff Palermo and Tiger Rag editor Todd Horne
LSU football has the potential to have another championship run with a talented roster and experienced staff.
In his first season, LSU head coach Brian Kelly, along with offensive and defensive coordinators Mike Denbrock and Matt House, respectively, were part of Kelly's staff that led the Tigers to a 10-4 season and SEC Western Division title.
"Last year I was impressed in the preseason with the systems and how they were efficient," Voice of the Tigers Chris Blair said on the Aug. 29 edition of Tiger Rag Radio. "At the same time, they were still trying to teach the guys and each other some of the staff this is what we do at this time."
LSU began the year with a loss to Florida State in New Orleans, 24-23. The Tigers scored a touchdown on the final play of regulation only to have a potential game-tying extra point blocked.
That did not stop LSU from having a great year.
The team got double-digit wins and beat teams like Alabama and Ole Miss which earned them a trip to the SEC Championship and Citrus Bowl.
LSU is returning much of its team including first-team AP Preseason All-American linebacker Harold Perkins, and second-team AP Preseason All-American selections wide receiver Malik Nabers, and defensive lineman Mekhi Wingo.
"They had all the buy-in, they got continuity with coaches, and continuity with returning players, and I think it's a real thing," Blair said. "I think Coach Kelly is very confident, and I think his best line of the press conference yesterday was that his team has prepared the way he wanted them to prepare."
LSU also has some new faces this season. The running back position includes two freshmen in Kaleb Jackson and Trey Holly and a new transfer in Logan Diggs of Notre Dame, and Kelly had indicated that running the ball is key to winning tough games.
"You kind of expect on Sunday, you'll see a steady rotation of running backs, my guess would be the one that handles pass protection will have the most trust from coach Denbrock and coach Kelly," Blair said.
No. 5 LSU faces No.8 Florida State in a top-10 matchup on Sunday, Sept. 3 at 6:30 p.m. CDT in Orlando. The game is also the only ranked matchup of the weekend.