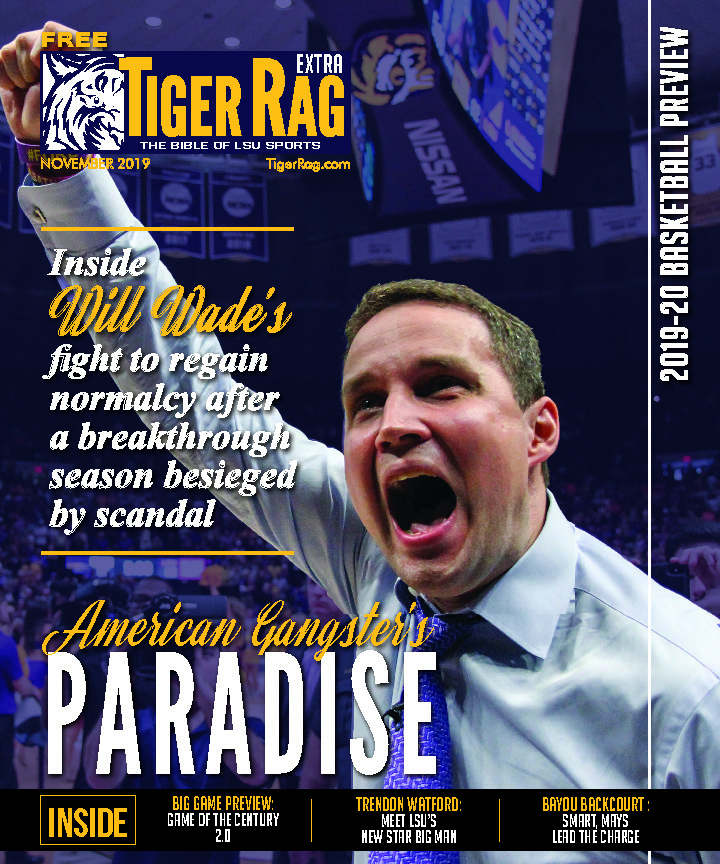 Will Wade's career at LSU hit a major snag when controversy erupted late last season. With the effects of that controversy still lingering, he now looks to find a way to pick up where he left off.
Editor's Note: The following is a story featured in Tiger Rag's upcoming Basketball Preview, on stands now! Be sure to pick one up for comprehensive coverage of the LSU basketball team entering the 2019-20 season.

As fans and media gathered at L'Auberge Casino for LSU's monthly Tip-Off Luncheon on Thursday, March 7, a palpable excitement filled the room.
In just two short seasons, head coach Will Wade had become a local hero taking the Tigers' basketball program from the gutter to the promised land.
Now, the Tigers — fresh off a dramatic overtime win at Florida — sat just one win against a lowly Vanderbilt squad from clinching at least a share of the SEC Championship.
The PMAC began transforming back into the Deaf Dome for the first time in years, parody accounts of Wade had begun infiltrating LSU's corner of Twitter and, at this luncheon, fans approached him while at the buffet to give their abundant thanks for making basketball season more than just filler content between football and baseball season.
But a shoe was about to drop, and he was one of just a few people in the building who knew it.
That shoe was a scathing Yahoo! Sports report sourcing the transcript of a leaked FBI wiretap that implied Wade made a "strong-ass offer" to acquire LSU guard Javonte Smart, and it dropped minutes before Wade was scheduled to speak at this luncheon and field questions from fans.
The news hit a table full of media members first, at which local beat reporters began whispering amongst each other in astonishment about the potential implications for Wade and the LSU basketball program.
While the news instantly set Twitter ablaze, it took a little bit longer for the news to settle in at L'Auberge. Like a politician with nothing to hide, Wade took the stage, mentioning nothing of the oncoming wave of controversy and regaling the crowd jokes about sports information director Kent Lowe's heartrate in a recent overtime victory against Florida and an inspiring anecdote about a Harvard distance runner who recently won an Ivy League Championship with just one shoe.
He spoke at length about what LSU would have to do to succeed in the upcoming SEC Tournament and, subsequently, the NCAA Tournament.
"Since we have the double-bye (in the SEC Tournament), we won't play until next Friday," Wade told the crowd. "Hopefully at noon next Friday if we can win Saturday."
LSU did play at noon the following Friday, but Wade wasn't in attendance.
A day after the Yahoo! Sports report dropped, LSU suspended Wade indefinitely and named then-assistant coach Tony Benford as interim head coach, beginning a 40-day soap opera that began with a PMAC full of angry Tiger Fans paying more attention to the drama off the floor than the game on it and ended with Wade's reinstatement and, relevant or not, the hiring of a new athletics director at LSU.
In an exclusive interview with Tiger Rag, Wade sat down in his office and discussed his 37-day suspension, the impact it has had on him and his team, and the trust he had to re-earn from his athletes as he enters his third season with the program.
WILL WADE NEVER READ the Yahoo! Sports report that led to his suspension. He still hasn't.
"I don't read much," Wade says in his office more than seven months removed from the incident. "I heard some of the quotes and stuff, but I still haven't read the full article."
He has no interest in reading it, either. To him, it doesn't matter. He's a basketball coach doing his job, and in his estimation, he's doing it the right way: legally and in compliance with the NCAA.
But the narrative the report lays out is impossible to completely ignore. Wade allegedly had a conversation with a man currently serving prison time for his involvement in bribing college basketball to influence athletes to sign at particular schools about an "offer" he made to a player currently on LSU's roster.
We don't have the context of this conversation or what details of what the supposed offer could have been, but on the surface, it looks like poison for any NCAA-affiliated program.
Thus, LSU's response.
Wade may not have read the report, but LSU administrators certainly did, and immediately demanded a meeting with Wade to discuss the allegations.
Once Wade, at the request of his lawyers, refused, the university immediately took action and suspended Wade indefinitely while it could investigate and demonstrate "institutional control," a buzz term at times like this for its implications with the NCAA.
Due to the success of LSU's basketball team up to that point, this drew the extreme ire of LSU fans, who viewed the move as a lack of loyalty to a coach that had turned the program into a national competitor.
And they made their ire known.
During LSU's regular-season finale against Vanderbilt, the PMAC turned into something more akin to a rally for President Donald Trump than a basketball game.
They showed up with signs, banners, t-shirts and a litany of chants on the ready, demanding Wade's reinstatement and the firing of then-athletics director Joe Alleva.
According to a tally kept by then-beat reporter Amie Just of NOLA.com, fans chanted "Free Will Wade" 16 times, "Joe Must Go" in reference to Alleva 7 times and "Free Javonte" — referring to Smart, who had also been suspended pending further investigation — 4 times.
Other chants included "Joe is Hiding," "Where is Joe," "Joe's a Coward" and one more referring to Alleva that included an inappropriate four-letter word.
Meanwhile, Wade sat at home screaming at his TV and serving as the nation's most qualified armchair coach.
"I didn't watch the game with the volume on," Wade says. "Obviously, I had people texting me during the game and that sort of thing. I was just trying to focus on what was going on on the court with our team and our players, not worry about all the other extracurricular stuff.
After some further questioning, he carefully continued.
"You know, certainly you feel appreciated, I guess. But, you know, I at that point I was just trying to focus on our team and our players. Also, it was all so new. We didn't know we were going to be settling in for four of five weeks of all that."
LSU did win that game against Vanderbilt to take sole possession of the SEC title. While LSU athletes, coaches and staff member cut down the nets, Wade sat at home, quietly celebrating and looking forward to a postseason he would never coach in.
ONE WEEK WENT BY, and the Tigers lost their opening SEC Tournament game against Florida. While LSU reinstated Smart, Benford remained interim head coach.
Another week goes by, and LSU goes to Jacksonville as a No. 3 seed in the East Region where it defeats No. 14 Yale and No. 6 Maryland to reach the Sweet 16 for the first time since g2006.
While Wade watched Tremont Waters hit a buzzer-beating layup to defeat Maryland in the Round of 32, Alleva told Stadium reporter Jeff Goodman that he wished Wade would come back to the table and discuss the controversy.
"I wish he'd come back and tell the truth," Alleva told Goodman. "Just tell me what went on. I can handle the truth, even if it's bad."
As much as Wade wanted to jump at the chance at telling his side of the story, his lawyers were clear: that was a bad idea at the time.
"It was moving in a positive direction," Wade says. "I can't get into specifics. It's a pretty complicated deal when you get as many people that were involved, it becomes very, very complicated.
"It really was just a matter of it just took a lot longer than everybody wanted it to take. But we were in… well… the camps were in dialogue the whole time. I think, ultimately, everybody wanted to get to a resolution."
Meanwhile, LSU prepared for a Sweet 16 matchup against Michigan State during the third week of the suspension that hung over the program like a cloud during the entire postseason run.
Players were visibly tired of answering questions about their predicament from national and local reporters, and every required media availability justifiably felt like a chore.
Benford, who did not respond to request for comment on this story, remained diplomatic about the situation throughout the postseason. He fielded questions from all angles and consistently put focus back on the game being played on the floor.
But the process was difficult for Wade. He had to watch athletes he recruited and developed play their last game in an LSU uniform from a TV in his house.
Waters, Naz Reid and Kavell Bigby-Williams suited up one final time against an experienced Michigan State squad coached by a Hall of Fame coach in Tom Izzo.
The Spartans jumped out to an early lead and never let the Tigers back in it on their way to an 80-63 victory that ended LSU's historic season in less-than-stellar fashion.
Wade watched his team walk off the floor, knowing he'd likely never coach those three athletes ever again. It felt almost as though he had broken a promise he had made to these players and their parents while recruiting them.
"It was tough," Wade says. "It was tough being away. We're hard on them, but we love them, and we care for them and you tell them during recruiting that you'll be there for them and you'll be around them. When you're not there, it's tough, especially when you feel like you can help them, and you can help the team. When you're not able to do that, it's certainly difficult and not a lot of fun."
Fans were quick to blame Wade's suspension for the loss to Michigan State, but Wade himself is quick to put ideas like that to rest.
He thinks the Tigers entered the game with the right game plan. The Spartans just beat LSU where LSU dared them to beat it.
"You could have had me coaching the team, you could have had Tony Benford coaching the team, you could have had (this reporter) Tyler Nunez coaching the team. It was going to be an uphill climb. The air is a lot thinner when you reach the Sweet 16. It's rare air.
"I thought under the circumstances, we had a great game plan. (Aaron) Henry hit a bunch of shots, and he hadn't hit a bunch of shots. If he shoots his normal percentages, we're in the game the whole time and maybe we find a way to win it at the end. I thought we had the right ideas. Sometimes the numbers just work against you."
WITH THE SEASON OVER, LSU's administration and Wade had decisions to make.
Most members of the national media discussing the situation thought the university would opt to fire Wade, and multiple local reporters had obituaries for his short career ready to publish at a moment's notice.
But Wade was waiting in the wings, confident he'd get a chance to tell LSU his side of the story and regain his job.
On Friday, April 12 — 35 days after LSU initially suspended Wade — the two parties finally met and, according to Wade, hashed out everything about the controversy.
While Wade maintains he's unable to discuss the details of the meeting for legal reasons, things must have gone well, because two nights later, as the world prepared to watch the final season premiere of Game of Thrones, LSU released a rare Sunday-night statement announcing that Wade had been reinstated as head coach.
The reinstatement didn't come without a cost, however. Wade had to forfeit a combined $250,000 of contract bonuses he would have earned for winning the SEC Title and the Tigers' postseason wins, and amendments were made to his contract to limit blowback to the university if this situation creeps up in the future.
If LSU basketball is hit with a Level I or Level II infraction, the university can terminate Will Wade with cause and void the remainder of his $2.5 million-per-year contract without penalty.
Wade quietly went back to work for roughly six weeks without addressing the situation in public before making his first media appearance at the annual SEC Coaches meetings on May 28 in Destin, Fla.
There, national and local media members grilled Wade with a number of questions relating to his suspension and reinstatement, some of which he was happy to answer and others he dodged due to the confidential nature of his conversation with LSU.
One national reporter repeatedly asked Wade if he had been quoted correctly in the initial Yahoo! Sports article citing an FBI transcript, but the interaction ended with both parties frustrated by Wade's inability to elaborate.
Wade knew he was entering a firestorm when he stepped up to the podium in Destin that afternoon. But he also knew it had to be done.
"The reality is, at some point you have to go and face the music," he said. "I'm not one to duck and hide. We could have probably done something here, locally. But I thought the best course of action was we might as well do it (in front of the national media).
To this day, that meeting remains confidential, but he claims that one day he would like to have a heart-to-heart with the LSU fan base and explain everything that went down. But today is not that day.
Coincidentally enough, just days after Wade's reinstatement, news broke that Alleva would step down as the program's athletics director and LSU announced the hiring of Scott Woodward for the position.
Wade's not convinced his suspension and reinstatement had anything to do with the shift in power at the top of the LSU athletics department, and he had nothing but positive things to say about Alleva.
"I will say this, I'm always appreciative for Joe," Wade says. "He gave me the opportunity to come here. He hired me, and he didn't have to hire me here. There were a lot of other candidates for the job here, and he gave me the opportunity to be the head coach at LSU and represent Louisiana and to be a head coach in the SEC.
"While Joe was here, he supported our program. So I'm always appreciative for what he did in hiring us and bringing us here."
UPON HIS REINSTATMENT, WADE'S first order of business was to regain trust. That went for the athletics department, potential recruits and, most importantly, his players.
First on the docket was obviously reconnecting with the players on his roster, which would be way more difficult than any media interaction he'd have as he knew he'd have to answer much tougher questions from his players than any reporter could come up with.
What happened? Are the allegations true? Can I ensure this won't happen again?
Most questions boiled down to one query: Can I trust you?
"The way everything went down, you only get one side of the story sometimes," Wade says. "We had some guys that had some questions. I had to set there and answer their questions and face the music. That's what we needed to do and that's what I did."
Wade immediately set up meetings with his players who were on campus and subsequently met with everyone else over the next week or so.
He quelled any fears they might have and ensured that as long as he was head coach at LSU, he'd have their back.
After ensuring he maintained a solid relationship built on trust with his team, he turned to recruiting, which became a lot more difficult considering the predicament he just exited.
Most importantly, he had to lock down five-star forward Trendon Watford, who had previously been considered a near lock to pick LSU, but in Wade's absence, Memphis and his home state's Alabama began to make inroads during the recruiting trail.
Luckily for Wade, assistant coach Bill Armstrong has been developing a relationship with Watford's family since Watford was a toddler, and when the time came for him to pick up a hat and sign his National Letter of Intent, he ultimately picked LSU.
"We certainly had extra questions to answer, but we addressed all that head on and honestly with everybody," Wade says. "We were honest with everybody. We told everybody what the situation was based on the information that we had, as much as we could tell them. Most people were pretty comfortable after they heard from us."
Wade also says he appreciates the loyalty shown by early signees Charles Manning and James Bishop, who he said easily could have backed out and went to another program
"They had every school in the country calling them when everything happened," Wade says. "They stuck with us."
Wade apparently received an assist from Woodward during Watford's recruitment. After announcing his decision to join LSU's ranks, Watford mentioned that the new athletics director when asked about his confidence in Wade moving forward.
"(Wade) stayed in contact with me the whole time, and his athletics director was behind him," Watford told media in attendance.
In addition to a solid recruiting class, Wade also saw every player he expected (and needed) to return after testing the NBA waters do so, meaning he has an experienced group punctuated with strong freshman talent: a recipe for success in modern college basketball.
His group will be smaller this year, but, frankly, that's more up his alley than the big-bodied, low-post heavy lineup the Tigers ran with last season.
"That's how I've played most of the time," Wade says. "My first year at Chattanooga, I had a 6-5 center. I'm just a little more comfortable this way. What kind of got lost in things was that last year was much more of an adjustment for me than this year will be."
THE FUTURE OF WADE'S tenure at LSU is still a bit murky. The FBI investigation into corruption into college basketball may be over, but the NCAA continues to hand down violations to teams involved as it tries to tie up loose ends.
North Carolina State received notice in Level I and II violations in July, and in September the NCAA handed similar notices to Arizona and Kansas for allegations stemming from the FBI's investigation.
The good news for Wade and the Tigers is that all evidence involving the program during the federal trials was either ruled inadmissible or came in the form of second-hand information from defendant Book Richardson, a former Arizona assistant coach.
In an interview with Woodward in July, the athletics director told Tiger Rag that he had not heard from the NCAA, but refused to speak further on the subject.
"That's something I'm not really going to talk about because we can't right now, nor will we," Woodward said. "But you know, he's our coach. We support him, and we expect great things this season. … It's in progress. Until facts change, we're going to stick with him going forward and continue to be competitive and great."
If the NCAA does hand a notice of allegations to LSU, Woodward will essentially hold's Wade's fate in his hands.
As per Wade's amended contract, Woodward can drop Wade as soon as that formal notice hits his desk. In addition to that, Woodward would receive two extra years on his contract with a salary of $1.5 million per year if LSU is penalized by NCAA sanctions because of events that happened prior to Woodward's hiring.
While the two having crossed paths publicly much since Woodward's hiring, both have spoken highly of each other on the record, and Wade has the utmost respect for his new boss.
"Scott's a strong, strong, strong, strong leader," he says. "He's somebody who keeps tabs on every program and knows what's going on in every program. I've enjoyed my interactions with him and getting to know him. He's extremely supportive of the programs and what you need to try to win at the highest level for your student athlete. His accomplishments at other places speak for themselves."
Only time will tell what the future holds for Wade and, in turn, the LSU basketball program.
Few coaches Wade's age have made the impact he has in such a short amount of time, especially at a Power 5 program, and he seems content to build a dynasty in Baton Rouge if he's able to.
But the ghosts of what led to his suspension might not disappear as quickly as he or LSU fans hope as the NCAA seems out for blood as it clings for life to its current amateur status.
The story of Will Wade's tenure is still being told, and if it's up to him, the last chapter won't be written for a long, long time.
"At the end of the day, it's about winning," Wade says. "You know, we want to win, the program wants to win, the fans want to win, the people of Louisiana want to win. It's my job to put my best foot forward and give ourselves the best chance to win. That's what I try to spend all my time worrying about and obsessed about."