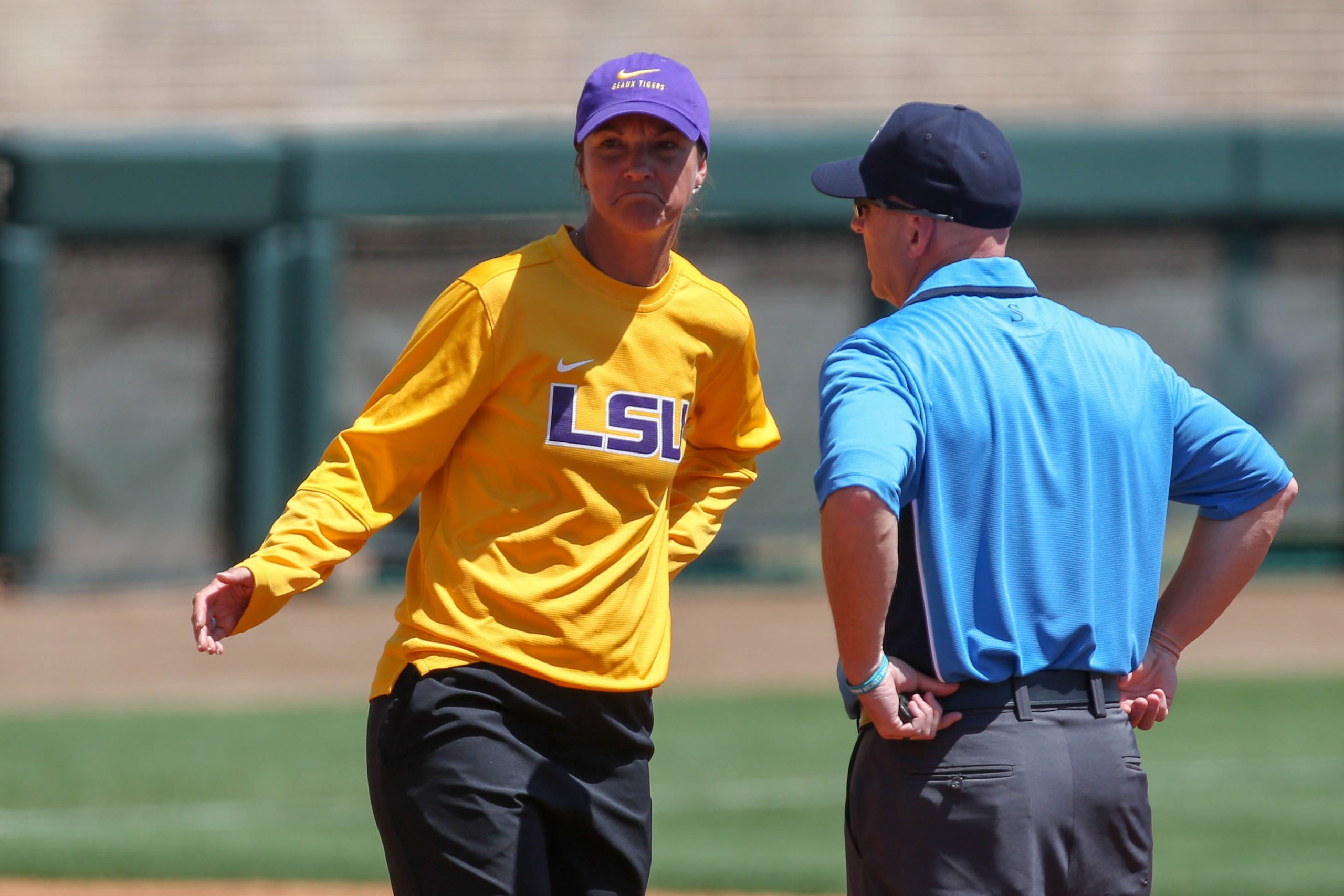 LSU softball coach Beth Torina rattled off a litany of impactful plays she believed were the difference in her team's 2022 postseason destination and earliest departure from a NCAA Tournament.
Because it was the most recent one, none stung more than the sight of second baseman Sydney Peterson's throw during a first-inning rundown bounding off the helmet of a Cal State Fullerton player and into the dugout. Instead of a momentum-building out, the result was two runs and a scenario the Tigers never recovered from in a 3-2 season-ending defeat in the Tempe, Arizona Regional.
"There's 25 of them that would have changed the course of our season," Torina said of such telling plays in her team's 34-23 season. "It's that close."
The abrupt 0-and-2 regional showing was a first in LSU history. The Tigers, who were on a rollercoaster ride through much of the season, ended on a four-game losing streak and headed home to ponder the future.
"I didn't pull any punches," Torina said of her final team meeting. "I thanked the seniors and appreciated their great careers. I let them (team) know where I thought we made mistakes and where I thought we need to be better. I think they had a good understanding of the places we needed to get better. By all measures there's still a lot of people that would like to finish in the spot we finished, but that's obviously not the standard we've set at LSU."
LSU fell short of that standard. The Tigers wound up with their fewest number of wins in 11 seasons under Torina and second most losses during that span.
The Tigers remained nationally ranked throughout the entire regular season. They finished in a tie for fourth place in the Southeastern Conference standings and, because of tiebreakers, were seeded sixth in the league's postseason tournament, then lost in their first game to Mississippi State 7-4 in nine innings.
For a second straight year LSU put together a competitive strength of schedule at No. 3 nationally, but it didn't have the type of resume needed to host a regional. For the first time in seven years, the Tigers were sent packing to Arizona State, where they failed to win a game with losses to San Diego State and Cal State Fullerton.
LSU went 3-7 in one-run games this season, 9-11 against Top 25 competition and 3-14 in games in which they trailed after the sixth inning as a measure of their misfortune.
"This team has been solid for so long," Torina said. "We're just going to continue to get better and better. It's hard to continue to have huge increases when you compete at the highest level for a long time. We've been really good for a long time. Outside of winning a national championship or playing in the national championship finals, that's the next step for this program and we want to be there."
LSU may just be built for such a run.
The Tigers return all but one position player and junior pitcher Ali Kilponen, the team's lone first team All-SEC selection, will be back to lead what will be Torina's most experienced team in several years.
"It's been a while since we had the experience," Torina said. "We've been young. Now I think we'll finally be in a spot where that experience will pay off."
Pitcher/designated player Shelbi Sunseri, a first team NFCA All-South selection, completed her eligibility and will be the lone starter not back.
The foundation of the Tigers roster will come from a sophomore/junior-dominated class that produced four All-SEC second team selections.
Sophomore third baseman Danieca Coffey (.379) ranked sixth in the SEC with 72 hits and was a constant in LSU's offense in the leadoff position. Sophomore center fielder Ciara Briggs enjoyed career highs in batting average (.368) and RBIs (32). She led the team in runs scored (53) and was flawless in the outfield with no errors in 82 chances.
Junior first baseman Georgia Clark (.301) had career highs in homers (16), walks (42) and RBIs (61). Her home run total was No. 3 on the school's single-season list, and she nearly doubled her career output in RBIs. Sophomore shortstop Taylor Pleasants slumped near the end of the season, batting .295 with a .597 slugging percentage – both lows – to go with a team-high 15 doubles, 12 homers and 48 RBIs.
Kilponen became the staff ace with a 18-9 record, 2.29 ERA and 17 complete games with 145 strikeouts in 171.1 innings of work. The wins, complete games and innings pitched were all career highs along with her 2,889 pitches thrown.
That core group returns along with one of program's more heralded recruiting classes, a six-member group regarded among the nation's best, led by No. 2 prospect Maci Bergeron, a catcher from Notre Dame of Crowley, and No. 11 prospect Sydney Berzon, a pitcher from the Baylor School in Chattanooga, Tennessee.
"We return a really strong group," Torina said. "I'm excited about the future. We were in this spot one other time in my time at LSU (2014) and it led to a three in a row World Series run. Let's hope that's the hunger we're creating with these guys."