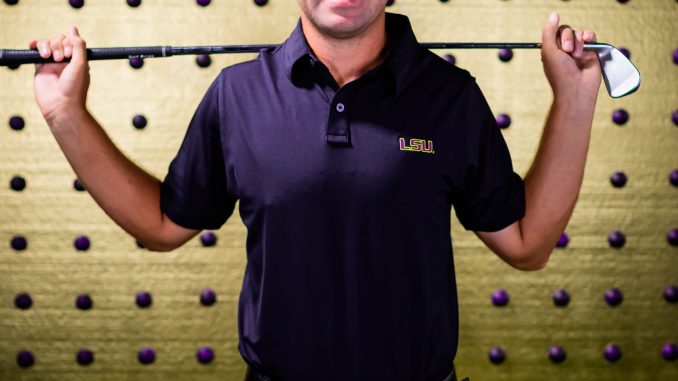 LSU graduate student Connor Gaunt fired a 2-under 70 in the final round of the Valero Texas Collegiate for a fourth placed finish fourth Monday at TPC San Antonio on the Oaks course in San Antonio. 
The Tigers of coach Chuck Winstead had a 3-under 866 over the three-day event and were sixth in the team standings.
Gaunt had a 5-under 211 performance (73-68-70), finishing with 13 birdies and 34 pars, and now has two top-five finishes through the first two tournaments of the fall.
Drew Doyle carded a 2-under 70 to finish at 1-under 215 and tied for 14th place. The senior shot a 2-under 70 in rounds two and three and totaled 10 birdies in those rounds. 
Jay Mendell also shot a 2-under 70 for the second day in a row to finish tied for 23rd at 2-over 218. Mendell carded three birdies in his final five holes to fall under par.  
Alex Price was the final contributing score on Monday with a 3-over 75 and wound up 38th overall at 6-over 222.  
LSU returns to action on Sept. 25-27th for SEC Match Play hosted by Jerry Pate. The three-day event will take place at the Country Club of Birmingham in Birmingham, Ala. 
Team Top 5 (Par 288)
1. Vanderbilt (283-292-276; -13)
2. TCU (287-285-284; -8)
3. Baylor (289-284-287; -4)
4. Virginia (288-291-284; -1)
5. Oklahoma (285-294-285; E)
6. LSU (301-280-285; +2)
Individual Top 5 (Par 72)
T1. Joe Sullivan – FGCU (69,71,70; -6)
T1. Gustav Frimodt – TCU (70,68,72; -6)
T1. Johnny Keefer – Baylor (69,69,72; -6)
4. Connor Gaunt – LSU (73-68-70; -5)
LSU  (Par 851)
4. Connor Gaunt (73-68-70; -5)
T14. Drew Doyle (75-70-70; -1)
T23. Jay Mendell (78-70-70; +2)
T38. Alex Price (75-72-75; +6)
T63. Lance Yates, ind. (77-74-78; +13)
T65. Cohen Trolio (79-76-76; +15)