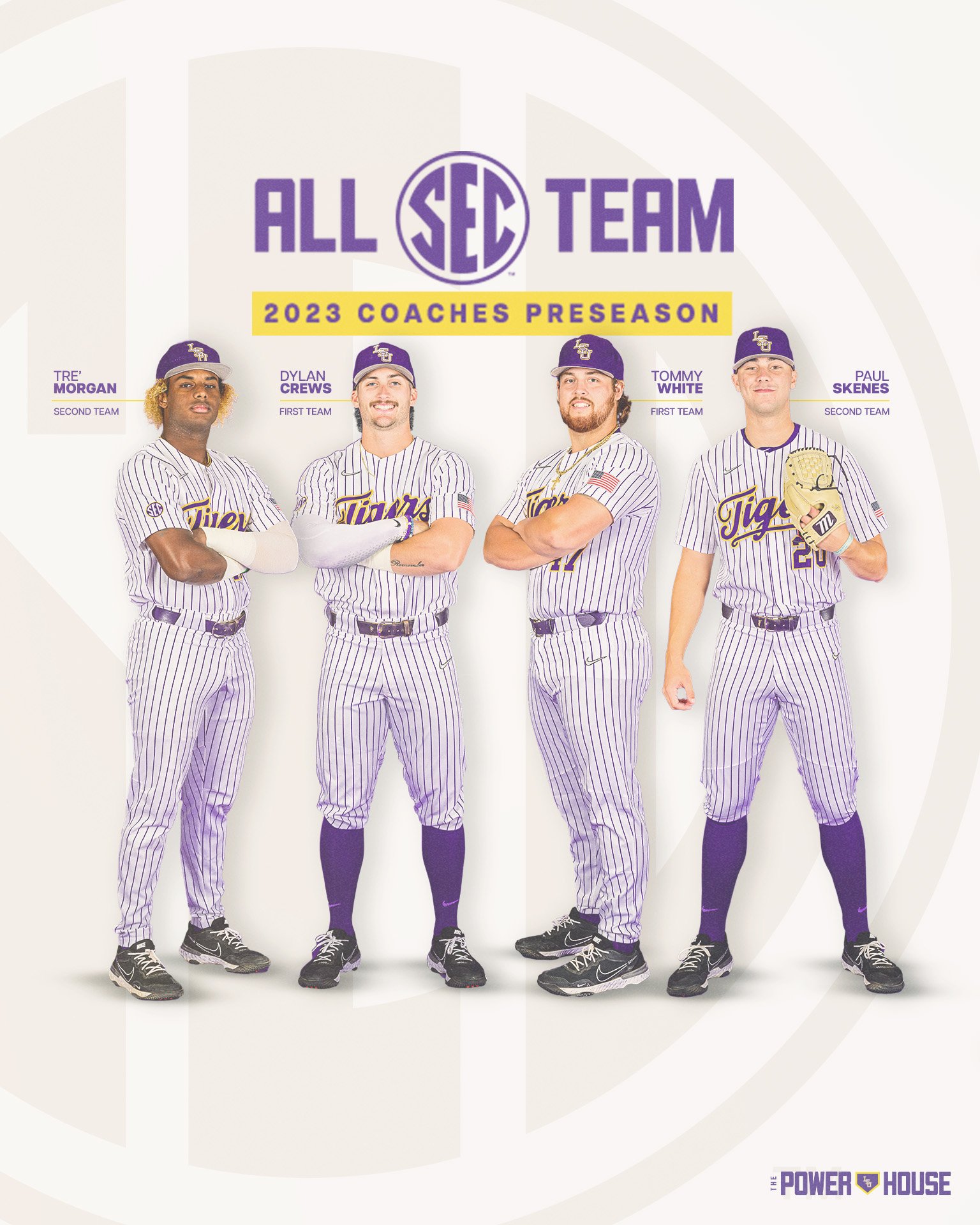 LSU is the favorite to win the 2023 SEC baseball championship, and four Tigers received preseason All-SEC recognition Thursday in a vote of the league's 14 head coaches.
LSU led the way with 11 votes, while Florida, Ole Miss and Texas A&M had one. The Tigers were predicted to win the SEC Western Division, followed by Texas A&M and Arkansas. Tennessee was the pick to win the Eastern Division, followed by Florida and Vanderbilt.
LSU junior centerfielder Dylan Crews and sophomore third baseman Tommy White were voted to the first-Team All-SEC squad. Junior first baseman Tre' Morgan and junior right-handed pitcher/utility player Paul Skenes were selected second team.
Crews was a consensus first team All-American in 2022 and the SEC Co-Player of the Year, batting .349 with 11 doubles, four triples, 22 homers, 72 RBI and 73 runs. The Tigers' centerfielder was named a semifinalist last season for the Golden Spikes Award and for the Dick Howser National Player of the Year Award.
White, a product of St. Pete Beach, Fla., transferred to LSU after an incredible freshman season at North Carolina State, where he was named the Atlantic Coast Conference Freshman of the Year. He hit .362 with 85 hits, 12 doubles, 27 home runs, 74 RBIs and a .757 slugging percentage, setting the NCAA freshman record for homers in a season.
Morgan, a 2022 SEC All-Defensive team selection, hit .324 in 2022 with 18 doubles, one triple, five homers, 54 RBI and 50 runs.
Skenes, who transferred to LSU this season after two years at Air Force, enjoyed an exceptional 2022 season both on the mound and at the plate, earning first-team All-America recognition. The product of Lake Forest, Calif., recorded a 2.96 ERA and 96 strikeouts in 85.2 innings (15 starts), limiting opponents to a .224 batting average. He also hit .314 with 10 doubles, 13 homers and 38 RBI. In 2021, Skenes posted a 2.70 ERA while batting .410 with 11 homers and 43 RBI.
2023 SEC Baseball Preseason Coaches Poll
Eastern Division
Tennessee (12) – 90
Florida (2) – 79
Vanderbilt – 64
South Carolina – 51
Georgia – 48
Kentucky – 34
Missouri – 19
Western Division
LSU (12) – 88
Texas A&M (1) – 69
Arkansas – 68
Ole Miss (1) – 64
Alabama – 34
Auburn – 33
Mississippi State – 29
SEC Champion: LSU (11), Florida (1), Ole Miss (1), Texas A&M (1)