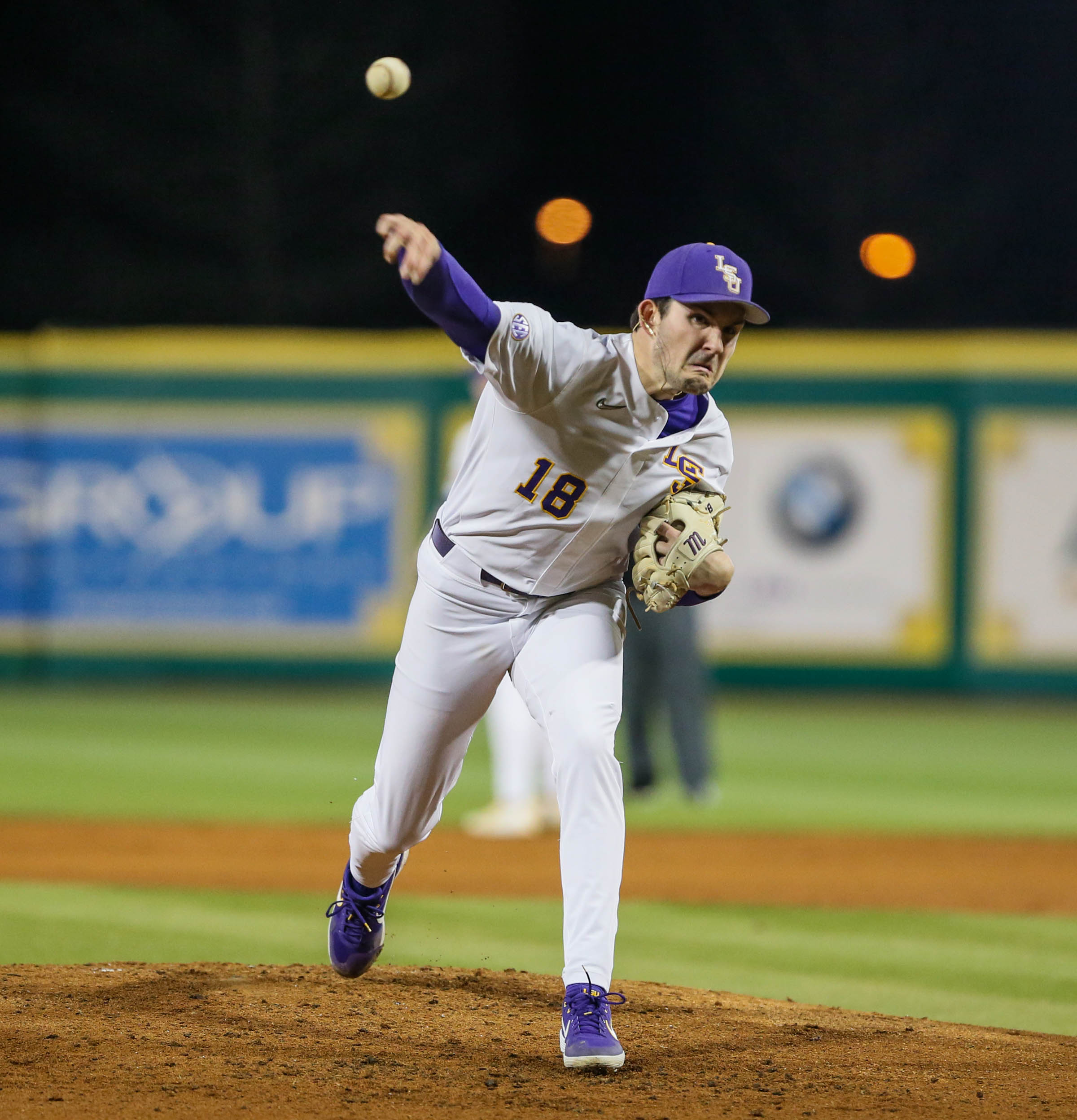 It was predetermined that Cole Henry or any LSU starter would not go deeper than 75 pitches this weekend. But Henry shined inside that small window Friday night, guiding the Tigers to an 8-1 season-opening win over Indiana in Alex Box Stadium.
It might have been cold, but Henry was on fire on the mound. The sophomore didn't give up a run or a walk in four innings while striking out eight. Of his 71 pitches, 45 were for strikes. It was a limited run, but Henry put all the markings of a true staff ace on display.
"Cole Henry set the tone for us early," said LSU's Paul Mainieri, who has never lost a season opener as he began his 14th year as the Tigers' head coach. "He was dominant. He hasn't shown that kind of velocity in the preseason with us. It was nice to know that he still had that. The way he threw tonight is how a Friday night starter in the SEC has to throw to give you a chance to win."
Throughout his 2020 debut, Henry's fastball sat in the 95-96 miles per hour range, while in the preseason he was only throwing in the low 90's. His breaking ball hovered in the mid 80's while his change-up dropped all the way down to 77, giving Indiana hitters fits trying to time him up.
Henry said the jump in his velocity came from the jump in competition.
"In the inner-squads, you kind of get tired of facing your own guys," Henry said of the Tigers' preseason scrimmages. "The juice isn't really there. When there's people in the stands and you're facing another team, your heart starts beating a little bit. I feed off that, the energy in the stadium and what the team brings."
LSU catcher Saul Garza was the first to notice the increase in velocity during the pregame bullpen session.
"(LSU pitching coach Alan) Dunn asked me in the bullpen how it was coming out," Garza said. "I said it was coming out hard. I didn't know how hard, but my hand was stinging. The first game his adrenaline was pumping, he was hitting his spots and doing everything right."
While Henry struck out exactly half of the 16 batters he faced, the workload amassing a high strikeout total ended his night after just four innings. He got too deep into counts, running up his pitch total.
Henry pleaded his case to Mainieri to extend his leash, but lost that particular battle.
"It was tough," Henry said when asked about coming out of the game early. "I tried to coax Coach into letting me stay in there. He told me I needed to stop getting into 3-2 counts. And I was like, 'Well yeah, that's true.' I knew I had a pitch count going into the game, so I kind of expected to be pulled."
Mainieri said he was determined to stick to the predetermined pitch count of 70 to 75 pitches.
LSU's offense opened the scoring early, plating its first two batters with freshman Cade Doughty's two-run homer. Doughty's home run was the first time a Tiger homered in their first career at-bat since Beau Didier against Villanova in 2009.
"I was just as surprised as you guys, I kind of went numb," Doughty said. "Growing up and being an LSU fan, you dream of moments like this. I think when I rounded first and realized the ball went over the fence, I don't know what I exactly did but it was just kind of a scream. I was definitely a little bit surprised rounding third base and seeing everybody there. It was definitely a moment I'll never forget."
Mainieri wouldn't have batted Doughty in the two hole if he didn't have faith in his hitting. But on a chilly night where the wind was blowing in, Mainieri wasn't expecting Doughty to hit his first home run in Alex Box Stadium.
"I don't think he hit any home runs in the fall and he didn't hit any in the preseason," Mainieri said. "But he's got power potential. He's a good hitter, he's not afraid up there. He gets up there and gets his money's worth and he's got excellent hand-eye coordination. But I didn't think we'd hit any balls out tonight with the cold and the way the wind was blowing in."
LSU tacked on three more runs in the third inning via the long ball. This time, a Garza fly ball battled the wind and sneaked over the left field fence for a 5-0 Tigers' lead.
"Before the game we talked about hitting low line drives," Garza said. "So as soon as I hit the ball in the air, I didn't think it was going to make it out."
Indiana scored its lone run in the fifth inning when a leadoff error put right fielder Ethan Vecrumba on base. A walk moved him into scoring position where he would score from following two ground outs.
Two more runs came across for the Tigers in the sixth inning. A catching and throwing error allowed Drew Bianco to score from second base on a dropped pop-up. With the bases loaded following a walk, Zack Mathis scored Hal Hughes with a sacrifice fly to center field.
Daniel Cabrera picked up his second hit of the game in the eighth inning with a loud double to the left center gap. He was replaced by pinch-runner Mitchell Sanford, who scored on a single from Mathis.
Mathis went 2-3 in his LSU debut with two RBI, joining Cabrera (2-3) and Beloso (2-4) as the only Tigers with a multi-hit night.
Lone fourth-year senior Matthew Beck was excellent in his relief appearance, throwing two innings of hitless ball where he gave up a walk and struck out two.
Due to the threat of weather Sunday, Indiana and LSU will finish the three-game set Saturday with a doubleheader. Game two starts at 1 p.m. and the final game of the series will start an hour later. Both games will be available online via the SECN+ and over the air on 98.1.
Landon Marceaux will start on the mound for LSU in game two and AJ Labas gets the call in game three.