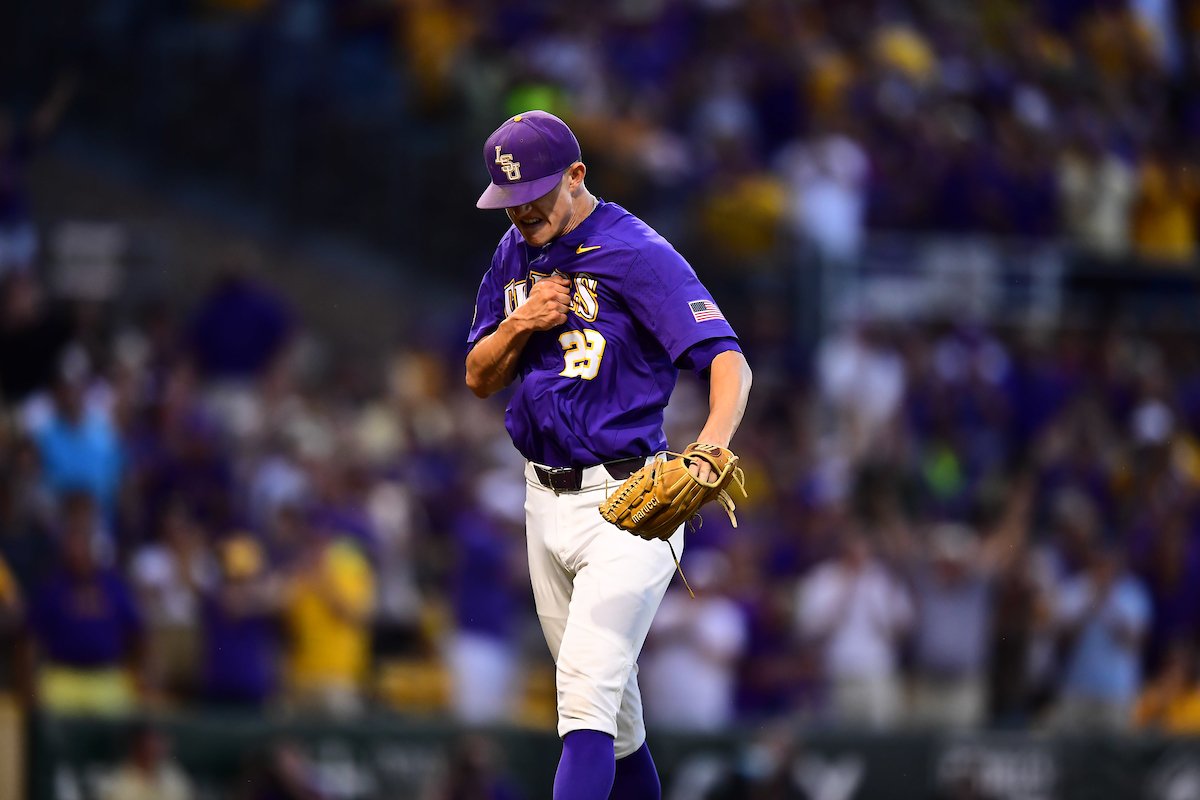 Gone are Josh Smith, Antoine Duplantis, Zach Watson and Chris Reid.
As LSU turns toward the 2020 season, nearly every position is subject to an open competition for a starting spot. The only returning starters are junior catcher Saul Garza, sophomore first baseman Cade Beloso and outfielder Daniel Cabrera. Of those three, only one has more than one year's experience wearing purple and gold.
"When you look at the position players, obviously we lost three major players last year in Josh Smith, Zach Watson and Antoine Duplantis," LSU head coach Paul Mainieri said at Friday's baseball media day. "Filling those holes is going to be huge. We have a lot of new guys and a lot of new position players. I am still waiting to see which players are going to rise above others and make a statement that they should be starting players. As we went through fall practice, all of them showed great things, just not consistently. These next three weeks are going to be interesting to see.
"Even after the season begins, there is going to be some fluidity to our lineup. I don't think the lineup we start with on Opening Day is going to be the same for 56 games and the National Championship. There are going to be different opportunities for different guys throughout the year. While we are trying to figure out the right combination and put the pieces of the puzzle together in our lineup, I think our pitching staff is going to be at a level that allows us to win games even while we are learning about our team."
Smith led the 2019 Tigers at shortstop, and so far his presence has been the hardest hole to fill. Hal Hughes is the only veteran infielder with experience left on the roster, and while his defense is up to snuff his offense took a dive below the Mendoza Line last season.
Freshman Zach Arnold looked like he was poised to take over, but complications following a broken rib requiring surgery have sidelined him until March. That leaves Collier Cranford, who sat out his senior year of high school in addition to fall practice after having Tommy John surgery.
"Our infield is the most inexperienced group we have out there," Mainieri said.
Oddly enough, while the LSU lineup is in flux, the pitching staff has never been deeper.
Redshirt junior Eric Walker returns for his second season since having Tommy John surgery, junior Ma'Khail Hilliard is back to 100% along with sophomores Cole Henry, Landon Marceaux, and Jaden Hill. Even the much-embattled redshirt sophomores AJ Labas and Nick Storz are fully healthy and ready to go.
"Arm injuries are part of baseball in general, it happens every year from Little League to the pros," Henry said. "Coach (Mainieri) and (LSU trainer) Cory (Couture) and everybody else has done a really good job of monitoring how much we throw and what we're doing in between starts and different things like that.
"This year has been a lot more attention to detail, and we've got a bunch of new technology that's helped us monitor those sorts of things. The whole fall, we didn't have any injuries and everybody's feeling a little jumpy, so it's good and we're looking to continue that on into the spring."
Mainieri said that he is "pretty sure" Henry would be the number one starter in the weekend rotation.
"(Henry) has the capability to be one of those special guys we have had around here," Mainieri said. "He is going to continue to improve as the year goes on. You are talking about a kid that is potentially a first-round draft choice and an All-American caliber pitcher." 
Marceaux, Labas, and Walker will battle it out for the other two weekend spots, with the odd man out picking up midweek duty. Marceaux and Labas probably have the upper hand over Walker, but if he can continue to bounce back from his surgery and improve then Walker's experience could come into play.
Even the bullpen is chock full of experience, with Devin Fontenot, the hero of LSU's Super Regional season-ending loss, as well as Matthew Beck (the lone four-year senior on the team), Hilliard, Storz, and junior Trent Vietmeier.
"The guys that have been out there know how it is," Fontenot said. "We are just going to go out there and do our jobs. All the work we have put in is going to pay off."