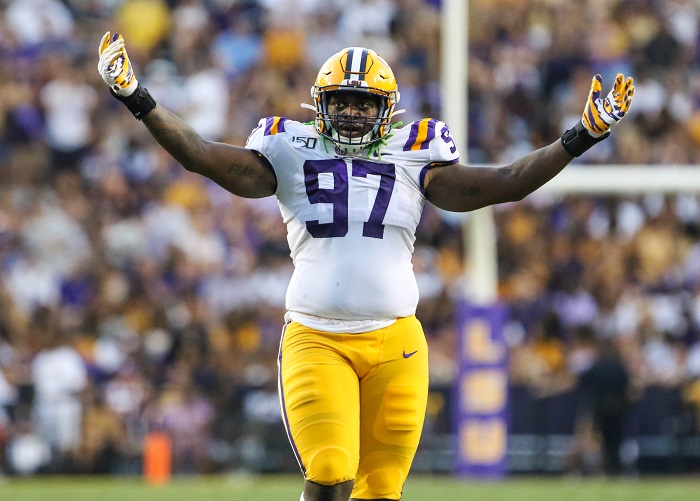 LSU will continue to go without its starting defensive ends for at least a couple more weeks.
Rashard Lawrence and Glen Logan remain "a ways away" from returning to action, LSU coach Ed Orgeron said on his call-in radio show Wednesday night.
Both Lawrence and Logan were ruled out for Vanderbilt game at the start of the week. They went down with apparent ankle/foot injuries during LSU's win at Texas.
Orgeron did give a timeline for when LSU hopes to have its starting ends back on the field, something he declined to do earlier this week.
Lawrence could return after the open date, Orgeron said, which mean the Utah State game. Logan, who was spotted using a scooter to get around, could be back for the Florida game that next week.
Breiden Fehoko, Neil Farrell and Justin Thomas will all continue to see increased time with Lawrence and Logan out.
ON THE MOVE
Micahel Divinity has been seen working with the outside linebackers during the media viewing portions of practice this week.
Apparently that isn't a coincidence.
Orgeron hinted that Divinity could be moving back to outside linebacker after being moved inside to start the season.
"I'm sure you're going to see him rushing the passer more than you'll see him dropping," Orgeron said. "I promise you that."
Divinity tied for the team-lead with five sacks last season. LSU has been experimenting with ways to increase its pass rush, especially with outside linebacker K'Lavon Chaisson "doubtful" to play against Vanderbilt.
NOTES AND QUOTES
Orgeron was asked repeatedly about finding more playing time for freshmen running backs John Emery and Tyrion Davis-Price. Orgeorn's response: "We need to get these guys in in the first and second quarter. They've earned that right … We've got to see what they can do, especially in SEC play."
Starting running back Clyde Edwards-Helaire will continue to return kicks, Orgeron said. LSU would like to find another kick returner it trusts, but for now, the staff trusts Edwards-Helaire to catch the ball.
Orgeron confirmed tight end TK McLendon has moved to defensive end as LSU looks to build depth on its injury-stricken defensive line.
Kary Vincent Jr. and Kenan Jones could see more time at safety in light of the season-ending injury to Todd Harris, Orgeron said. LSU could also use JaCoby Stevens more at free safety.
Nose tackle Siaki "Apu" Ika is dealing with a minor injury and could be limited for the Vanderbilt game, Orgeron said.