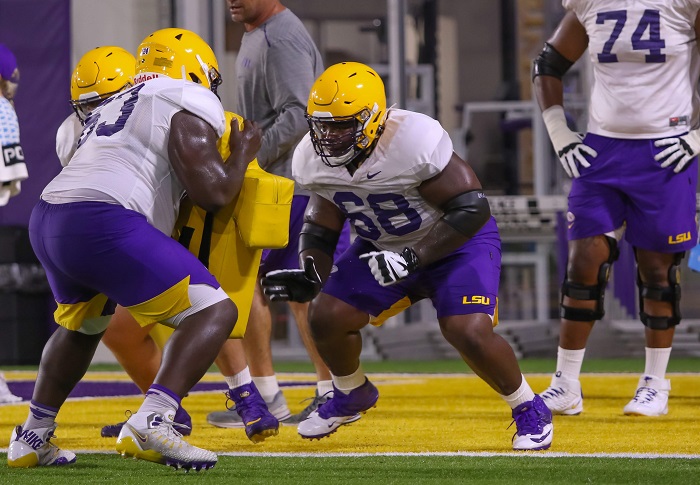 LSU is by and large getting healthier as Fall Camp rolls on, but the hits keep coming to the interior of the offensive line.
Right guard Damien Lewis has missed the past two days of practice and isn't expected to participate in Saturday's scrimmage, LSU coach Ed Orgeron said during his post-practice presser on Wednesday.
Guard Chasen Hines remains limited while working his way back from offseason knee surgery. To make matters worse, highly-touted freshman Kardell Thomas suffered an injury in practice on Wednesday, Orgeron said.

"I don't know how serious it is," Orgeron said. "We're going to see. I'm sure he's going to be out for a little while. So that's another injury to the offensive line."
LSU has been hit with numerous "minor camp injuries," to borrow a phrase from Orgeron. The coach said the injury to Thomas could be more serious.
"Just regular injuries," Orgeron said. "I don't know with Kardell. Kardell may be serious. We'll see. I'm not sure, but the rest of the injuries are minor."
LSU planned to make the left guard job a three-way competition in camp, but senior Adrian Magee has taken a strangle hold on the position of staying healthy.
Magee is a versatile, experienced lineman who played in 10 games with four starts at three different positions as LSU dealt with injuries up front last season. He's been taking most of the first-team reps at left guard since the spring.
"Senior year. In good shape, he knows his plays and he knows what to do," Orgeron said. "Adrian can play left guard, right guard or left tackle. He's very versatile. He's going to play a lot for us."
Thomas had been taking reps at both left and right guard before going down with injury. Senior tackle Badara Traore has been taking reps at left guard with so many players out at the position, Orgeron said.
Austin Deculus is another option at guard, but obviously that would create another hole since he's currently LSU's starting right tackle. Orgeron said at this time LSU prefers to move Traore inside and leave Deculus where he is.
Injuries to the offensive line are a regular occurrence during camp at any level, but LSU is dealing with them again after a particularly injury-riddled 2018 season.
The Tigers went more than half of the season before they were able to start the same five-man group in consecutive games. Players admitted that lack of continuity hurt the offensive line from a cohesion standpoint.
"I think that's just part of camp and part of the game," center Lloyd Cushenberry said Tuesday. "Injuries are going to happen, but like Coach says, we're going to put 11 on the field and fight like Tigers, so it doesn't matter who is out or who we're going to play."
PHOTO BY TERRILL WEIL