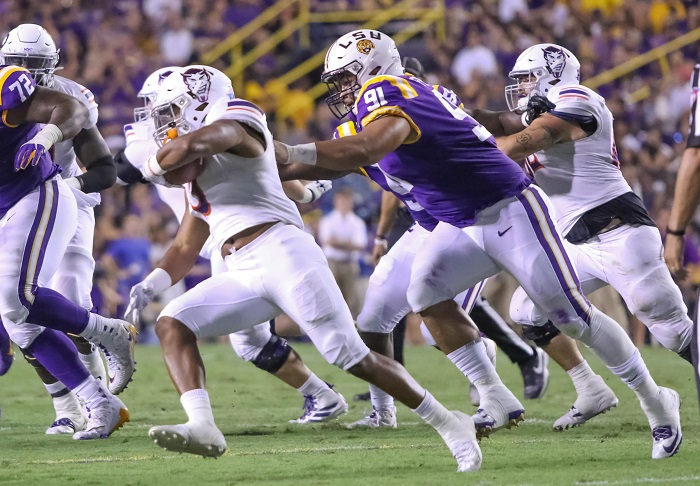 Did LSU's 65-14 victory against Northwestern State look familiar? These games happen.
As long as the Power Five teams cling tightly to their current scheduling formula, these games will be as necessary as open dates, and not completely unlike them, landing somewhere between practice and a conference game.
You know the drill: big, bad, FBS team A fiddles around for a half and then asserts itself in the second half against meek and mild FCS team B. Coaches adore these contests, which manufacture adversity out of the thin air while not damaging the bottom line, represented by the final score.
Former LSU coach Les Miles had a knack for a lot more fiddling around in these games, only to smile and wink with a "had-it-all-the-way" look.
Injured players capable of playing get some rest, backups earn a few skins and the offensive and defensive coordinators get to try out a few gimmicks to see how they play out. A great example was LSU playing zone pass defense in the first half and not executing it very well. They went back to man-to-man and shut the Demons out in the second half.
This game was for the purpose of LSU practicing its zone defense — which it will need in well-oiled, working order against SEC foes — under real conditions. The coaches knew all along they could simply fling out a man-to-man defense to stop Northwestern State cold, and that's what happened. The Demons had only 78 yards in the second half.
Regardless of how many times players say they treat it just like the Texas game, they don't, really. It's what they are supposed to think and say and do. The first half looked a bit like a continuation of the Texas game with the defense flat instead of exhausted.
All of this bodes well for the remainder of the season. Coaches will say you can't tell a lot by how a team plays in these games, but you can. It's still early in the season so the team identity isn't fully formed. In September, FCS teams still have a lot of hope, even the ones who are 0-2 coming off a 33-7 loss to a Division II team like the Demons were.
When faced with adversity, the Tigers listened at halftime and hit the gas to win going away.
When you're playing one of these games in November, coaches will expect more than what LSU players gave them Saturday night. By that time, the players should all get it that they have to show up and play hard from the first snap until the final horn.
With that in mind, this LSU team looks like it is on schedule to do something special. The offense is going to be the driving force regardless of the opponent. To score 24 points in the first half is fine. The defense will have to find a way to play in the offense's shadow. Depth and conditioning will become more vital when the defense is having to run out there after another two-minute scoring drive by the offense.
LSU's has a wealth of defensive backs and it needs to keep signing them to go along with the furious-paced offense. The linebackers have to be slimmed down and more like hybrid safeties. The defensive linemen can long afford to carry extra bulk unless it's muscle. And you have to have a lot of players who can play.
Defensive coordinator Dave Aranda has had great success. There's no reason for LSU fans to panic. Northwestern State's quarterback Shelton Eppler was an experienced hand and he rose to the challenge to throw for 172 yards and two touchdowns in the first half before remembering who he really was.
Aranda wanted his players smarting on their return to practice this week. The proof of what he and his assistants have been saying is now on tape and the real coaching and improving can begin.
And since last weekend started with a dedication of a Skip Bertman statue at Alex Box Stadium, raise your glass to Bertman for another reason. He deserves a statue for, in the early 2000s, committing LSU to playing in-state FCS schools at least once a year.
Plenty of folks will deny they ever opposed the idea, which at the time was heresy. Why should LSU help in state schools that were jealous of the Tigers status? Skip thought, "Why shouldn't we?"
His reasoning was that LSU wasn't going to lose to these teams, just as assuredly as they wouldn't lose to Georgia Southern or Sam Houston State. And even if they did, it wasn't like that school was going to take LSU's place in the college football order by virtue of an upset victory.
Always forward thinking, Skip liked the idea of keeping LSU money in state for the guarantees and teams several in-state schools could same a ton on travel expenses, instead of playing two or three states away. As long as playing teams like Northwestern State provide an early-season rest stop, LSU and the rest of the college football elite, will continue rotating them in.
Photo by Terrill Weil