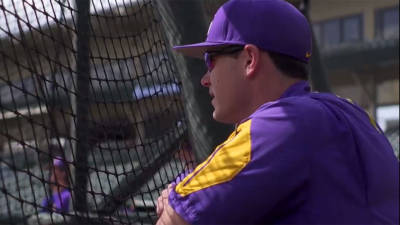 LSU director of player development Micah Gibbs has left the baseball staff to pursue an opportunity in the world of sports technology, LSU coach Paul Mainieri told Tiger Rag on Thursday.
The news was confirmed by a subsequent interview with Gibbs, who left the staff earlier this month.
In the short term, Gibbs' duties will be redistributed among the current members of Mainieri's staff. The coach said he'd like to hire a full-time replacement some time down the road.
"At this point, we're going to distribute his responsibilities to members of the staff," Mainieri said. "I'm in the process of doing that right now. But I'm hopeful that down the road this will be recreated as a full-time position."
Losing Gibbs is certainly a blow for the program as he oversaw all of the program's analytical operations. That includes countless hours of collecting and analyzing data for the coaches to use as they see fit.
"It just spreads (the staff) more thin," Mainieri said. "There's only so many hands that can do the work, so we'll be one person short. We became kind of dependent on Micah and the work that he was doing. Now we'll just have to find a way to at least temporarily meld those jobs into the current members of our staff."
An All-American catcher during his playing days, Gibbs joined Mainieri's staff as the director of baseball operations before the 2016 season. He was a key member on the 2009 National Championship team.
Gibbs took over as hitting coach in the fall of 2016 when Andy Cannizaro left to become the head coach at Mississippi State. He helped direct an offense that won the SEC in 2017 and finished as national runners-up.
In another strange turn of events, Gibbs had to vacate the position after suffering a severe knee injury during a pick-up basketball game. The injury rendered him unable to do any on-field coaching for the 2018 season.
LSU hired Sean Ochinko, another former player, to be its hitting coach and moved Gibbs into the analytics-driven role he's occupied for the past two seasons.
The position was essentially created for Gibbs to stay on staff while he recovered, but he thrived in the role. Gibbs himself saw his future more in a front office than in the dugout.
Ochinko left the program this summer after two years as the hitting coach. LSU replaced him with former Tulane assistant Eddie Smith, who is considered to be more in tune with analytics than his predecessor.
As for Gibbs, he left the program to pursue an opportunity he says could quite literally change the game.
Gibbs was approached by a Canadian company called The Golf Lab, which specializes in fitting clubs to golfers based on their size and swing in order to optimize results.
In layman's terms, the company wanted to explore the possibility of applying that same idea to baseball bats.
"Baseball has nothing like that," Gibbs said. "In baseball, you basically pick up a bat, shake it and see what feels good in your hands."
Representatives from The Golf Lab reached out to Marucci Sports, which in turn reached out to Gibbs for help explaining baseball-specific details like how TrakMan technology works.
It was more an informal information-sharing meeting than a job interview at that point, Gibbs said.
However, things have heated up considerably since the company began doing some work with Major League organizations and some college teams.
According to Gibbs, the company wants to have its baseball operation up and running by spring training 2020. That process includes building a laboratory in Baton Rouge, where Gibbs will be based.
"It's a technology that it's crazy that there isn't anything out there really," Gibbs said. "I think it can be huge. It's almost like a perfect job opportunity. It fits in with the future of the game, but also some knowledge of hitting and baseball at the same time."
Gibbs is presently in Arizona testing out the bat-fitting technology at a spring training facility.
They tested a big league hitter and three minor leaguers on Tuesday, Gibbs said, and found that all four were actually swinging the wrong bat.
"Hopefully we're changing some things and making some noise," Gibbs said. "We'll change the game of baseball, hopefully."
"I'm sad that Micah isn't officially part of the program anymore," Mainieri said, "but I'm happy for him that it's something he's excited about."
Photo courtesy of LSU Sports Information