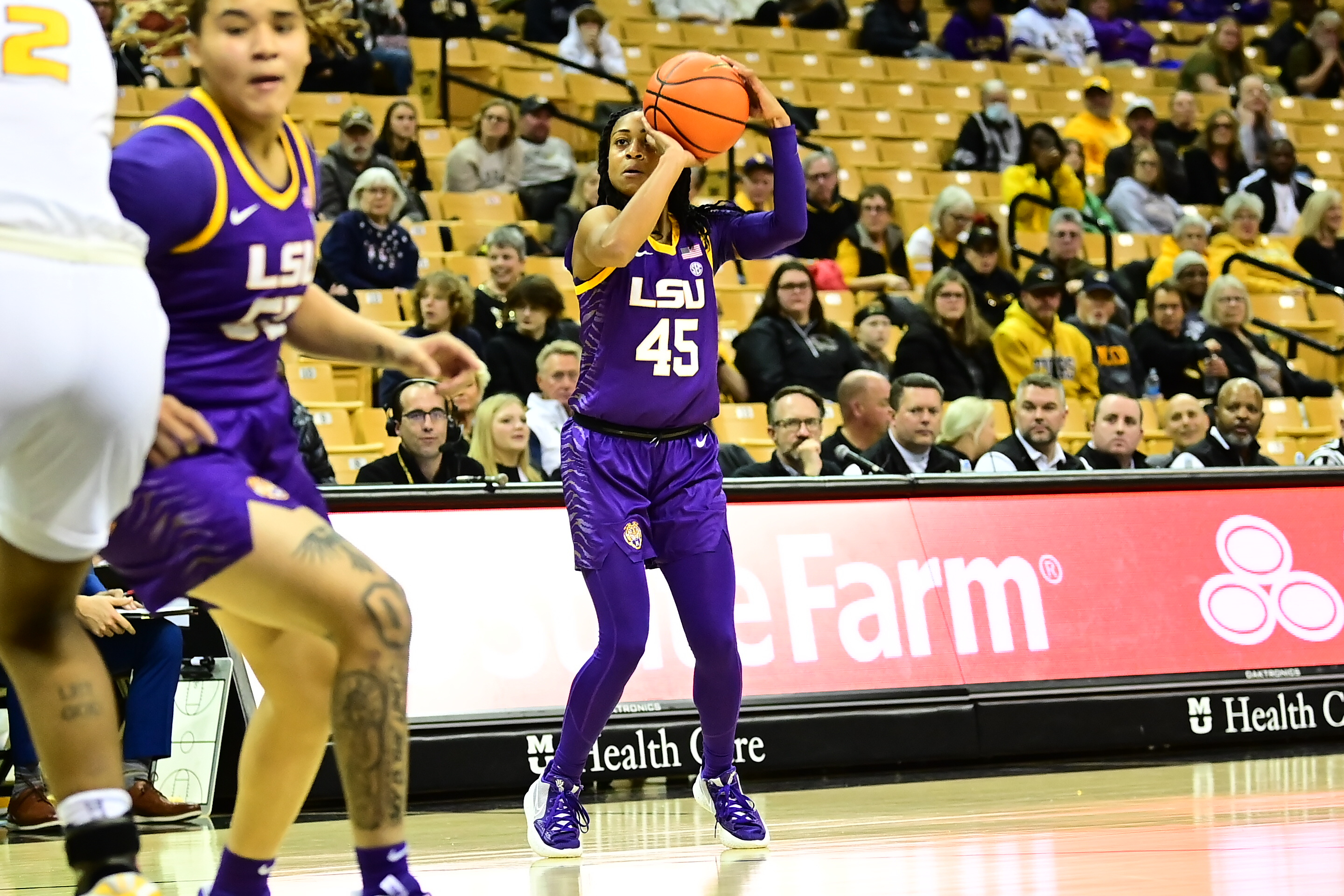 LSU found itself having to alter its identity when foul trouble cost the Tigers their two starting post players in the first half of Thursday's SEC game at Missouri.
A smaller lineup morphed No. 5 LSU into more of a perimeter-oriented team and with senior guard Alexis Morris doing the shooting, the Tigers were more than up to the challenge.
Morris scored 14 of her season-high 24 points in the first half and was perfect on five 3-pointers, and forward Angel Reese returned from the bench with her 17th straight double-double with 20 points and 12 rebounds in a 77-57 victory over Missouri.
"I made a decision to go small and ironically we worked on that the last couple of days," LSU coach Kim Mulkey said. "I thought we defended, we switched, we talked. You had a freshman post (Sa'Myah Smith) with four smalls. What we tried to do offensively was perfect and consequently we hit a lot of threes. We did it without those two bigs in there."
No. 5 LSU (17-0, 5-0) maintained the best start in school history and its conference start is the best since the 2007-08 season. They also remained one of three undefeated teams nationally.
The Tigers shot 54% (27 of 50) which improved behind the arc to 67% (10 of 15) for a team making five 3-pointers coming into the game. It was their best showing from the 3-point line when they made a school-record 13 against Missouri in 2014.
It certainly wasn't a conventional path for LSU which lost both Reese and fellow forward LaDazhia Williams, a Missouri transfer, to foul trouble in the first quarter. The visiting Tigers, who never trailed in the game, extended a 19-7 first-quarter lead to a 37-21 halftime edge on the strength of seven 3s with Reese and Williams sitting out the entire quarter.
Morris, who was replaced in the starting lineup for the first time by Last-Tear Poa, came off bench at the six-minute mark and made her first 3-point attempt. Jasmine Carson, who added 12 points, and Flau'jae Johnson each added 3-pointers in the quarter, giving LSU a different complexion.
Morris had four of 3-pointers in the first half, providing LSU with a 27-10 lead, and the Tigers went on to build their biggest lead at 35-17 on five straight points from Johnson on a driving layup and corner 3.
"I was prepared to come here and not have her," Mulkey said of Morris, who's been bothered by an illness. "She said she felt better. Alexis had one of her better offensive games. She had a good night considering she's been kind out of sync with how she's been feeling the last four or five days."
Smith added a layup and Morris made 2-of-3 free throws with five-tenths of a second to for a 16-point lead at halftime.
"I said to our two post at halftime, they put us in a very tough spot. So now look across this locker room and hug those guards because we have not been in that position all year and they were superb in what they did," Mulkey said. "They didn't rush shots. They took good shots. They were confident when they took those shots.
"What was really impressive was what they did on the other end of the floor defensively," Mulkey said. "That could have been a moment where we were trading baskets threes for threes. That's what Missouri does, and we didn't allow that to happen. I was as proud of that group on the floor defensively. They did a lot of good things and consequently on the offensive end, they were clicking."
Missouri (14-4, 3-2) made a run at LSU with both Reese and Williams back on the floor in the third quarter.
Guard Lauren Hansen scored 10 of her team-high 22 points during the quarter and Missouri went on a 17-5 run and closed within 42-38 at the 4:43 mark on two free throws from Jayla Kelly. LSU also fueled the home team's charge with seven of its 20 turnovers during the quarter.
Carson sparked a 12-0 run to stop Missouri's momentum, knocking down a 3-pointer from the corner. Reese followed with a three-point play following an offensive rebound and added a free throw and finished the quarter with an inside basket to make it 56-41.
Reese scored 10 of her 16 second-half points in the fourth quarter, including a three-point play, for a 66-47 lead that also fouled Missouri leading scorer Haley Frank out of the game with 5:57 left. Frank, who averaged 14.8 points, finished with three points.
LSU finished with the last five points of the game that included four from Morris who accounted for the final score, which was also the biggest lead, on a 17-footer with 47 seconds showing.
"I'm certainly pleased," Mulkey said. "We just played two games on the road. We didn't sneak by and barely win. We are beating people start to finish and that's about all we can do. We know what lies ahead and how good the league is. Our next opponent (Auburn at 2 p.m. Sunday) is who we need to focus on."