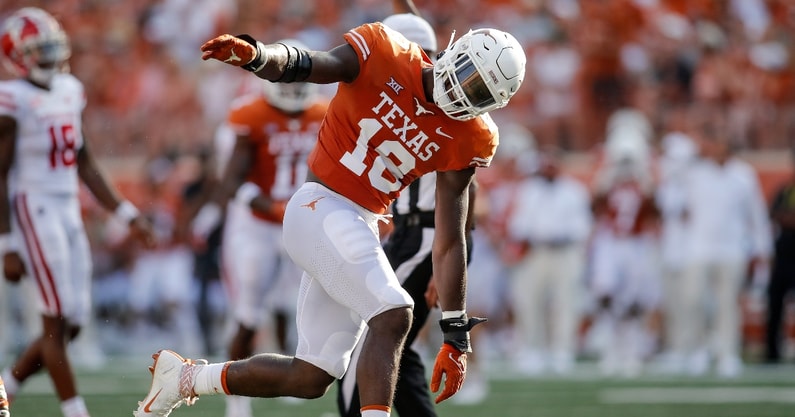 LSU football coach Brian Kelly announced Thursday he's added three more signees from the NCAA transfer portal.
The Tigers, who signed seven players in December, added a pair of cornerbacks in JK Johnson of Ohio State and Duce Chestnut of Syracuse and senior edge rusher Ovie Oghoufo of Texas. The 6-foot-3, 239-pound Oghoufo began his career with Kelly at Notre Dame.
All 10 of LSU's new players, plus 15 high school signees, will enroll for next week's spring semester.
Oghoufo spent the past two years at Texas where he started in 20 of 25 games, registering 96 tackles, 14 tackles for loss and 4 ½ sacks. He ranked sixth for the Longhorns (8-5, 6-3 in Big 12) in 2022 with 54 tackles, including a high of seven on two occasions, 8 ½ tackles for loss, four quarterback hurries and 2 ½ sacks.
Oghoufo began his career under Kelly at Notre Dame where he played in 20 games and had 22 tackles and 2 ½ sacks.
The native of Lathrup Village, Michigan was the nation's No. 36 ranked outside linebacker and state's No. 10 rated prospect by 247Sports. The first team all-state selection has 106 tackles, 11 sacks and also caught 32 passes for 529 yards with seven touchdowns during his senior season at Harrison High.
LSU loaded up on defensive players in its first wave of signees from the transfer portal.
The Tigers defensive lineman Jalen Lee of Florida, Jordan Jefferson of West Virginia, Paris Shand of Arizona and Bradyn Swinson of Oregon. They also added wide receiver Aaron Anderson of Alabama and cornerbacks Zy Alexander of Southeastern Louisiana and Denver Harris of Texas A&M.