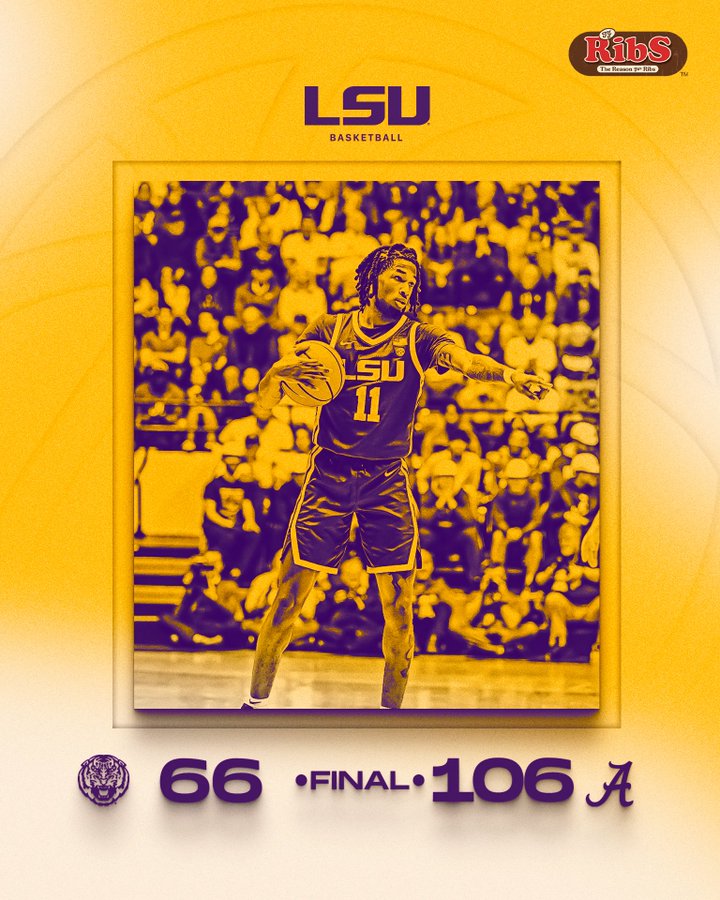 LSU needed everything – everything and more – to go its way to have a chance on the road Saturday against No. 4 Alabama in Southeastern Conference play.
Nothing, however, went the Tigers' way.
Brandon Miller scored a game-high 31 points and had six 3-pointers by halftime, leading Alabama to a 106-66 victory over LSU. It was the most lopsided margin of victory for either team in series history, eclipsing the Tide's 113-75 win over the Tigers during the 1975-76 season.
Miller, the nation's top scoring freshman and very likely an NBA lottery pick, scored 22 points in the first half, matching LSU's total first-half team output for the Crimson Tide (15-2, 5-0 in SEC).
Alabama's sixth straight win was all but in the bag before the end of the first half against the slumping Tigers (12-5, 1-4).
Alabama led 59-22 at halftime.
"Man. As thorough a butt kicking as I've ever been a part of, I've got to give a lot of credit to Alabama," LSU coach Matt McMahon said. "You know, we can sit here, and I'm fine to talk basketball about it. Just not many positives to take away, you know. I guess the only thing second half, at least we didn't lay down and get beat by a hundred."

Mark Sears, Rylan Griffen and Jahvon Quinerly each scored 12 points for Alabama. Quinerly made 4 of 8 3s. Nick Pringle added 10 points.
Miller also had nine rebounds for the Tide, which dominated the glass 52-38, while scoring 32 second-chance points.
LSU's KJ Williams, whose 18.5-point average trailed only Miller in the SEC, scored 10. Williams played less than 18 minutes in the game, picking up his fourth foul with 17 minutes to play and was 4-of-12 shooting. He did not play again after going to the bench with his fourth foul.
Cam Hayes was the only other LSU player in double figures, also with 10, all coming in the second half – long after the game had been decided.
"We just never got anybody going individually or as a team," McMahon said."I think more importantly for me, this game is what it is, a thorough butt kicking. Now we've got to figure out what we want to try and do as we move forward. And we've got a lot of things we need to evaluate.

"Certainly knew going in, there was going to be plenty of adversity this year, and it's sitting here looking as dead in the eyes. We've got to figure out what we want to be about, and how we want to try and regroup and move forward as a team and as a program," McMahon said.

Alabama's Miller increased his SEC scoring lead by making 11 of 16 shots and 7 of 11 3s, matching a season-high he had already shared with Sears. He sat out the last 8 minutes of the game.
Alabama emptied its bench with 2:04 left to play when Quinerly hit a 3-pointer to put the Tide up 101-59, but by then ESPN had already switched away from the game.
With five minutes to play to ESPN shifted its coverage to join the Arizona-Oregon game, burying LSU-Alabama game on ESPN News.
Such programming moves rarely, if ever, happen. But, then again, 40-point blowouts are not commonplace in major college basketball either.
"I mean, when you're playing a team five for a reason, they make you pay for every mistake," McMahon said. "They (Alabama) make you pay. So, 11 turnovers lead to 19 points. We talked about the defensive glass but for them to get 32 second chance points – I don't know if I've ever seen that."
LSU plays host to No. 21 Auburn on Wednesday at 6 p.m. No. 5 Tennessee, which lost to Kentucky, 63-56, on Saturday in Knoxville, will play LSU in Baton Rouge next Saturday at 3 p.m.
The big question for LSU and McMahon is how does he treat the blowout loss to Alabama as he prepares the Tigers for the next two-game stretch against Top-25 teams.
"I think the easy thing to do is we would need to flush it," McMahon said. "And, I know we've a quick turnaround to face another good team. But we've got to learn. We were all new, got all new guys.
"We've got to learn," McMahon said. "We've got to teach, you know, we've got to, we got to do some more rebounding drills. We got to do a little bit of everything to try and restructure the mindset of our team, our coaching."