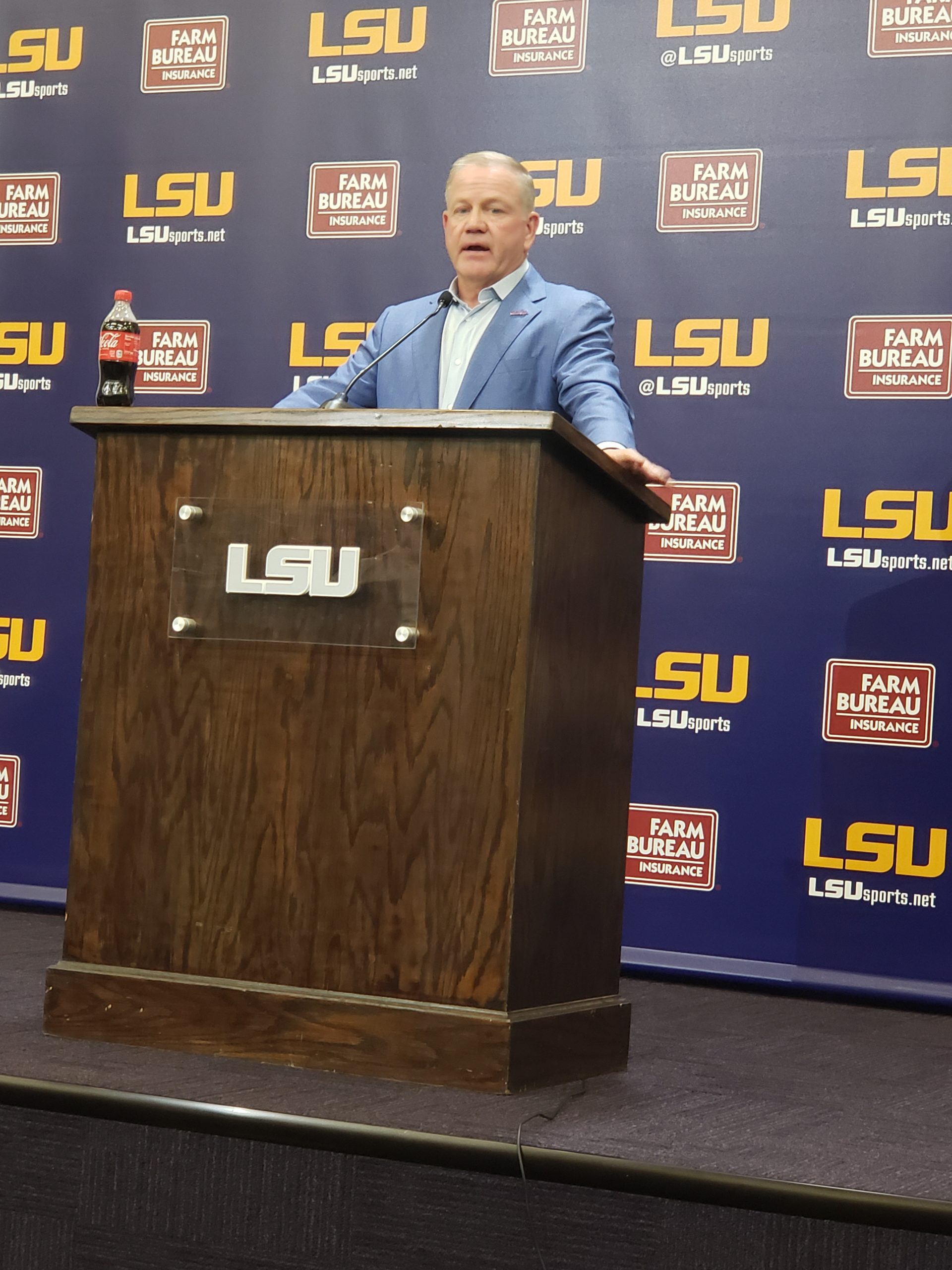 During his 12 seasons at Notre Dame, coach Brian Kelly made his disdain apparent for playing two quarterbacks. That didn't hinder his penchant for changing them out from time to time.
He brought that feeling with him in first season to LSU, where Kelly has lauded the play of junior transfer Jayden Daniels and redshirt freshman Garrett Nussmeier during his team's preseason camp.
With the anticipation he would name a starter during his first news conference of the season Monday, Kelly instead punted.
At least publicly anyway.
Kelly felt it was in his team's best interest to not tip his hand in the direction of either Daniels or Nussmeier because his opponent in Sunday night's season opener – Florida State – was able to play and steamroll FCS opponent Duquesne, 47-7, Saturday.
He said everyone will find out when LSU takes the field for its first offensive series. True freshman Walker Howard of Lafayette's St. Thomas More High will be the team's No. 3 quarterback and likely redshirt.
"We've made a decision but I'm not going to announce it publicly," Kelly said. "Certainly, everyone here wants to know who the quarterback is. I get that. But I think it's a tactical advantage for us not to announce it, so I'm going to hold that announcement.
"Florida State played a game," Kelly added. "That's an advantage for them, having the opportunity to play. The advantage for us is we haven't played. It doesn't help us to give up any of our cards in that sense. We're going to hold onto that card until game day."
LSU begins preparations for the 6:30 p.m. game in the Superdome behind closed doors. None of the team's practices will be open to the media the remainder of the regular season.
Kelly said the choice between Daniels and Nussmeier has been made, one that apparently took place Saturday.
"How long have I known, probably 48 hours," Kelly said. "It's been that close."
LSU entered preseason practice with a three-man race for the starting quarterback position, but it thinned out Aug. 15 when sixth-year senior Myles Brennen left the team and retired from football.
During practice opportunities open to the media, Daniels and Nussmeier were locked in a close battle and alternated getting reps with the first team offense.
"There are similarities between the two of them in terms of what they're able to do," Kelly said. "They run extremely well, they both can make plays outside the pocket, and we certainly don't have to change the play calling. There's not a dramatic difference between the two when it comes to play calling. When we're talking about both quarterbacks, this is a 1A and 1B. Not a 1 and a 2. Both of them are obviously going to contribute this year."
Daniels started all 29 games during his three seasons at Arizona State, compiling a 18-11 record that included an MVP performance and win over Florida State in the 2019 Sun Bowl. The native of San Bernadino, California, who became the program's first true freshman to start the season combined for 7,303 total yards and 45 touchdowns.
Daniels completed 64% (197 of 301) of his passes in 2021, throwing for 2,381 yards with 10 touchdowns and 10 interceptions. He also rushed 138 times for 710 yards and six touchdowns.
During his freshman season he threw for 408 yards (on 22 of 32 passing) and three TDs in a 31-28 over Oregon and quarterback Justin Herbert.
Nussmeier, a native of Lake Charles who starred at Marcus High in Flower Mound, Texas, played in four games as a true freshman and preserved his redshirt. He completed 29 of 57 passes for 329 yards with two touchdowns and two interceptions, getting extensive action after the first two series against Arkansas with 179 yards with a TD and interception.
"In this instance they're going to be so engaged because they know how close they are to playing every snap," Kelly said. "It's not going to be, 'Put your helmet under the bench'. You need your helmet on because I think they'll be that engaged to get into the game itself.
"This is a little bit different. We're going to be natural in the ability to play to the next play with the next quarterback. This isn't you have to turn over your play sheet and go to Jayden Daniels' play calls or (the) Nussmeier game plan. It's one in the same and that in itself keeps you engaged with what's going on."