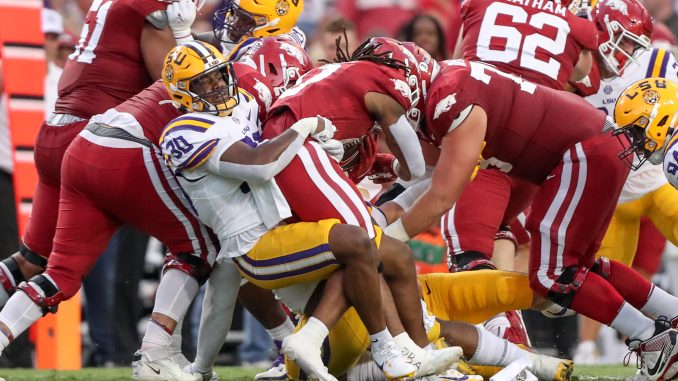 LSU football coach Brian Kelly zeroed in on a pair of examples that give him a ray of hope for his defense this season.
Buried beneath the 426 total yards and a pair of second-half touchdowns in last week's 34-31 Southeastern Conference victory over Arkansas were two instances that inspired Kelly. He believed the two plays could be the norm rather than the exception, for a defense that ranks in the bottom half in most of the league's major categories.
The first came from co-leader in tackles Major Burns whose forceful hit against Arkansas' Luke Hasz near the goal line kept the tight end out of the end zone, and following a false start penalty and an incompletion, forced the Razorbacks to settle for a field goal.
Burns, who had 12 tackles, was responsible for the second key play, limiting Arkansas holder Max Fletcher to an eight-yard gain to LSU's 11-yard line on a fake field goal.
The Tigers' defense, though, permitted a 2-yard gain from KJ Jefferson and sacked the mammoth Razorback quarterback on the next two plays for 13 yards in losses, resulting in another field goal that trimmed LSU's lead to 17-16 with more than five minutes remaining in the third quarter.
"We're not perfect," Kelly said. "We've got a long way to go. This group really cares, and they play hard. We just need to get our guys to do the ordinary things extraordinarily well and if they do, and we stay away from some of these self-inflicted wounds, I like what we have going. In our meetings we're going to show them when all 11 guys are doing their job. It's when we get outside and try and do some other things because we're getting those kind of effort plays from our guys."
The challenge facing LSU's defense, which gets back the services of senior linebacker Omar Speights, will be to slow down one of the SEC's top offenses when the No. 13 Tigers (3-1, 2-0 in SEC) visit the No. 20 Rebels (3-1, 0-1) in a battle for the Magnolia Bowl Trophy at 5 p.m. Saturday in Vaught-Hemingway Stadium.
The game will be televised by ESPN and carried locally by 98.1-FM.
"Our challenge is on us," LSU defensive end Bradyn Swinson said. "Being better than we were last week. Every week we want to be 1-0, trying to take steps to be better. We're really honing in on LSU vs. LSU every day. Trying to be better than the day before."
Burns and linebacker Greg Penn III led LSU with 12 tackles apiece against Arkansas and freshman linebacker Whit Weeks added nine. The Tigers registered three quarterback sacks and three hurries an of Jefferson, interception from Andre Sam and six tackles for losses.
The Tigers, though, allowed 62% third-down conversion rate and rank 99th nationally in that category. They're also ranked 67th in rushing defense (125.5), 70th in scoring defense (25.0), 81st in passing efficiency defense (138.56) and 66th in total defense (360.2)
"We just need to do our job," Kelly said. "Once we settle down and do the ordinary things extraordinarily well, this can be a good defense because it's shown itself to have resiliency and toughness and the players necessary to do that."
Ole Miss counters with an offense ranked just behind No. 1 LSU in the SEC in scoring (42.0) and No. 3 in total offense (470.2).
The up-tempo Rebels, who average a play every 22.4 seconds, are led by junior quarterback Jaxon Dart who ranks sixth nationally in total offense (328.8). He has thrown for 1,096 yards with seven touchdowns and two interceptions and is the Rebels leading rusher with 219 yards and 3 TDs on 44 carries.
His top target is 5-foot-11 senior Jordan Watkins with 24 catches for 347 yards and a TD, while Louisiana Tech transfer Tre Harris, a former high school teammate of LSU's Malik Nabers at Comeaux High in Lafayette, ranks sixth nationally in TD catches with five.
"We've got to do a good job with our cage rush," Swinson said of trying to contain Dart. "We've got great guys that are going to get back to him. We have to focus on a pass rush and keeping our rush lanes."
Providing LSU with a sense of comfort is its high-powered offense that quarterback Jayden Daniels has engineered to one of the nation's top 10 units. The Tigers rank first in the SEC in both total offense (530.0) and scoring offense (42.8), second in passing efficiency (138.46) and third in rushing offense (191.8).
The Tigers rank seventh, 10th, 13th and 36th nationally in the aforementioned categories.
"I would argue maybe the hottest offense in the country," Ole Miss coach Lane Kiffin said of LSU. "These guys have NFL players all over the place. We've seen him (Nabers) before, he's an unbelievable receiver. This is what LSU looks like. The last three coaches there (have) won national championships. They have great receivers, the defensive tackle (Maason Smith) looks unbelievable. Lots of challenges."
Daniels is the nation's third-rated quarterback and first in the SEC in total yards (372.2), fourth nationally and first in the SEC in passing yards per game (324.0) and first in the league in passing efficiency (189.1) and points responsible for with 84.
He's completed 72.6% of his passes (90 of 142) for 1,296 yards, 12 TDs and two interceptions. He's also second on the team in rushing with 193 yards and 2 TDs.
The receiving tandem of Nabers and Brian Thomas Jr. have elevated themselves to atop the SEC with 57 catches for 936 yards and 10 TDs.
Notre Dame transfer running back Logan Diggs, who has made three straight starts, is the team leader in rushing with 38 attempts for 253 yards and a touchdown.
LSU has won six of its past seven games against Ole Miss and two of the past three in Oxford.
"Every SEC game's going to be hard, and I knew that coming to LSU," Diggs said. "Playing in the SEC is tough, especially going on the road. I'm confident in our offense. I'm confident in the defense. Overall, I'm confident in the coaches and our preparation. All we can focus on is what we can control.
"If we go out and prepare hard this week the outcome will show in the game," Diggs added. "If we don't, then after the game we've got to reflect on what we did wrong throughout the week. I'm really confident in our team. I'll take us against anybody."