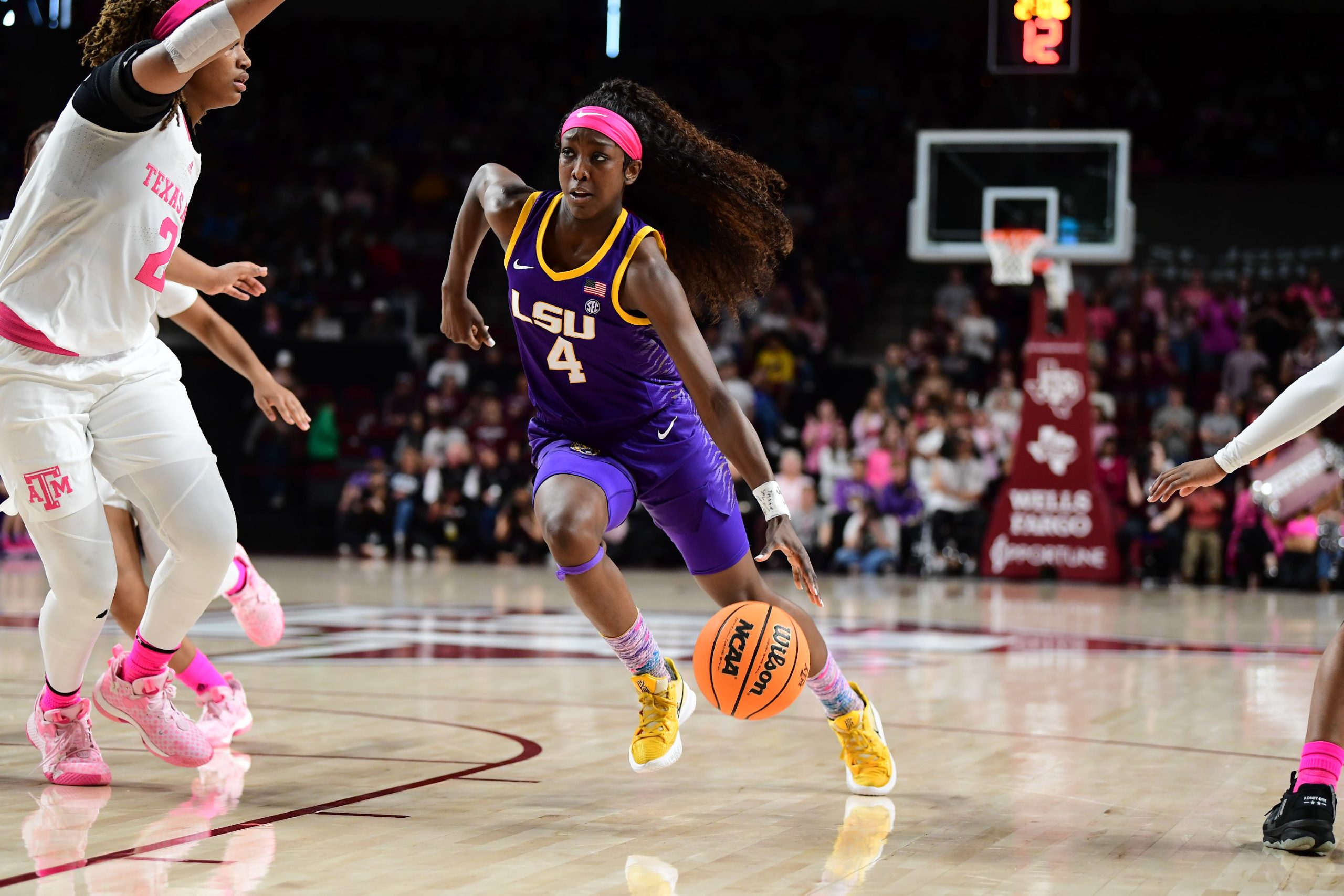 No. 3 LSU had its hands full trying to secure a spot in next week's massive matchup at No. 1 South Carolina.
The Tigers, playing their third game in seven days, had to execute down the stretch and with Angel Reese leading the way, were able to repel a determined Texas A&M team before a crowd of 6,482 at Reed Arena in College Station, Texas.
LSU got four straight free throws from Last-Tear Poa and Reese and the transfer from Maryland capped her 26-point, 22-rebound effort with a short jumper with 17 seconds left to cement a 72-66 victory Sunday over Texas A&M in Southeastern Conference action.
It was the Tigers third straight single-digit win of the week.
"It's a learning deal," LSU coach Kim Mulkey said. "I spoke to them in the locker room. We played three tough games in seven days and you won all three. Maybe for the last two weeks I felt the opponents are playing extremely hard. They're playing with a lot of energy, excitement. I asked the team why do you think that's taking place?
"I said you are becoming relevant in women's basketball," Mulkey said. "It's out there that you're undefeated. It's out there that we have Flau'jae and Angel and Morris and many others. You're going to have to learn how to be the aggressor and not always allow people to be the aggressor. I think we're learning that and it's good for us."
LSU (23-0, 11-0 in SEC) will be off until next Sunday's 1 p.m. clash at South Carolina (23-0, 10-0), which defeated No. 5 UConn, 81-77.
"I don't know if I would say fatigue is a problem," Mulkey said. "We're in February now. Even when I was a player, February's the hardest month because you get tired of each other, you're trying to grind out wins, finish up the regular season and get to the March and then it's like you have a breath of fresh air."
Reese pushed her school-record total to 23 consecutive games with a double-double, scoring 14 of her game-high total in the second half. It was her second 20/20 outing against the Aggies this season after earlier scoring 26 points and grabbing a school-record 28 rebounds in their first meeting.
"Angel Reese is just a talent," Mulkey said. "She's a talent that hates to lose. A talent that has an unbelievable will to win. She saw a (front and back) defense today that was very difficult for us get her touches. She attracts that much attention."
Fifth-year guard Alexis Morris scored 14 of her 24 points in the first half but endured an uneven outing with nine turnovers and fouled out with 1:59 left. Freshman guard Flau'jae Johnson added 11 points and six rebounds.
LSU, which shot 43.6% (24 of 55) from the field, bolstered its chances at victory with 78% percent shooting (21 of 27) from the free throw line – including 85% (11 of 13) in the fourth quarter. Led by Reese and Johnson (9), the Tigers outrebounded the Aggies, 42-32.
LSU made short work of an short-handed Texas A&M team on Jan. 5, destroying an Aggie with seven available players 74-34.
The Aggies (6-15, 1-10) were at full strength in the rematch and trailed the Tigers 66-62 after a 7-0 run with 1:45 remaining on Sahara Jones' two free throws.
"They're just getting back into the flow," Mulkey said. "They score 22 more points a game now that those (injured) kids are back on the floor for them. They rebound better now that they're back on the floor. Injuries can deflate you but when you get them all healthy, you see improvement and I thought what they tried to do defensively on Angel was outstanding. You can tell they're improved and a lot of that has to do with their main players being back and healthy."
LSU retained a 68-63 lead with 1:05 left on a free throw from A&M's Kay Kay Green when Poa, taking over for Morris at point guard, was fouled and made a pair of free throws. Following a turnover by the Aggies, the Tigers ran down the clock with Kateri Poole driving and finding Reese in the lane for a jumper and nine-point (72-63) lead.
A&M held LSU to 31% shooting (4 of 13) to outscore the Tigers 16-10 in the third quarter and got within 44-40 with just under two minutes left.
LSU stopped a 6-0 run with 1:28 showing on a free throw from Reese – her first point of the quarter. She also stopped a 0-of-7 stretch for the team from the field with a driving lay-in to make it 47-40. The Tigers took a 49-42 lead into the fourth quarter on Morris' baseline runner with 33 seconds showing.
A&M remained within single digits until LSU went on a 6-0 run which Morris finished with a 17-foot jumper off a screen from Reese with 3:05 left. The Tigers lost the services of Morris just over a minute later and starting forward LaDazhia Williams also fouled out with 1:05 to play.
The Aggies, which shot 37.3% (22 of 59), had two players score in double figures led by Jones' 14 and Tineya Hylton with 12.
"We are a different team than when we played them at the beginning of January," A&M first-year coach Joni Taylor said. "I'm really proud of our fight. We got down 17 at one point and that's what the growth of this team is and the one thing I am so proud of is how we continue to fight. I can't say enough of how proud I am. Everybody that played, at some point, made a play that kept us going."
LSU, which never trailed, scored the game's first nine points and built a 39-26 halftime lead.
Reese extended her school-record succession of double-doubles to 23 in the first half with 12 points and 13 rebounds, the latter statistic helping the Tigers own the boards at 23-10.
Reese and Morris combined for all nine of their team's points halfway into the game and it was Morris' second 3-pointer on a pull-up that resulted in a 16-5 lead at the 3:17 mark.
Reese followed up Morris' miss with 19 seconds left for a 18-8 advantage.
LSU, which shot 48% (14 of 29) in the first half, extended its lead to 23-8 less than a minute into the second quarter on Poa's corner 3-pointer.
The Tigers later went on an 8-0 run in the latter stagse of the quarter which Morris began and ended with baskets that made it 35-18 with 2:51 showing before halftime.
Six straight points from Hannah Barker drew A&M to within 37-26 with 1:26 left when Reese converted one of her patent steals into a court-length drive and basket with 20.4 seconds left for the 39-26 cushion at halftime.
"I thought Alexis Morris was hitting early in the game, I thought we got some transition buckets that we didn't get in the second half," Mulkey said. "Flau'jae continues to do things in the clutch. She's not afraid in moments like that. We're just going to grow up. All of things help you get better."