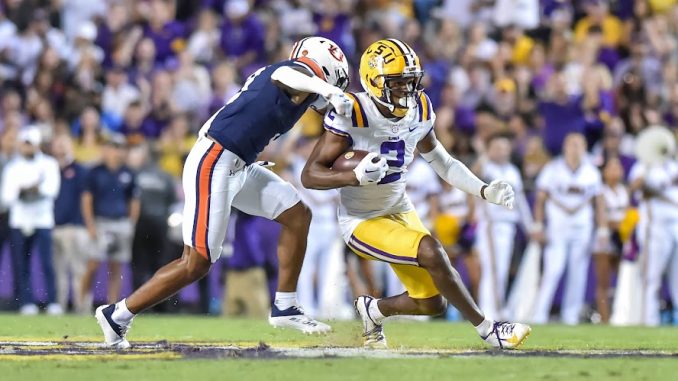 It was the kind of complimentary football LSU coach Brian Kelly's been waiting to see.
With quarterback Jayden Daniels' three-touchdown passing effort powering a 563-yard offensive effort, it was the No. 22 Tigers' improved effort on the defense that help lead to a resounding 48-18 victory Saturday over Auburn before a sold-out crowd of 102,321 at Tiger Stadium.
"We felt like this offense is one that needed some help," Kelly said, "and I don't mean within its own ranks, I meant the defense needed to play better and we really looked at its structure, and getting the right guys in the right place and then playing a much more disciplined and aggressive type of defense. And I think we're getting to that level of complimentary football. We're not there yet."
Daniels accounted for 418 total yards – most yards ever for an LSU player against Auburn – and threw three touchdowns to three different receivers, and LSU's defense limited Auburn to 293 total yards in the final matchup after 31 consecutive years between the two Southeastern Conference Western Division rivals.
LSU (5-2, 4-1 in SEC) built a 20-7 halftime lead and scored on four consecutive second-half drives for its biggest win over Auburn (3-3, 0-3) since a 45-10 victory in 2011.
"You know, this team controls its own destiny at this point," Kelly said. "And we need to continue to improve on the defensive side of the ball continue the consistency from an offensive standpoint. But I'll put this team up with anybody in the league right now. We just need to continue to grow and continue to get better from a defensive perspective in terms of all 11 players, knowing their assignments, playing discipline, football, and being much more aggressive to the ball when it's in the air. I think if we can do that, this is a team that can compete for a championship."
Once Auburn closed to 20-10 on its first drive of the third quarter, Daniels directed LSU on touchdown drives of 39, 67, 75 and 48 yards to reach at least 48 points in the last three consecutive games.
Daniels, No. 2 in the SEC and No. 3 nationally in total offense, increased his career touchdown total to 99 (71 passing, 29 rushing).
True freshman Kaleb Jackson created tremendous field position on LSU's opening touchdown of the quarter with a 60-yard kickoff return. The Tigers overcame a false start penalty and a 1-yard sack on the drive when Daniels connected with Kyren Lacy on a 25-yard scoring toss at the eight-minute mark.
The combination of Daniels to Lacy was the impetus in the team's second score of the half, the duo connecting on a 57-yard completion to Auburn's 10-yard line. Three plays later, Daniels found senior running back Josh Williams who completed a 13-yard TD pass to make it 34-18 at the 3:53 mark.
Daniels completed 20 of 27 passes for 325 yards, one interception and three touchdowns. He added 93 yards rushing on 11 attempts. Following Malik Nabers' team-high six catches for 89 yards and TD was Lacy, who turned in a career-best 111-yard effort on four receptions.
Lacy's previous best was 62 yards earlier this season against Grambling State.
"It feels amazing," Lacy said of his first career 100-yard effort. "Knowing I work so hard every week and we put in so much work, I just had to take advantage of my opportunity. It just felt great."
LSU's ground game, which finished with 238 yards on 39 attempts, was paced by Logan Diggs' 97 yards on 13 carries and a touchdown.
LSU answered Auburn's second touchdown and a two-point conversion with a 75-yard drive that Daniels ignited with a 23-yard scramble on second-and-four. He also kept for 12 yards, and another first down and later found Nabers for a 22-yard completion to Auburn's 15.
Diggs took care of the remaining six yards, taking his second carry up the middle for the final five yards and into the end zone. Williams added his team's final score – a 1-yard run – 2:28 to play.
LSU's defense limited Auburn's rushing game, ranked No. 3 in the SEC, to 139 yards on 34 attempts. Cornerback Zy Alexander had a team-best nine tackles.
"We had to go back to the basics and just focus on our technique, physicality, and other things like that," Alexander said. "Going into the game and doing our job, one of 11, we should be good."
LSU had 216 of its 309 total offense in building a 17-0 lead in the first quarter before going on to a 20-7 halftime advantage on four straight scoring drives.
Had it not been for penalties LSU could have scored more. The Tigers were whistled for five penalties in the first quarter, effectively impeding a pair of promising drives that had both reached Auburn's red zone but resulted in a pair of Damian Ramos field goals of 30 and 35 yards, respectively.
"The penalties were cadence penalties," Kelly said. "We never think that verbal is going to be an issue of verbal cadence at home. But it was even loud at home that we had to switch to non-verbal. It was such a crowd here tonight."
LSU needed less than two minutes to score on its opening drive which culminated in a 29-yard throw and catch between Daniels and Nabers at the 13:21 mark. Daniels threw to Nabers for a short completion but because of a great seal block from tight end Mason Taylor, Nabers was able to get to the sideline and scored on second-and-eight play.
The Tigers, who regained center Charles Turner III who left the Missouri game with an injury, lost starting right tackle Emery Jones Jr. on their second series following Diggs' 6-yard run. Jones required assistance to leave the field and was diagnosed with an ankle injury, prompting true freshman Lance Heard to take over for the remainder of the game.
Ramos' 30-yard field goal made it 10-0 when senior John Emery Jr. was featured on the team's third series. His 19-yard reception from Daniels reached Auburn's 17-yard line and Emery was initially ruled down and lost a fumble while trying to stretch across the goal line on first-and-goal run.
Video replay reversed the call and awarded Emery a touchdown for a 17-0 lead with 2:15 left in the first quarter.
"Obviously, a difficult night for us," Auburn coach Hugh Freeze said. "They beat us in every way that you could. We had no answers defensively for them and offensively, just not consistent enough to stay in a scoring match with them."