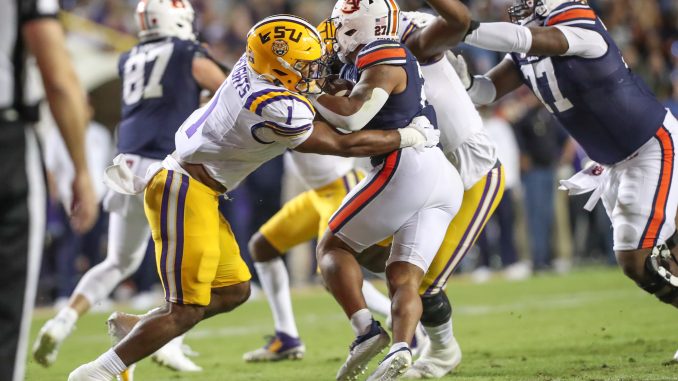 LSU may very well be headed for a repeat in the SEC West thanks in large part to this guy named Pete.
I'm referring, of course, to Pete Jenkins, who two weeks ago on a Sunday rolled back into Baton Rouge to meet LSU head coach Brian Kelly face-to-face for the first time ever and to cement his return to the sidelines as a Tiger – this time, to join the LSU coaching staff in some capacity for the sixth time in his illustrious coaching career.
The venerable 82-year-old defensive line coach was at LSU under Jerry Stovall in the early 1980s, then under Bill Arnsparger in the mid-1980s, then Pete repeated his role and was on Mike Archer's staff when he replaced Arnsparger to start the 1986 season. Jenkins made his way back to LSU a decade or so later and joined Nick Saban's staff to start the new millennium and, of course, Jenkins was on Ed Orgeron's staff.
Of course, Pete Jenkins has been other places, too, during his coaching career.
Pete's no miracle worker. He's no savior.
But one thing Pete Jenkins is, he is a damn good defensive line coach, one who is known for being a master teacher of technique and known for turning boys into defensive linemen who know how to use their hands and leverage their bodies to attack the offensive linemen opposing them, to close gaps, make the right fits, how to be physical and how to suffocate offenses.
Jenkins historically knows how to teach defensive linemen to eliminate what Kelly calls air in defenses.
In other words, what Jenkins does best is exactly what LSU needed done.
Credit Kelly for making the call to Pete after Ole Miss filled all the air in LSU's defense two weeks ago in Oxford, Mississippi with 55 points one week after Arkansas ran roughshod over LSU's non-defense.
Jenkins jumped on board that Sunday morning after the Oxford massacre as a defensive line consultant – one that under new NCAA rules can coach the players on the field.
LSU's defense was clearly in desperate need of some help. It couldn't stop anything. It couldn't tackle.
What in preseason was expected to be its strength was instead proving to be inept. And against Arkansas and against Ole Miss, the defense proved it couldn't defend the pass, couldn't pressure opposing quarterbacks and was more than just leaky, it was deflating.
Under the leadership of Jayden Daniels and a core of extremely gifted receiving playmakers led by Malik Nabers and Brian Thomas, along with a strong and experienced offensive line and the emergence of a strong running game, LSU's offense was proving to be more than truly special, it was proving to be prolific, perhaps historically prolific.
But what was painfully apparent to anyone who could see, LSU was not only just on the cusp of wasting its powerful offense, it was actually wasting potentially the best offense in all of college football this season and the best one at LSU since 2019.
Any hopes LSU had of repeating as SEC West Champions following the Ole Miss defensive debacle would require drastic measures.
Again, credit Kelly for taking those steps.
Auburn is no offensive juggernaut, and no one would confuse them with one.
But the Plainsmen had recently come within two pass completions of beating two-time defending national champion and No. 1 Georgia before dropping a 27-20 heartbreaker to the Bulldogs only a few weeks ago at Auburn, and, on the season, Auburn was averaging more than 200 yards per game rushing coming into Tiger Stadium on Saturday night.
In Jenkins' first game back at LSU, last week against unbeaten Missouri in Columbia, the Tigers' defense showed a modicum of improvement, especially with a few timely stops that at least helped the offense breathe a little bit and allowed LSU to eke out a must-win.
The question was, of course, what would happen with LSU's defense against Auburn in a rivalry game that is known most for expecting the unexpected?
Would LSU continue to improve against Auburn this week?
Could they be more physical than Auburn?
Could LSU's defense at least tackle some, or tackle enough, to stunt the Auburn rushing game enough to help the LSU offense just a little?
Could LSU's defensive line pressure Auburn in the passing game enough to allow the youngsters in the LSU secondary to hold Auburn's previously anemic passing game down, or would Auburn torch the LSU secondary like everyone else had done so far this season, save for Grambling for three quarters, and Mississippi State – in what was quickly turning out to be an anomaly of a defensive performance for the Tigers in 2023.
Or would LSU's defense simply get dominated, run over and blown up through the air again?
The answer:
Auburn finished with 293 total yards, the second fewest allowed this season by an LSU defense. Meanwhile, LSU forced Auburn into four three-and-outs and one four-play drive that resulted in a turnover on downs.
Much, much better than the whopping 1,233 yards and 104 points LSU's defense gave up in its previous two games.
Thanks in large part to Pete, the only obvious signs of air in LSU's defense against Auburn were those formed from sighs of relief, not players being in wrong positions and making bad plays and blowing coverages.
Through the air, Auburn starter Payton Thorne completed 12 of 23 passes for 102 yards and backup Robby Ashford added 52 yards. LSU only gave up 154 yards passing.
Kelly was one of about 102,000 in Tiger Stadium who were more than pleased on Saturday night. At least few hundred Auburn fans were there, too. You can't count them in that number.
"I thought they (LSU's defense) were physical tonight. We were the more physical team," Kelly said.
"I thought that we were pretty disciplined defensively. I thought our corners, in particular, Zy Alexander, was tested early on, and we challenged him to really play the ball in the air. And I thought he did a great job. That's what they (Auburn) wanted to do early. They want to throw fades. He took that away from them.
"I give our defense a lot of credit and you know they've been under a lot of scrutiny and to see that kind of development over the past couple of weeks has been fun," Kelly said.
Kelly then added a caveat.
"This team controls its own destiny at this point."
That's true.
With Daniels leading an offense that remains on pace to rank among the most prolific in program history (LSU has now scored more than 40 points in five of its seven games this season, with a high of 70 against Grambling State), the Tigers appear to be electrifying to the point where they could score on any team in the country, almost at will.
But with an improving defense that can actually put together one or two stops a half moving forward and avoid shootouts and scoring matches with every team it plays here on out, this LSU team has what it takes to repeat as champions of the SEC West.
And, then, who knows what else?
"They beat us in every way that you could," first-year Auburn coach Hugh Freeze said. "We had no answers defensively for them and offensively just not consistent enough to stay in a scoring match with them."
Freeze, just to be clear, was talking about LSU, not Georgia.
Repeating for LSU now appears quite possible thanks in large part to Pete Jenkins.