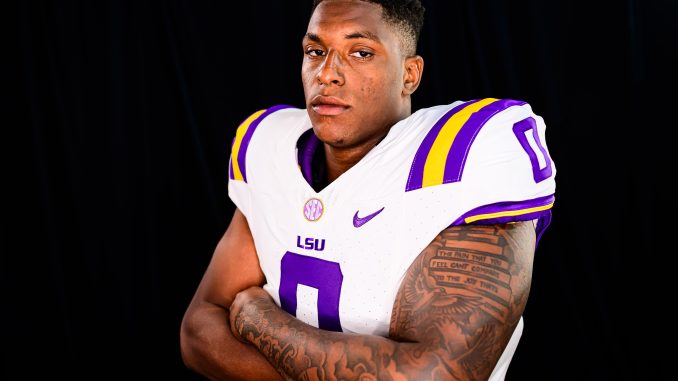 LSU will have to wait at least one game for the eagerly anticipated return of redshirt sophomore defensive tackle Maason Smith.
The 6-foot-6, 315-pound Smith, the state's No. 1 prospect out of Terrebonne High and five-star recruit in 2020, received a one-game suspension Wednesday from the NCAA for receiving an "improper benefit". The Advocate's Wilson Alexander first reported the news.
LSU head coach Brian Kelly is not scheduled to meet with the media until Monday at noon to kick off his weekly news conferences. The No. 5 Tigers will open the 2023 season against No. 8 Florida State at Camping World Stadium in Orlando, Florida.
Smith, a first team All-SEC selection by the league's coaches, is expected to be able to return for LSU's home opener on Sept. 9 against Grambling State in Tiger Stadium.
Smith is considered among LSU's notable players that have joined forces with powerful local Baton Rouge defense attorney Gordon McKernan in the NIL game. He's also partnered with chicken nugget giant Raising Canes and Next Gen Camps and has a $314,000 annual valuation on On3 Sports and more than 25,000 followers on social media.
Smith tore his ACL celebrating at the conclusion of LSU's first defensive series in last year's opener against Florida State in the Superdome. He missed the entire season, spring practice and was finally cleared this summer for all team activities.
According to Matt Moscona of ESPN's After Further Review, Smith and former wide receiver Kayshon Boutte participated in an autograph session in the summer of 2021 before NIL was approved. Boutte missed two games during the '22 season which would have served as his one-game suspension, sitting out against New Mexico (birth of his child) and UAB (flu), while Smith sat out the entire season because of the knee injury and never served his one-game suspension.
Smith's dealt with minor injuries during August practices and was dressed in uniform but did not take part in last Saturday's first major scrimmage.
Smith started in four of nine games during his freshman season, earning Freshman All-America honors with 19 tackles, four sacks and five TFLs.
Third team All-American Mekhi Wingo, who filled in after Smith's injury a year ago, is a projected starter and Kelly also signed three players from the NCAA's transfer portal that were expected to rotate with Smith in the lineup. Now the Tigers will rely more on the trio of Paris Shand of Arizona, Justin Jefferson of West Virginia and Jalen Lee of Florida.