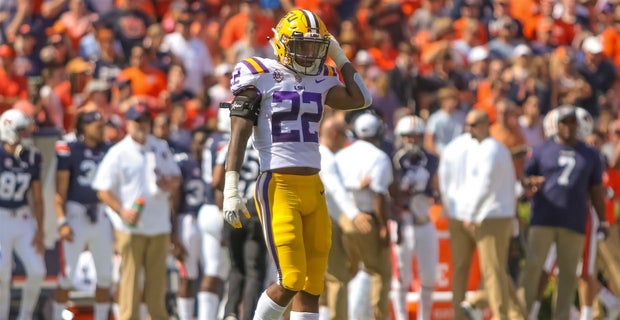 One could be forgiven for looking at LSU's depth at cornerback and raise their eyebrows in surprise or even mild fear.
With the departures of Kelvin Joseph, who just enrolled at Kentucky, and Mannie Netherly who announced his entry into the transfer portal Monday afternoon, a look at the depth chart shows one senior in Kristian Fulton and then four freshmen.
No, that is not a typo.
According to the depth chart released by LSU on Monday, Fulton will start on one side with true freshman Cordale Flott slotted behind him while freshman Derek Stingley will start on the other side backed up by fellow true freshmen Jay Ward and Raydarious Jones.
And that's it.
No more seniors and no juniors or even sophomores expected to play a significant role at one of LSU's most prominent positions, historically. Just a senior and four true freshmen.
But ask any one of them, or even head coach Ed Orgeron, and they'll tell you they're prepped to perform up to snuff.
"Jay Ward is a good tackler," Orgeron said when asked about depth at cornerback. "He's very strong. Raydarious has had a couple injuries, so he's not ready to go right now. We really like those young guys. We think it's an excellent class. Kristian is going to be ready to go, Derek is going to be ready to go. We feel strong at corner."
Believe it or not, this isn't a completely unique situation for LSU.
Just ask Fulton, the lone upperclassman, who looks forward to taking on a challenge he saw overcome by a predecessor of his not too long ago.
"It's crazy," he said. "I kind of see how Tre'Davious White felt. He was in a similar situation. We had like four young guys come in with my class, and he was the oldest."
White actually came down to Baton Rouge over the summer and worked out with the team. Fulton took the opportunity to pick his brain and ask how he dealt with that kind of situation.
The advice he received was simple: get extra film study and lead by example on the field.
The latter was a bit more difficult seeing has he spent a good portion of fall camp sidelined with an injury he said had nothing to do with the surgery he had on his foot back in January.
But he was still able to guide his young teammates in the cornerbacks room and the film room and even from the sideline.
"From watching them practice, I see some things they they messed up on or they'd have some questions about he coverages, and I'll try to simplify things as much as possible for them.
"And not just bad things but good things, you know? Let them know what they did right. You have to have great confidence to play this position, and they're going to need it once they step into Tiger Stadium."
One thing that's helped Fulton has been the physical, emotional and mental maturity of his fellow starter Derek Stingley.
Stingley entered the program last spring with high expectations, and if coaches and teammates are to be believed, he's lived up to them and then some.
"He was out there with the (first string) in the spring, and he held his own," Fulton said of Stingley. "He's been there since before all the other freshmen. He's been leading the group with us during summer workouts and runs. That's why it feels like he's an older guy."
Having another freshman that Ed Orgeron said he's comfortable starting if necessary helps, too.
Flott seems to have emerged as the primary backup for either Fulton or Stingley.
Fulton agreed with Orgeron's sentiments, saying he's a talented cornerback with a high ceiling.
"He's a quick twitch guy," he said. "He moves well, he has good ball skills, he's smart. He picked up on the defense fast. It's a young group so the third spot was really open for grabs, and he kind of separated himself."
It may be a young group, but the coaches and athletes seem to think this has potential to be as good a group as ever at cornerback.
Fans will have to wait and see if that prediction holds up, but one thing's for sure, with the athleticism and talent, they should be fun to watch.