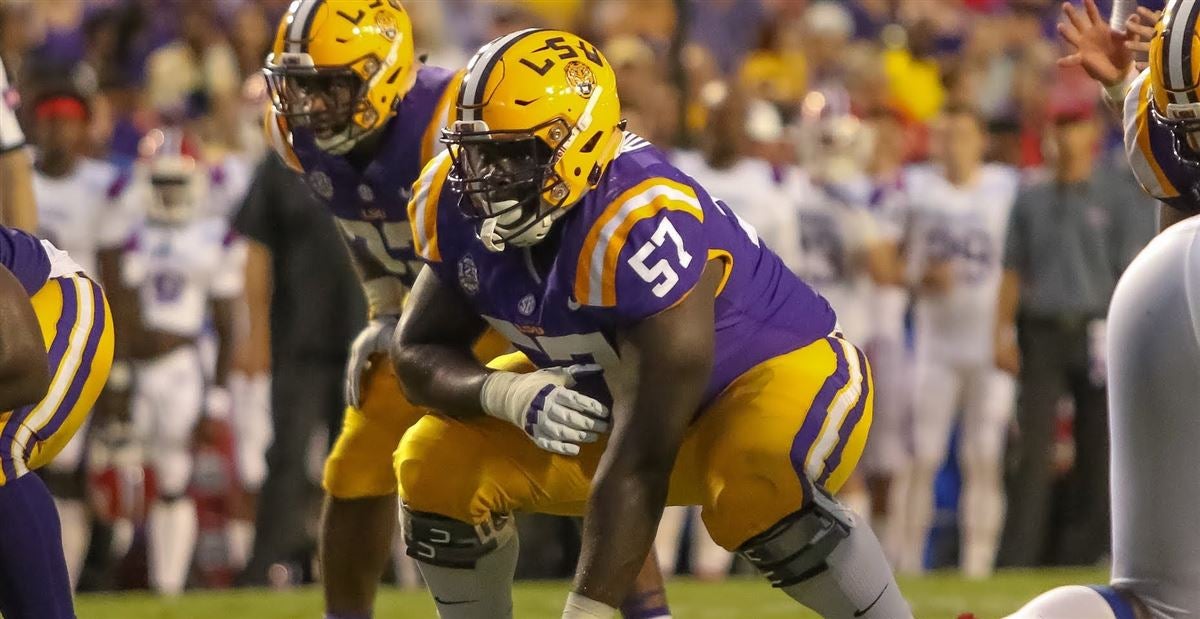 LSU began game-week preparations for the season opener with its offensive line as healthy as it has been since the Tigers reported to Fall Camp three weeks ago.
Aside from freshmen Kardell Thomas and Thomas Perry, the latter of whom wasn't expected to contribute, LSU's full complement of blockers were on the practice field Monday afternoon.
LSU spent most of camp simply trying to have five of its top guys healthy enough to fill out a line. Now that the likes of Damien Lewis and Chasen Hines are back, the competition to start at left guard is officially back on.
Maybe stopped is the wrong phrasing. The competition never truly got going because senior Adrian Magee was the only healthy candidate for much of camp. Hines was in and out of practice while working his way back from knee surgery and Thomas went down with an ankle injury that required surgery.
All those injuries made Magee, a versatile veteran, the odds-on favorite by default to start the season at left guard. He still might, but there's a genuine excitement in the offensive line room to have Hines back in the mix.
"It's been kind of a long camp for him because he's been dealing with some injuries, but now he's back healthy," center Lloyd Cushenberry said. "He's getting back to what he does well. He's a fast learner. He's got great upside, and I feel like he can step in and do some great things."
When healthy, Hines brings an athleticism to the guard position that plays well in LSU's new up-tempo offense. The sophomore may be the younger of the two candidates, but he's also proven himself under difficult circumstances before.
Hines stepped in as a true freshman when Garrett Brumfield went down against Auburn last season and didn't miss a beat. He made one start as a rookie and saw action in eight games, most of which came while he was gutting his way through the aforementioned knee injury.
"I know he was ready then," Lewis said of Hines' relief appearance against Auburn. "I'll tell you something I've told people: Some people are born with it, and some people aint. He's one of those guys who had it like that coming in as a freshman."
The other offensive lineman whose stock appears to be on the rise is Badara Traore. He's not a starter at any position going into the season, but Ed Orgeron has repeatedly credited him for being versatile enough to be the next man up at any of the guard or tackle positions should an injury occur.
That's a credit to the work Traore put in during camp. With Hines, Lewis and Thomas all down at one point, Traore slid inside to right guard and performed admirably in the second scrimmage of camp.
"Badara can play anywhere down the line," Lewis said. "I think he can play center too. He came a long way from a guy from JUCO who didn't know the proper steps that good. Coach (James) Cregg coached him up and he's come a long way. He's a big part of this offense."
"He's grown a lot since he's been here," Cushenberry added. "Just learning the full picture of the offense. Not just his job, but being able to play tackle and guard is huge for us. It gives the room a lot more versatility. He's got a lot more confidence now."