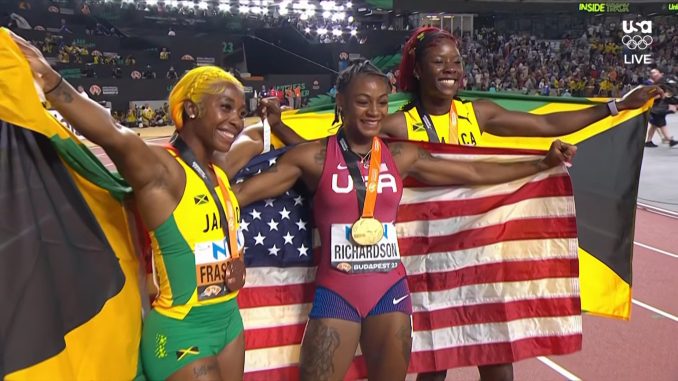 Two years after a positive marijuana test cost her a spot in the Tokyo Olympics, former LSU All-American sprinter Sha'Carri Richardson gained a measure of redemption.
Richardson, a native of Dallas, overcame a third place finish Monday in the semifinals of the 2023 World Championships to rally and claim the championship in the race and punched her ticket for the 2024 Paris Olympics.
The 23-year-old Richardson became the first American sprinter in six years to win the World Championship title, blazing to a personal best time of 10.65 seconds – also a World Championships record – at the National Athletes Centre in Budapest, Hungary. The last American to win the 100 in the World Championships was Tori Bowie in 2017.
"I feel amazing about my performance," Richardson said. "Amazing competition, amazing atmosphere, and doing what I did all season long at practice to accomplish what we need to get accomplished. I felt like being in lane nine allowed me to just focus in on what I needed to execute. I felt no matter what the result was from start to finish in that race, I executed and I was going to be happy no matter what the result was."
Richardson had to accomplish the feat from the outside lane – No. 9 – where she trailed Jamaica's Shericka Jackson (10.72) – the world's No. 1 ranked 100-meter runner – and Shelly-Ann Frazer-Pryce (10.77). She caught and passed both of the favorites with a blistering finish.
An hour before the 100 final, she posted a time of 10.84 in the semifinal in which she encountered a slow start out of the blocks.
She will return later in the week to try and achieve a sprint double in the 200 meters.