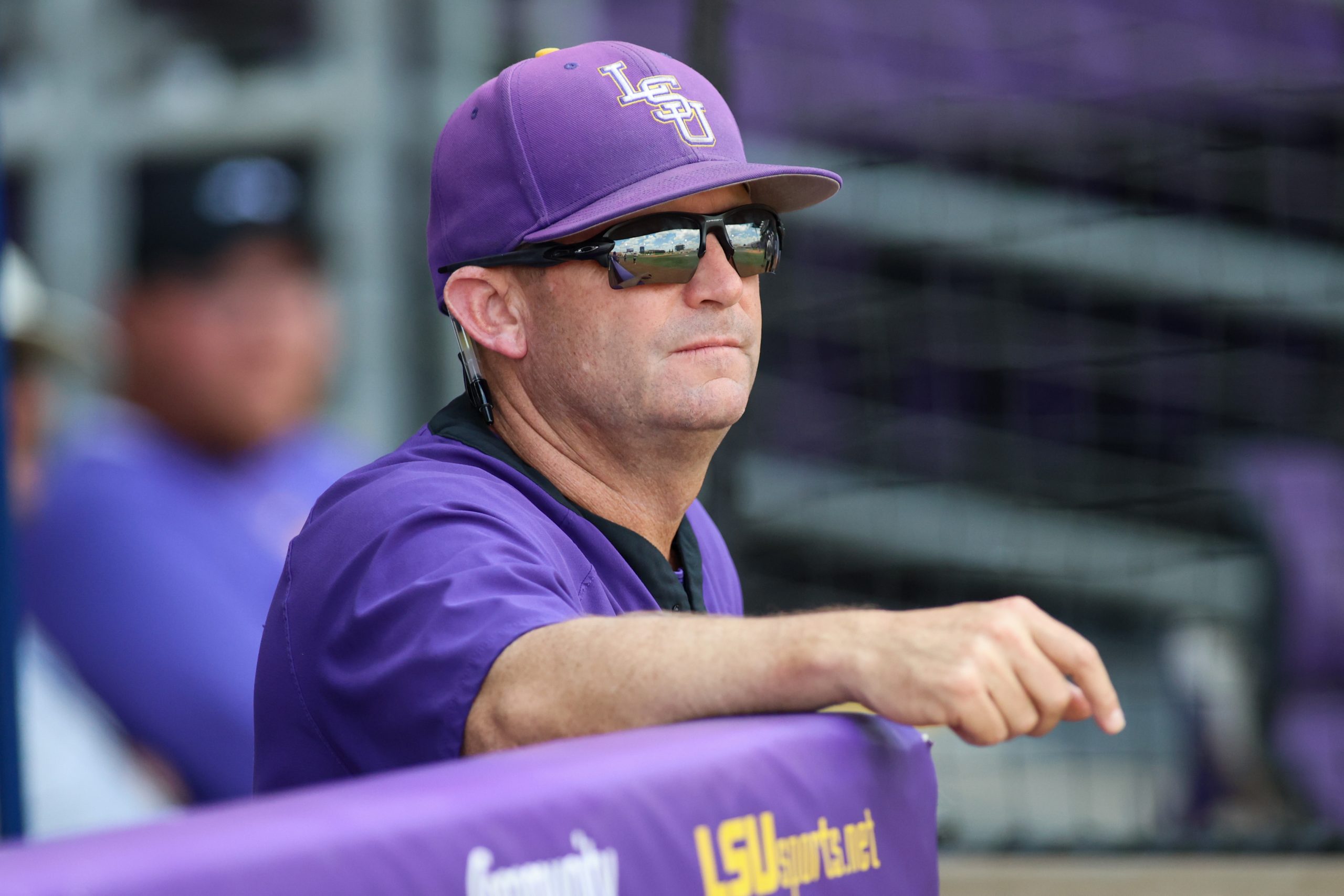 LSU baseball coach Jay Johnson met with the media where he introduced new assistant coaches Nate Yeskie and Terry Rooney. He also talked about his 2024 baseball roster and much more.
LSU BASEBALL COACH JAY JOHNSON RELEASES FALL ROSTER
LSU baseball coach Jay Johnson on Monday released the Tigers' fall semester roster that includes the 20 members of the incoming recruiting class that have joined the program.
Johnson said it's been 56 days since the Tigers claimed the 2023 College World Series title on June 26, and the focus of the program now shifts to preparation for the 2024 season.
"We've had a very busy two months relative to recruiting and finishing up this roster," Johnson, the 2023 National Coach of the Year, said. "Obviously, the transfer portal has changed the dynamic of how we do business. We were very successful with the MLB Draft, only losing one of our recruits to professional baseball.
"We think this is an extremely talented class that combined with our returning players will get us started on a good note in fall workouts."
Johnson said the Tigers will engage in individual drills and strength training for the next several weeks prior to beginning their full-squad fall practice period, featuring intra-squad scrimmages, on October 5.
Listed below are the members of LSU's 2023 signing class:
32 Kade Anderson, LHP
Madisonville, La. (St. Paul's HS)
Ranked as the No. 2 overall player in Louisiana by Perfect Game for Class of 2023
Ranked as the No. 19 left-handed pitcher and the No. 130 overall player in the nation by Perfect Game
9 Mac Bingham, OF
San Diego, Calif. (Torrey Pines HS/Arizona)
Transfers to LSU after four seasons at Arizona (2020-23)
Earned 2023 All-Pac 12 recognition after hitting .360 with 68 runs scored, 20 doubles, two triples, 10 home runs, 51 RBI and a .573 slugging percentage
Selected by the Chicago Cubs in the 40th round of the 2019 MLB Draft
10 Michael Braswell III, INF
Mableton, Ga. (Campbell HS/South Carolina)
Transfers to LSU after two seasons at South Carolina (2022-23)
Played in 51 games for the Gamecocks in 2023 making 37 starts … collected eight doubles, two triples, a home run and 23 RBI
Voted to the 2022 Freshman All-SEC Team
18 Jake Brown, LHP/OF/1B
Sulphur, La. (Sulphur HS)
· Ranked as the No. 1 overall player in the state of Louisiana by Perfect Game
· No. 18 ranked left-handed pitcher in the nation by Perfect Game
· Voted the 2023 Gatorade Louisiana Baseball Player of the Year … posted a 10-2 record on the mound with a 1.71 ERA, surrendering just 39 hits in 73.2 innings pitched while striking out 118 batters … also batted .336 with seven home runs, 26 RBI and 20 stolen bases
· Selected by the Texas Rangers in the 16th round of the 2023 MLB Draft
52 Griffin Cooley, OF
Kinder, La. (Kinder HS)
· Ranked as the No. 11 outfielder in the state of Louisiana by Perfect Game
· Voted 2023 First-Team All-State in Class 3A, batting .462 on the year
53 Dallas Dale II, OF
Apopka, Fla. (Mount Dora Christian Academy)
No. 9 ranked outfielder and No. 54 overall player in Florida by Perfect Game for Class of 2023
Ranked nationally as No. 61 outfielder by Perfect Game
Batted .400 in 2023 with 32 hits, 33 runs, nine homers and 29 RBI
38 Luke Holman, RHP
Sinking Springs, Pa. (Wilson HS/Alabama)
· Pitched the past two seasons (2022-23) at Alabama, where he made 31 appearances (15 starts) and posted a 4.05 ERA with 111 strikeouts in 100.0 innings.
· Worked as Alabama's No. 1 starter in 2023, recording a 7-4 mark and a 3.67 ERA in 81.0 innings with 87 strikeouts and a .186 opponent batting average … finished No. 2 in the SEC in WHIP (1.05) and No. 3 in the league in opponent batting average and hits per nine innings (6.00)
55 Cameron Johnson, LHP
Upper Marlboro, Md. (IMG Academy)
· Ranked nationally by Perfect Game as the No. 2 left-hander pitcher and the No. 11 overall player
· Selected in the 20th round of the 2023 MLB Draft by the St. Louis Cardinals
· Ranked as the No. 42 overall prospect entering the 2023 Draft by MLB Pipeline
23 Gage Jump, LHP
Aliso, Calif. (JSerra Catholic HS/UCLA)
Transfers to LSU after two seasons (2022-23) at UCLA
Did not pitch in 2023 due to injury … made seven appearances as a true freshman in 2022, including three starts … finished the year with a 1-1 record, two saves, 3.86 ERA, .172 opponent batting average and 22 strikeouts over 16.1 innings
Ranked as the No. 1 left-handed pitcher in the state of California as a high school senior
20 Ryan Kucherak, INF
Chandler, Ariz. (Hamilton HS)
The No. 2 ranked shortstop in Arizona by Perfect Game for the Class of 2023
Ranked as the state of Arizona's No. 15 overall prospect by Perfect Game
54 Trenton Lape, RHP
Bossier City, La. (Parkway HS)
Ranked as the No. 5 third baseman and the No. 132 overall player in the nation by Perfect Game
No. 1 ranked third baseman and No. 3 ranked overall player in the state of Louisiana by Perfect Game
Earned 2023 Class 5A All-State recognition
44 Ashton Larson, OF
Overland Park, Kan. (St. Thomas Aquinas HS)
· Ranked nationally as the No. 13 outfielder and the No. 78 overall player by Perfect Game
· The No. 1 ranked overall player in the state of Kansas by Perfect Game
· Selected by the Minnesota Twins in the 20th round of the 2023 MLB Draft
6 Justin Loer, LHP
Lakeville, Minn. (Lakeville South HS/Xavier University)
Transfers to LSU after two seasons (2022-23) at Xavier
Made 29 appearances (one start) for Xavier in 2023, posting a 6-2 record, a 1.89 ERA and seven saves in 57.0 innings with 63 strikeouts and a .182 opponent batting average
Earned 2023 Second-Team All-Big East honors and helped lead Xavier to the Big East Conference Tournament title and an NCAA Tournament bid
4 Steven Milam, INF
Las Cruces, N.M. (Centennial HS)
Ranked nationally as the No. 32 shortstop and the No. 119 overall player by Perfect Game
The No. 1 overall player in the state of New Mexico, according to Perfect Game
Voted the 2023 Gatorade New Mexico Player of the Year after batting .627 with 52 hits, 50 RBI and 65 runs … also drew 42 walks and only struck out eight times over 30 games
43 Derrick Mitchell, OF
Plano, Texas (John Paul II HS)
No. 5 ranked outfielder and No. 18 ranked overall player in the state of Texas by Perfect Game
Ranked nationally as the No. 33 outfielder by Perfect Game
24 Austen Roellig, INF
Rancho Cucamonga, Calif. (Etiwanda HS)
· No. 11 ranked shortstop and No. 37 ranked overall player in the state of California by Perfect Game
· Ranked as the No. 51 shortstop in the nation by Perfect Game
46 MJ Seo, RHP
Carrollton, Texas (Hebron HS)
No. 2 ranked shortstop and No. 16 ranked overall player in the state of Texas by Perfect Game
Ranked nationally as the No. 40 shortstop and the No. 160 overall prospect by Perfect Game
Voted to the 2023 Dallas/Fort Worth All-Area First Team
51 Dylan Thompson, INF/RHP
Moss Bluff, La. (Sam Houston HS)
No. 3 ranked shortstop and No. 11 ranked overall player in Louisiana by Perfect Game
Ranked as the No. 139 shortstop in the nation by Perfect Game
40 Fidel Ulloa, RHP
Lodi, Calif. (Lodi HS/San Joaquin Delta College)
Transfers to LSU after two seasons (2022-23) at San Joaquin Delta College in Stockton, Calif.
Appeared in 14 games (10 starts) in 2023, posting a 5-1 record and 4.09 ERA in 55.0 innings with 75 strikeouts and a 1.29 WHIP
25 Kade Woods, RHP
West Monroe, La. (Ouachita Christian HS/Alabama)
Transfers to LSU after two seasons (2022-23) at Alabama … did not pitch in 2022 due to an injury
Posted a 4-1 record in 2023 with a 5.52 ERA, 38 strikeouts and one save in 29.1 innings … made 17 appearances, including one start, and limited opponents to a .219 batting average