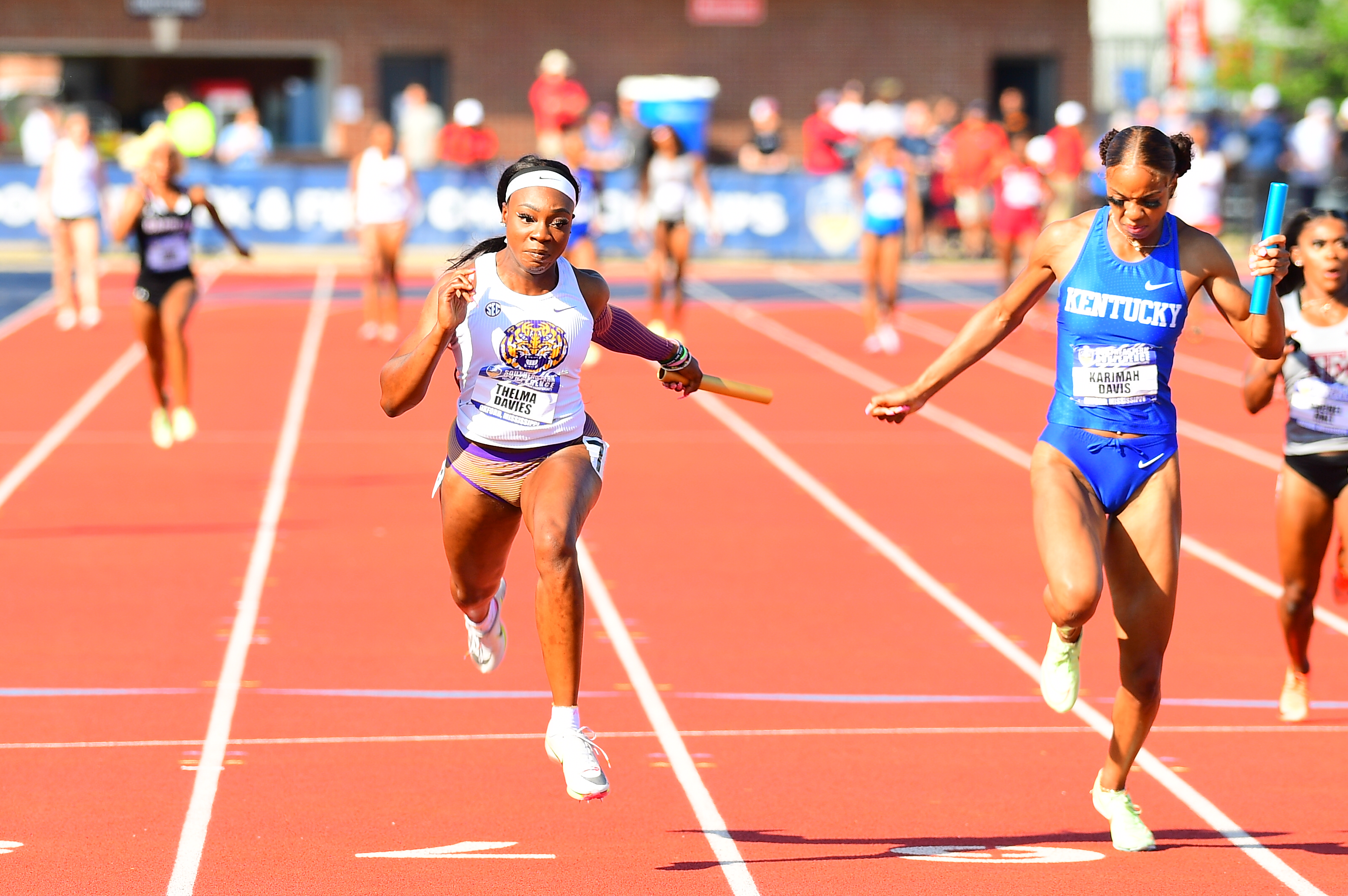 Led by a charge from sprinter Favour Ofili, the LSU women's track and field team finished third in the Southeastern Conference championships Saturday at Ole Miss.
Ofili staged quite a battle with Kentucky's Anny Steiner to win both the 100 and 200 meter races and was also a part of LSU's winning 4×100 relay race to finish with 96.5 points, behind Florida (107) and Arkansas (103).
The LSU men finished seventh with 70 team points. Arkansas (120) won the meet followed by Alabama (114) and Tennessee (83).
Ofili became the first sprinter in the SEC to win the 100 meters, 200 meters, and 4×100 meter relay at the conference meet since LSU's Sha'Carri Richardson (2019).
Ofili's teamed up with Alia Armstrong, Tionna Beard-Brown, and Thelma Davies to win LSU's sixth straight conference title in the event with a facility record of 42.59 seconds. She matched her career best in the 100 (10.93), won the 200 (22.04) which broke her own facility record she set Thursday.
"Everything that I have, everything I've done here, it's all by the grace of God," Ofili said after the 200. "Competing with Abby, we know we are going to run fast times together. I'm just happy to be healthy and I give God all the glory. I just went out there and stuck to my race plan. It was a wonderful day for me and my teammates, and these moments that have been created won't soon be forgotten."
Armstrong completed the 2022 SEC hurdles sweep as she won the 100 meter hurdles with a slightly wind-aided time of 12.46 (+2.1 meters per second).
Senior Katy-Ann McDonald ran a personal best and lowered her school record in the 1,500 meters to 4:12.30 for a third-place finish. She then returned to finish fourth in the 800 (2:03.09), placing behind teammate Michaela Rose (2:02.49) who was second.
Lisa Gunnarsson (14-7 1/2) was second in the pole vault, while Amber Hart was fourth in the discus (176-3. LSU's final scorer of the day was Tionna Beard-Brown with a time of 11.45 to finish fifth in the 100 meters.
LSU's men picked up a pair of wins from Eric Edwards Jr. in the 100-meter hurdles (13.28) and Sean Dixon-Bodie (53-8 1/4) in the triple jump.
Edwards' time moved him up to No. 2 in LSU history, while Dixon-Bodie completed the SEC indoor and outdoor sweep in the triple jump with a season best mark on his final attempt. Teammate Apalos Edwards notched a personal best mark (53-3 1/2) to finish second.
Dorian Camel of Scotlandville Magnet scored in the 100, 200, and as part of the 4×400 meter relay. He was third in the 100 (10.11), third in the 200 (20.43) and ran the lead leg on the 4×400 relay (3:05.92) that was fourth. His teammates on that relay were Sean Burrell, Aaron Smith, and Ashton Hicks.
Godson Oghenebrume scored a fifth place in the 100 (10.16) and Sean 'Squirrel' Burrell earned a point in the 400 hurdles (51.57).