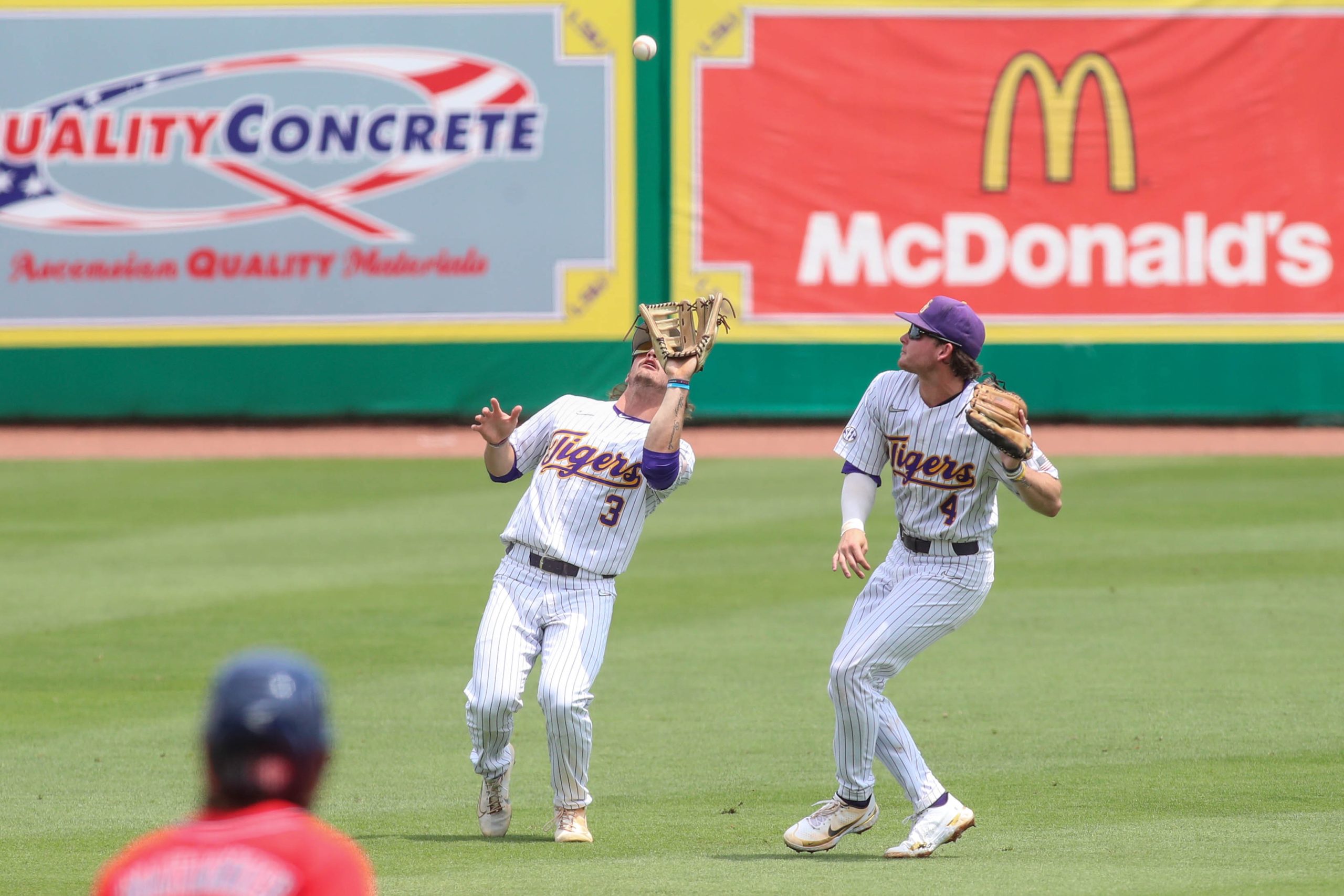 Ole Miss' offense battered LSU pitching in Saturday's second game for 11 runs on 12 hits in a 11-1 victory over the Tigers at Alex Box Stadium, Skip Bertman Field.
The Rebels (30-19, 12-14 in SEC) concluded Friday's suspended game with a 5-3 win in Saturday's opener.
The Tigers (33-17, 14-12) host the Rebels in Sunday's finale at 1 p.m. The game will be broadcast locally by 98.1-FM and streamed on the SEC Network+ and heard on the LSU Sports Radio Network affiliates.
Ole Miss took a 2-0 in the first inning of the second game on home runs from first baseman Tim Elko and left fielder Kevin Graham. After second baseman Peyton Chatagnier walked, catcher Hayden Dunhurst cleared the right-field wall to push the score to 4-0 in the second.
Ole Miss struck for five runs in the top of the fourth to make it 9-0. Chatagnier started it off with a single and third baseman Justin Bench followed it up with a walk after Dunhurst struck out. Rebel shortstop Jacob Gonzalez added to the Rebels' lead with a single up the middle.
Elko, who reached next on a fielding error, was credited with an RBI as Bench crossed home plate to make the score 6-0. Rebel designated hitter Kemp Alderman extended their lead further with a double down the left-field line. Center fielder TJ McCants scored Alderman with a base hit to right field.
The Rebels led 10-0 after five complete innings following a homer from Bench. The Rebels' 12-hit effort culminated in 11 runs.
LSU answered in the bottom half, loading the bases with one out. Second baseman Cade Doughty reached on a fielder's choice, scoring left fielder Gavin Dugas from third. Dugas doubled to left center, freshman right fielder Josh Pearson was a hit by a pitch and center fielder Dylan Crews walked leading up to Doughty's at-bat.
In the first contest of the day, LSU reliever Ty Floyd tallied three strikeouts in six innings during the resumption of game one against Ole Miss Saturday morning.
Floyd started for the Tigers after game one was delayed due to weather Friday night. In his six innings, he allowed one run on two hits while striking out three.
Rebel starter Dylan Delucia picked up his fifth win of the season after throwing seven innings while giving up three runs on three hits. Before the contest was postponed Delucia toed the mound Friday night and continued pitching into Saturday's resumed game.