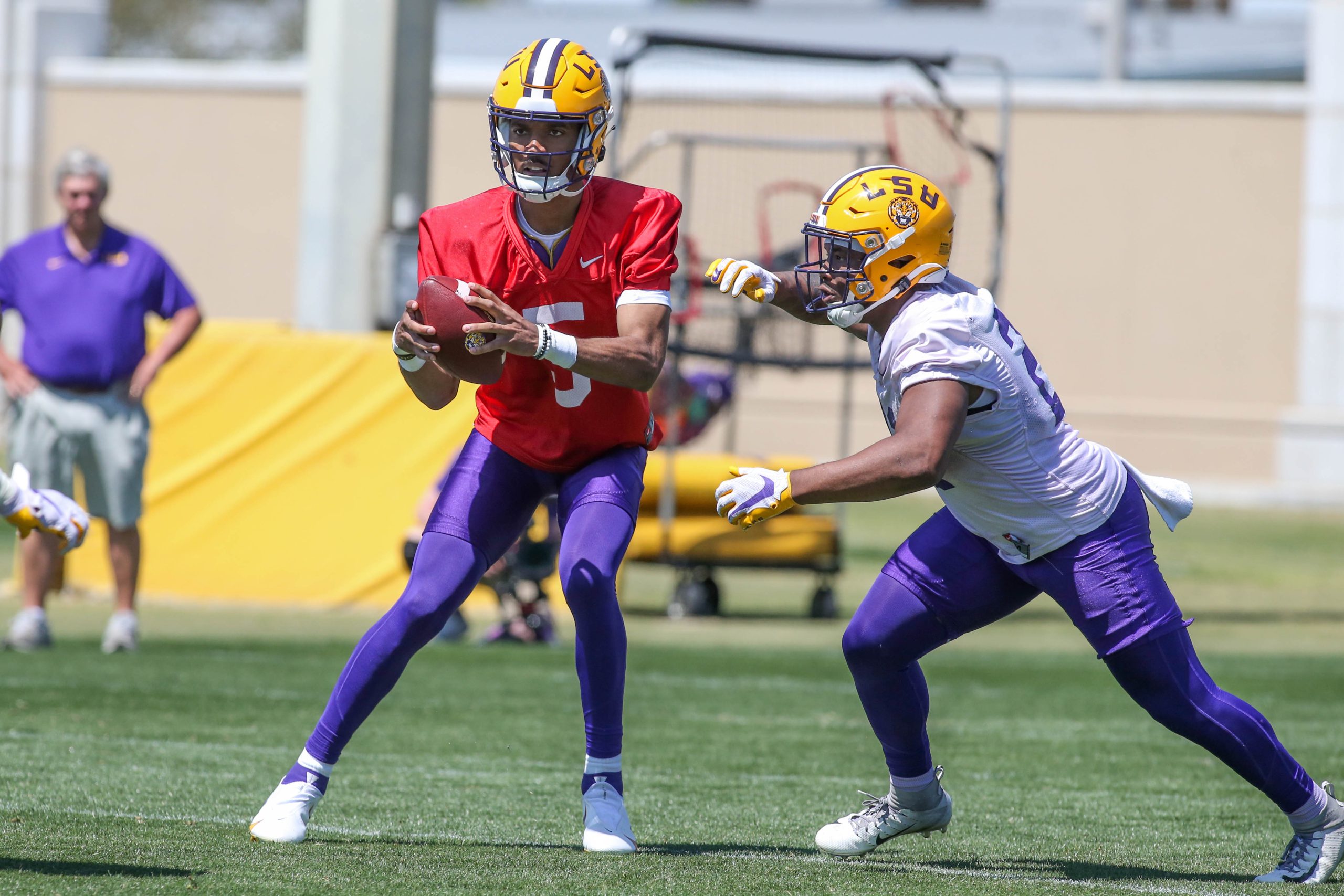 With much focus on the quarterbacks in LSU preseason camp, clarity is slowly but surely coming to a situation that not long ago was defined by uncertainty.
That's partly because Myles Brennan no longer is in the picture.
But it's also because Arizona State transfer Jayden Daniels and redshirt freshman returnee Garrett Nussmeier have stepped to the forefront in what's become a two-man battle for the No. 1 job.
Daniels took the lead role with LSU's starters during live action late in an open-to-the-media practice Wednesday, but the two each took first-team reps during drills throughout the practice.
Afterward, LSU coach Brian Kelly seemed to like bits and pieces of what he saw from both, especially after a session in which the offense rolled – opposite of what evidently happened during a closed practice Tuesday, went a couple red zone interceptions were thrown by QBs unidentified.
Kelly also indicated the race to No. 1 still is on.
"I thought what they did well was distribute the football timely, protected themselves," he said. "I thought (Tuesday) we made some untimely errors.
"You know, I don't like talking about 'managing,' because managing gets a definition of they're just doing well enough to get by. They were smart with the football (Wednesday). They made plays and, I thought, did a really good job of operating."
Daniels, who started the past three seasons at Arizona State, did a good bit of tucking and running, as he's apt to do.
But he also made some confident-looking passes during live action late in the practice.
"In particular," Kelly, said, "I thought the ball came out of Daniels hand really well today, especially off the RPOs (run-pass option plays). It was accurate."
But Nussmeier was mostly on-target too, including a late-practice connection in the end zone with Jaray Jenkins, who along with Malik Nabers and Kayshon Boutte had an especially solid receiving day.
"I thought (Nussmeier) made some really good reads off of zone read action, which," Kelly said, "has been one of the things that we've been working on."
Brennan, who was injured and out last season but was an occasional starter in the past, left the team Monday and announced he'd be stepping away from college football.
He did so only after emerging as LSU's No. 3 QB behind, in no particular order, Nussmeier and Daniels – despite seemingly coming out of spring drills with at least as good of a shot at winning the job as the other two.
Both Daniels and Nussmeier suggested they respected the decision.
"He made the best decision for himself and I appreciate the short amount of time that we had together," said Daniels, who transferred to LSU shortly before the start of spring practice.
"I love Myles. I'm gonna miss him. That's my guy. That's my dawg," Daniels added. "It sucks he's not going to be around, because he was always there for me, he was always teaching me different lessons and telling me different stories."
Now, though, the tale is one of two QBs left standing.
With George Hamsley, a true freshman walk-on from Memphis, moving up to the No. 4 spot after Brennan left, Kelly said Wednesday the Tigers would bring back Matt O'Dowd, a redshirt freshman walk-on from Florida's Marjory Stoneman Douglas High, to their preseason camp roster. He was on last year's roster, but never played in a game.
And Howard, the freshman from St. Thomas More High in Lafayette whom Kelly has been raving about, seems to have settled into the No. 3 role, at least for now.
Kelly, in fact, took some time Wednesday to work with Howard, Hamsley and others on signaling in plays from the sideline.
"I think the quarterbacks need to be involved in it," Kelly said, "because they're gonna be part of the conversations each week in terms of game-planning.
"Right now we're installing, like, a million plays, right? But we're gonna be so specific in what we're gonna be doing in game-planning, and those quarterbacks are in your meeting room, and they're much more privy to those conversations in terms of signaling and what you want. I've always felt like your quarterbacks are your best signalers."
All of which signals it really is between Daniels and Nussmeier, if the decision has not been made already.
Brennan's departure seemingly had the week genuinely starting as a two-man competition, with Daniels perhaps having a slight edge, especially after Nussmeier dealt last week with a minor ankle injury that had him limited in LSU's last open-to-the-media practice.
Daniels, though, maintains the QBs don't even see the day-to-day as a competition.
"We just look at it as another opportunity to go out there and get better," he said, "because at the end of the day, me and Nuss, me and Walker, everybody in the quarterback room … we control the offense.
"The coaches will make the decision on who they feel like the best is. … Everybody is prepared to go out there and be the starting quarterback for LSU."
No matter who wins the job for LSU's Sept. 4 opener against Florida Stated in New Orleans, though, there's less to alter in the offensive system now than if Brennan, who is much less mobile than Daniels and much more of a dropback passer than the other two, was still in the mix.
"They're not gonna change a lot," Daniels said of LSU coaches.
"We both can do pretty much the same thing. Nuss is a very talented kid, so I know he is capable of going out there and leading this team, just as everybody else in the quarterback room is very capable of going out there and leading the team. So, the structure is not going to change just 'cause I'm more mobile than Nuss. They're not going to change different stuff for us. … No, we're going to stay within the offense."
Nussmeier framed his sentiments similarly Tuesday.
"We've got a great relationship. You know, we're good friends. There's no bad blood between us. Some people would think that, but there's not, you know?" he said of himself and Daniels. "For us it's not necessarily looked at as a competition. It's looked at as how we can we each get better. Because at the end of the day all we're focused on is the LSU Tigers winning football games.
"We're both focused on doing what we can do, leading the offense as best we can. We almost look at it as right now we're both getting reps, we're both going. It's like we're a unit.
"You know, one of us has got to step up. One of us is down, the other picks the other up. We've got to keep the offense going, because we both know only one's going to play. … That's just the way it is in football. And if one of us is in and we're rooting on the other's downfall, the offense is slacking then just gonna hurt the offense on Saturdays."