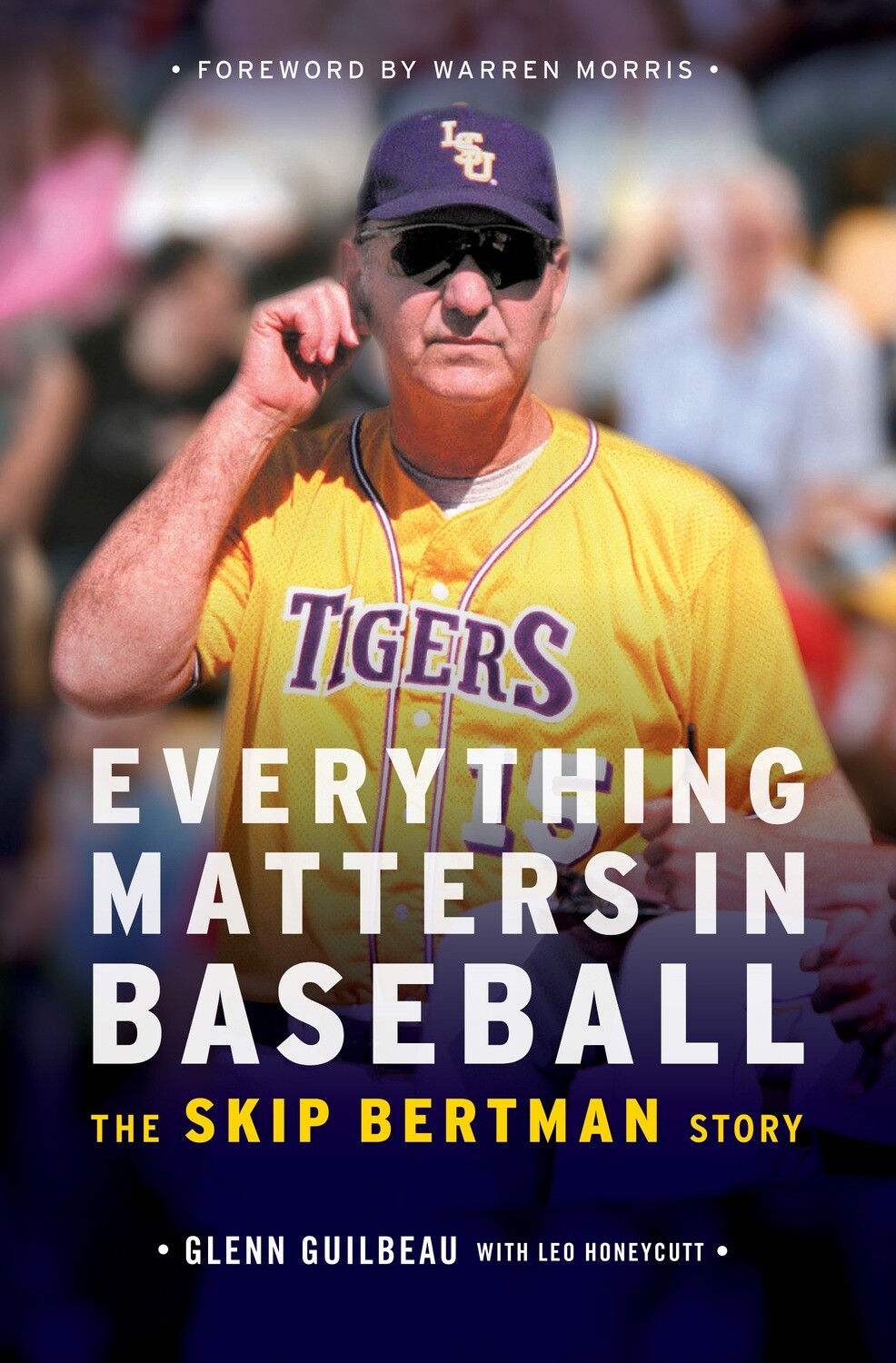 Glenn Guilbeau's rookie season as a baby-faced sportswriter straight out of the University of Missouri also happened to be Skip Bertman's first season as LSU baseball coach.
Guilbeau, who also did undergraduate work at LSU, began his professional career as a beat writer and columnist in September 1983 at Tiger Rag.
Bertman had taken the Tigers job about a month earlier, in the summer of '83.
His office at the time was in the Pete Maravich Assembly Center, down the hall from then-LSU basketball coach Dale Brown, and Guilbeau was the first sports journalist to interview Bertman there.
"He always remembered that," Guilbeau said.
Which is why it makes sense Guilbeau was the guy Bertman tapped to write the story of his lengthy career as coach of the Tigers, and later, from 2001-08, LSU's athletic director.
Guilbeau's "Everything Matters in Baseball – The Skip Bertman Story" ($30, Acadian House Publishing) is on sale now at https://www.acadianhouse.com/all-books/#!/Everything-Matters-in-Baseball-The-Skip-Bertman-Sotry/p/424989862/category=124660361 and through the publisher's website, https://www.acadianhouse.com/
"When he asked me to do the book, which was before the season-opener of the 2018 football season – we were just sitting in the press box as the game was starting – he remembered that," said Guilbeau, who interviewed nearly 200 people close to Bertman so he could delve into the details behind the man's genius.
Several months after meeting with Bertman in his office, Guilbeau covered his 1984 LSU debut.
A time when sportswriters often wore two hats, the Mizzou grad recalls that he also ran the scoreboard for that game.
"I didn't do that well because of my attention disorder," Guilbeau said before a hearty laugh.
"Skip finally kind of moved me out of that. He said, 'Look, we're gonna put somebody else up there for you, buddy.' So, even then he was cutting people."
The scoreboard loss was LSU sports readers' gain.
After leaving Tiger Rag to work for a few years in Montgomery, Alabama, Guilbeau – a Baton Rouge resident and now a full-time columnist covering the SEC and college football for Outkick.com/FOX – returned to his home state of Louisiana in 1987.
He became the LSU beat writer for The Town Talk in Alexandria in 1989, and covered Bertman's teams regularly from '89 through the 1993 season – a span that included two national-championship seasons, 1991 and '93.
And after a return stint to Alabama working for another newspaper there, the Mobile Register, Guilbeau again returned to Louisiana, this time to stay.
He covered Bertman's teams from 1998 through 2001 for The (Baton Rouge) Advocate, a span that included Bertman's last of five national championships, in 2000, over 18 seasons. Later, Guilbeau covered Bertman's AD years for both The Advocate and The (Lafayette) Daily Advertiser/Gannett Louisiana and the USA TODAY Network.
"But it all started at Tiger Rag," he said.
Which made Guilbeau a sensible pick to write the story of Bertman, who also won seven SEC championships after leaving his post as associate head coach at Miami to take over at LSU.
The book, according to its publisher, "strives to shed light on (Bertman's) work ethic, inventiveness, attention to detail (and) entrepreneurial ability" while at LSU.
It features chapters on each of his five national titles, relives Bertman's Miami Beach high school coaching days, shares his secrets to developing Major League pitchers, explains how he turned Alex Box Stadium into a raucous venue and reveals how Bertman – who inherited a program that had reached NCAA postseason play just once, then molded it into one that made 11 College World Series trips – embraced the power of positive thinking as a coaching tool.
The book by Guilbeau (with Leo Honeycutt) also includes a foreword from LSU All-American Warren Morris, whose walk-off home run against Miami lifted Bertman – once called the "John Wooden of college baseball" by current Tigers coach Jay Johnson – and LSU to the 1996 CWS championship.
"There was not a better coach to learn under," Ole Miss coach Mike Bianco, who played for and coached under Bertman, said days before his Rebels won the 2022 national title. "I learned the foundation from him. So much of what we do is Skip Bertman. He made it look easy. It's not easy."
Nor was writing the book for Guilbeau, who hesitated when asked what he learned about Bertman that he did not already know before the project began.
"That's a tough one, because one of the reasons he picked me was because he felt like I knew the program, because I'd been there since the beginning," said Guilbeau, who also continues to write for Tiger Rag Magazine as a monthly contributing columnist. "Some other guys had too, but I was … there at the very end, even at the end of his AD years.
"I already knew it, but the one thing that really kept ringing through as I interviewed player after player was just the tremendous loyalty to the guy – even though some of the players didn't really like him when they played for him.
"You see that a lot with great coaches – the guys starting to appreciate him years later," Guilbeau added. "But most of the players really did like him while they played for him. But there were a few that didn't, because he could be a harda–. I mean, he was a lot like (Nick) Saban when he (Bertman) was a lot younger."
Former LSU and current Alabama football coach Nick Saban has seven national championships, one with the Tigers in 2003 and six with the Crimson Tide.
"I did one-hour, two-hour, interviews with these guys over the phone – and it wasn't because they liked me," Guilbeau said. "It was because of the loyalty to Skip.
"Most athletes tend to talk about themselves, right? These guys were doing that a little bit. But they were mainly talking about Skip. They wanted to tell their version of Skip, and how Skip 'did this,' and how 'this' worked. Like … (former Tigers outfielder) Rich Cordani says, 'He's our dad, we're his sons.' I thought that just really said it all."