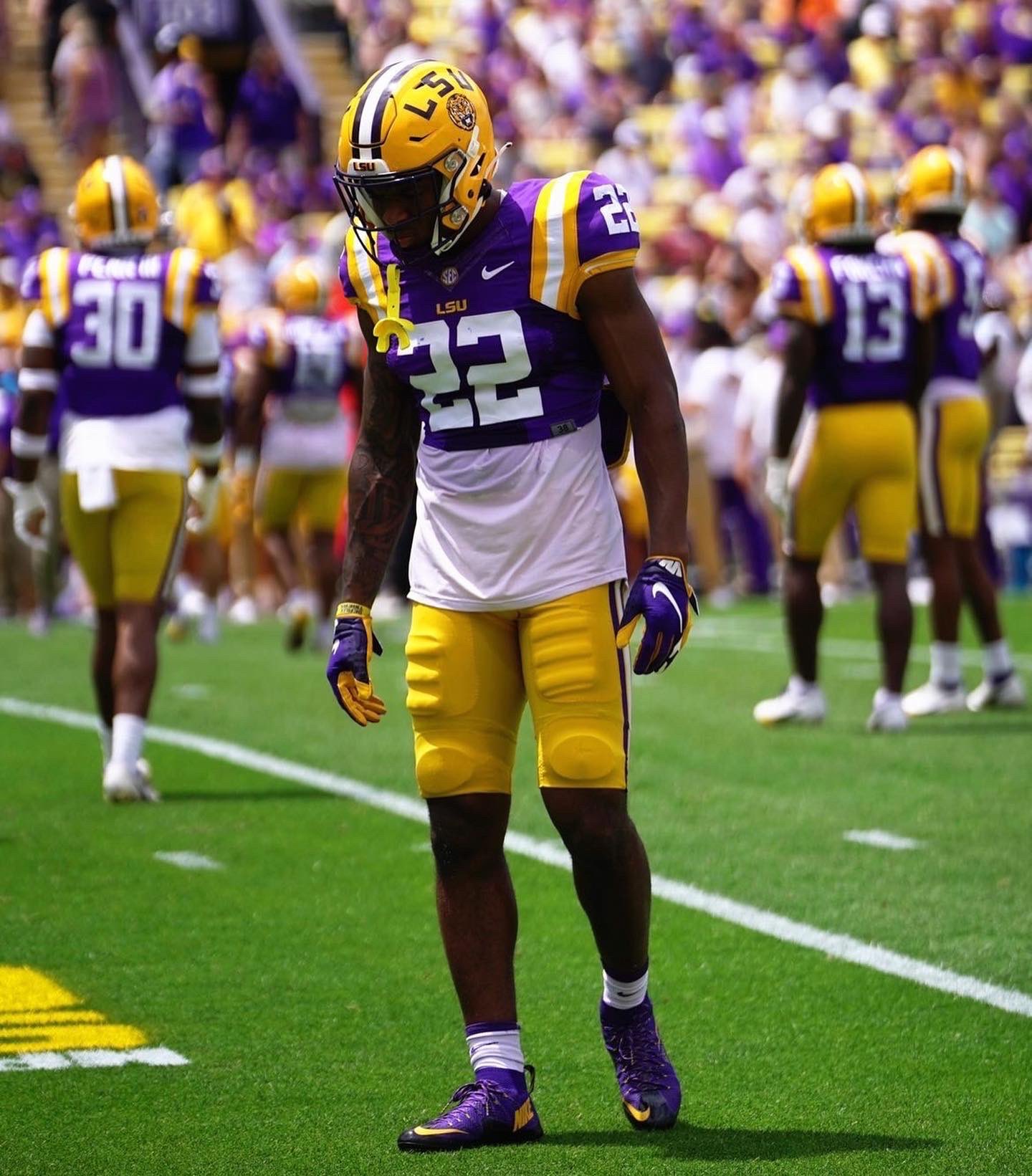 How quickly things have changed for the better in the mind of LSU football coach Brian Kelly when it comes to cornerback depth.
After his team's 12th preseason camp practice Wednesday Kelly addressed the media, which got to see the entire two-hour session. He spoke in glowing terms about the his cornerbacks, giving highwater marks to transfer portal signees Jarrick Bernard-Converse of Oklahoma State and Mehki Garner of Louisiana.
"We have interchangeable pieces there," Kelly said. "We came into camp with a lot of uncertainties at corner and going into our 13th practice (Friday), I think we've got six corners we feel we can play. That's a far cry (from) where we were a few months ago."
With LSU scheduled to meet Florida State on Sept. 4 at the Superdome in New Orleans to begin the 2022 season, the Tigers don't have a returning starter at cornerback. Three of the team's top players at that position during 2021 season have left the program. Derrick Stingley Jr. of the Houston Texans was the No. 3 overall pick in the 2022 NFL Draft with Eli Ricks transferring to Alabama and Dwight McGlothern transferring to Arkansas.
Bernard-Converse, a product of Evangel Christian in Shreveport, signed with LSU to play his senior season in his home state. He started in his last 47 games at Oklahoma State and had 51 tackle last year, including a season-high nine against arch-rival Oklahoma, and 11 passes defended last season. He defended two passes in the Big 12 championship game against Baylor and registered three tackles against Notre Dame in the Fiesta Bowl.
The 6-foot-2, 217-pound Garner started in 11 of 13 games last season for the Ragin' Cajuns and was named third team All-Sun Belt Conference after making 31 tackles, breaking up eight passes and forcing a fumble.
"He's a physical player," Kelly said. "That's about as big a corner as you're going to get. He could play safety. He's got a great demeanor and attitude. He's in a battle, a very competitive situation. He's gives us another gifted player at that position."
The position was bolstered recently by the return to full-time competition by Ohio State transfer Sevyn Banks, who is traveling a gradual path in his return to the playing field.
Banks, who missed the last three games of 2022 due to a significant hip injury, did not take part in spring practice. He was limited at the start of preseason camp earlier this month, got full cleared, then took a step back due to soreness before being cleared again.
"We like him (to play) into the short field because of his physicality and ability to be a big tackler for us," Kelly said. "He's going to find himself on the field for us."
Graduate student Colby Richardson has added further depth to the position group following his transfer from McNeese, where he recorded 22 tackles, three pass break-ups and two interceptions in 2021. He had three tackles in the Cowboys' 34-7 loss at LSU last year.
"He's put on close to 20 pounds," Kelly said of the New Orleans native who prepped at McMain High.
"His summer workouts were outstanding. We saw this natural athlete that really wasn't physically ready to compete at the level of the SEC transform himself physically. He was 167 pounds, so he wasn't physically strong enough to compete at this level. Now he's 188, 190. He's developed himself into a guy that's going to play football for us."
OFFENSIVE LINE SET?
From the last time the media was allowed to view an entire practice Aug. 11 until Wednesday, nothing changed with the five starters on LSU's offensive line.
The Tigers have been playing junior Garrett Dellinger at center, transfer portal signees Tre'Mond Shorts and Miles Frazier and left and right guards, respectively, and true freshman Will Campbell and junior Anthony Bradford at left and right tackles, respectively, on its first team throughout camp.
However, Kelly indicated there are several positions still up for grabs before a starting unit will be named. He said the Tigers' depth on the offensive line extended to nine players with senior tackle Cameron Wire, junior center Charles Turner, sophomore guard/tackle Marcus Dumervil and true freshman guard Emery Jones still competing for starting spots.
Jones is ninth on that list, according to Kelly, who suggested he will mix things up in coming practices, including getting a look at Bradford playing guard.
"There are still opportunities," he said. "We're still some moving guys around to see who the best five guys are."
Although he struggled near the end of practice with two successful low snaps out of shotgun formation, and a high snap to quarterback Garrett Nussmeier that disrupted the flow of another play, Kelly remained confident in the play of Dellinger at center. He's a player who as a true freshman played guard, tackle and tight end in 2021 and made the transition to center in the spring after undergoing offseason shoulder surgery.
"He's going to be fine," Kelly said.
"It's about what we're asking him to do, which is a lot more than snapping. If he was just snapping the ball, he'd be fine. But we're asking him to call out the front. He's making the checks. He's gone from playing guard to center and this is a culmination of all that being piled on. He actually feels comfortable snapping it now, but he's not paying attention to the details of it."
ONE, TWO, THREE KICK
The search to replace NFL fourth-round draft choice Cade York of the Cleveland Browns has centered around two walk-ons, a signee out of the transfer portal and a high school signee.
Thus far, Kelly said he's liked what he's seen from redshirt freshman walk-on Damian Ramos of Baltimore, Maryland. Ramos made a 22-yard field goal in Wednesday's practice and pushed a 34-yard attempt wide right because of a bad snap.
"Ramos has really impressed," Kelly said. "He's been really good."
Kelly stopped short of naming a starter and instead delved into the position's depth, which also includes sophomore walk-on Ezekeal Mata, Northwestern University transfer Trey Finison and true freshman Nathan Dibert of Hartland, Michigan.
"It's early," Kelly said.
"Finison's got a strong leg with experience from Northwestern. We're not ready to name a guy a yet, but I feel better we've got some options that can kick the ball deep based on our hit chart. I think we're going to be consistent in field goals. I think we've got some depth I feel good about."
MISC.
Sophomore defensive tackle Maason Smith was a disruptive force at times and didn't mind letting quarterback Garrett Nussmeier know about it during Wednesday's practice. … Nussmeier had consecutive scoring passes earlier in the practice, first on a crisp slant route to Kyren Lacy and later to an acrobatic Malik Nabers near the back of the end zone. … Sophomore wide receiver Jack Bech, who had been bothered by shin splints and was limited earlier in camp, fully participated Wednesday and made catches in team periods. … Sophomore walk-on running back Nick Demas, who was a big part of the team's offense in the spring game, had several carries with the No. 2 offense, sharing time with Josh Williams. The Tigers are looking for another running back to fill the spot of Tre' Bradford, who left the team and entered the transfer portal earlier in camp.