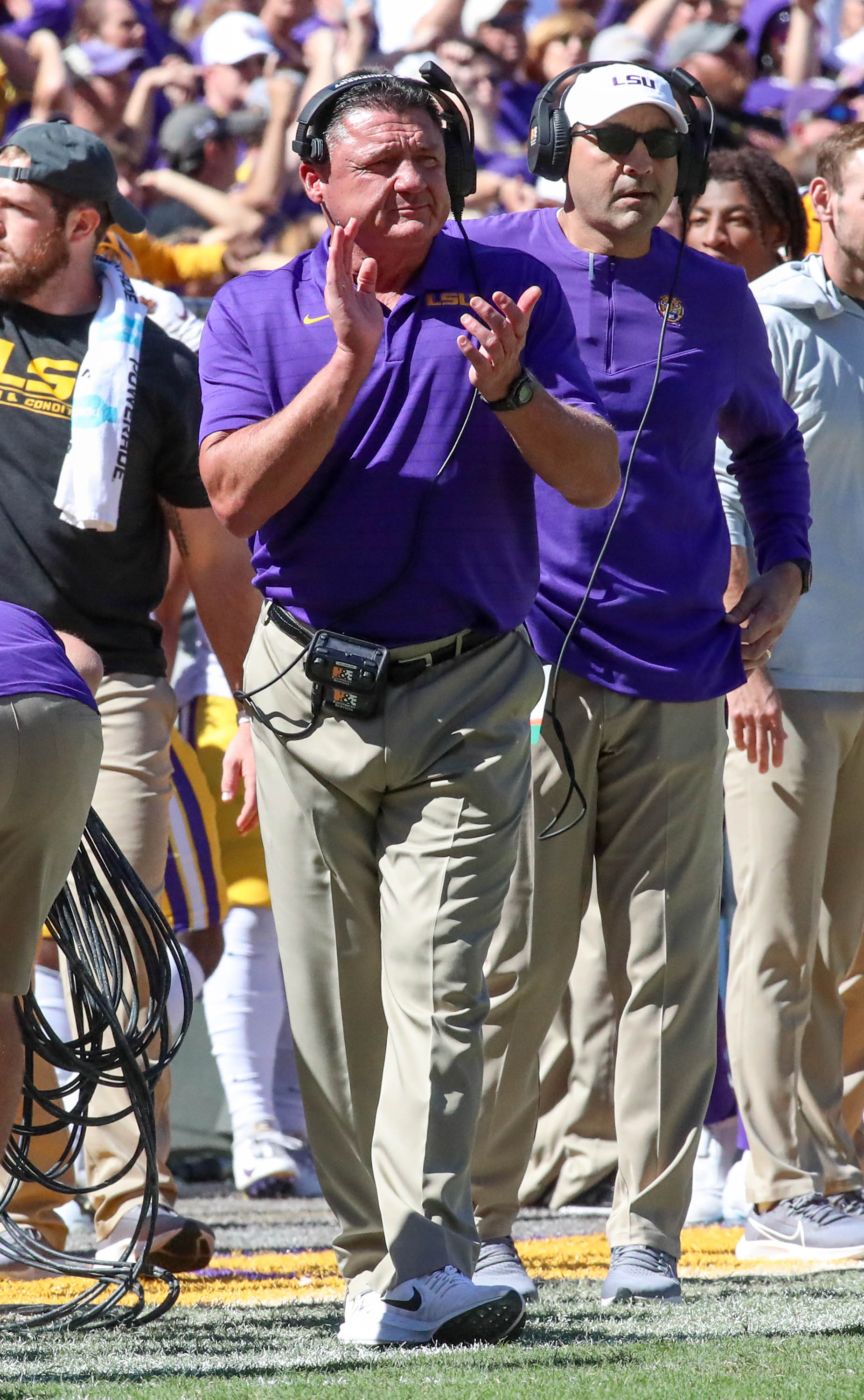 LSU's Ed Orgeron believes he's back in his element.
With Sunday's announcement that he agreed to a separation agreement with the school and that he would not return after coaching the remainder of the 2021 season, Orgeron was at peace the day after the decision with his Tigers (4-3 overall, 2-2) headed to No. 12 Ole Miss (5-1, 2-1) for a 2:30 p.m. kickoff Saturday.
"I've been an interim coach already," Orgeron said Monday during his weekly Zoom news conference. "I think the pressure's been let out of the tank. I think everybody was hearing all the stuff. Now it's done. Now we can go out and concentrate on football, play football. I think we're going to play a lot freer.
"I think we're going to have some great practices," Orgeron said. "Our guys like winning. There's a lot of younger players mixed in with some older players, I think we're going to practice very well. We know Ole Miss presents a challenge. Everybody sees the offense on TV. We're going to step up to the plate to take on the challenge."
Orgeron has twice successfully thrived in an interim role. After Lane Kiffin was fired, he led USC to a 6-2 record in 2013 but was ultimately passed over to become the permanent head coach by Steve Sarkisian.
Three years later, when LSU fired Les Miles after the fourth game of the season in a loss to Auburn, Orgeron directed the Tigers to a 6-2 record which catapulted him into the permanent job that he's held since 2017 where he's been 48-17 overall, including an undefeated run to the CFP National Championship in '19.
Since that magical season, LSU's gone 9-8 which prompted athletic director Scott Woodward to negotiate the buyout with Orgeron that will pay him $17.6 million over the next two years.
"I do believe it gives the team some clarity. It's done now," Orgeron said. "I don't think anyone has to talk about that anymore. We don't have to listen to that anymore. Now we know what's ahead of us. Now the focus can be on Ole Miss and football. Really the focus should always be on our players. If all what happened yesterday helps our players, I think it's great."
Here's what else Orgeron had to say:
Opening statement
"I'm really pleased with all of all the players that stepped up, brought some tremendous energy to our practice. Pleased with the coaching staff. We won together. I was a hard-fought victory. Plus-four turnover margin. On offense, great play by the offensive line. I know they're the most improved unit on our football team. Tyrion Davis-Price with 287 yards, what a tremendous game. He ran the ball hard. No turnovers on offense. On defense, four interceptions. We scored on a big turnover and held them to 136 yards rushing which is almost half the yards they were averaging. Glen Logan helped us in the middle. I thought Neil Farrell had his best game as a Tiger, blocked that extra point in special teams.
On a report that LSU wide receiver Koy Moore entered the NCAA transfer portal
"I have not talked to Koy. If he's entered the transfer portal, I don't know anything about it."
On Ole Miss
"I think Lane (Kiffin), if he's not the best play caller in country, he's one of the top three play callers in the country. He has an outstanding football mind. He's doing a great job at Ole Miss. I'm very happy for him. He's a fighter and he comes from a football family. I know he's going to have his team ready to play. Matt Corral is one of the top players in the country. He's very fast. He can run the football; he can throw the football. You can see he plays with his heart and he's very tough. They have the third-ranked offense in the country. They're very hard to stop."
On a report that Ole Miss quarterback Matt Corral may not play Saturday
"We just started to study Ole Miss and I've been looking at Matt Corral all morning and we expect him to play. We're going to study the second team quarterback. But knowing Matt, knowing Coach Kiffin, he's kind of throwing me a smoke screen."
On the possibility of getting someone else besides Ty Davis-Price involved in running game
"We'd love to. But Ty was doing such a good job we wanted to give him the football. He kept coming to us on the sideline saying, 'give me the ball'. We'd like to get the young guys in, Corey Kiner, Armoni (Goodwin), let them get in and get some repetitions. But as long as Ty's running like he is, we're going to give him the ball as many times as he can handle it."
On play of wide receiver Jaray Jenkins
"Very proud of Jaray. He's been a team captain for us several times. He went through a huge hardship when he got here and overcame it. His family's proud of him. His (high school) coach is proud of him. The whole town of Jena's proud of him. He's an excellent young man. He made some big-time plays in a big-time game. I'm proud of him. I'm glad he stuck with it."
On Max Johnson's 1-yard TD pass to Jenkins on fourth down
"There were some guys unblocked. They were coming. They were blitzing. They gave us everything we wanted. I thought it was a great call by Jake Peetz and an excellent play by Max by keeping his balance and being able to throw the ball."
On your message to recruits going forward
"I'm going to continue to recruit for LSU. Just because I'm not going to be here LSU's hasn't changed. It's a great school with great tradition. Being from the state of Louisiana, it's a big plus for you to come to school at LSU. Lots of players have come to LSU and had a lot of success. I'm going to continue to sell LSU."
On a recruiting pitch when recruits are sold on you being their coach
"There's a lot of things LSU can sell. When you come to LSU, you're going to get a great education. You're going to network. None of that's going to change. You're going to have a chance to play in the SEC. None of that changes. You're going to come here to compete against some of the best players in the country. So, none of that changes."
On development of offensive line
"I've seen it in practice in little increments. Ever since Coach (Brad) Davis has come, I know what he's trying to teach. I know the difference between him and Coach (James) Cregg. I can notice the difference and it just took a little time for our guys to get used of. Finally, we're all healthy. I think you're seeing the combination. I think Coach is a great coach and I think we have some good players believing in the scheme and they're healthy."
On the play of Neil Farrell Jr.
"With Glen Logan coming back, he and Glen are best friends. They've been with each other for four years. They feed off of each other and the type of blocks they were giving Neil was favorable blocks for him to play. It started off with the first snap and got underneath that guard's chin and knocked him back. It was almost like that the whole game. He was very active. The guy played his best game."
On play of Cordale Flott and Sage Ryan
"Excellent A-plus. I really liked his (Ryan) ability to adjust. He's very smart. In practice there were some things we had to adjust, and it took him a couple of reps. Once he gets it, he gets it. He's able to cover. He's kind of like a corner/safety playing the nickel. He has some physical attributes of a safety, and he has the foot speed of a corner. He's a perfect nickel for us and a great competitor."
On play of BJ Ojulari
"Great rush off the edge. I thought he and Soni (Fonua) played pretty good on the edge with the quarterback for the most part. They made a couple of mistakes, but they had a good athlete in space. I thought they held the quarterback in check. Our defensive ends had more responsibility against Florida than they had all year with quarterback reads, bluff plays, rushing the passer, traps."
On first meeting Lane Kiffin
"I went to (then USC head coach) Pete Carroll, and he said he could hire an older experienced coach, or I can hire a young, go get-it coach that I think can help us in recruiting. I said why don't we get a guy that can help us in recruiting and it was Lane Kiffin. He was a young coach at Colorado State. I remember sitting in the recruiting meeting and we were evaluating talent and I liked a guy and Lane didn't. He was right. He earned my respect from Day 1. We became very close. He taught us how to recruit out of state at USC. He brought in a lot of No. 1 draft picks. I think the guy's a tireless recruiter, he's a great evaluator of talent."
On your relationship with Kiffin
"Sometimes it's like best friends. Sometimes it's coach to coach. It all depends. But we do have the utmost respect for each other, and we do know each other's strengths and weaknesses. We kind of fed off of it when we coached together. I'll never forget when I went to Tennessee. He said he would treat me like an assistant head coach, and he actually did. He gave me a lot of responsibility and we worked well together. We won two championships together at USC, built that recruiting class. We got to know each other very well."
On Ole Miss QB Matt Corral
"He's fast, strong and he's competitive. He feeds off the energy of the game. The quarterback draws, the quarterback runs, him just him extending plays with his feet. He's going to fight and push to get the goal line. Whatever it takes, he's a tremendous competitor. I believe if he's not the best player in the country, he's one of the best players in the country."
On the mindset of how to play against Ole Miss' offense
"If you play keep-away you may not score as many points as you need to. There's going to have to be some ball control. He goes fast every down and our defense is going to have to substitute. If they're scoring at a high rate, there's going to have to be some ball control to give our defense a break. If they're scoring at a high rate, then that means we have to score at a high rate. It all depends on how the game goes."
On what the pace of Saturday's game may be like
"They do present a challenge. We have to play better defense than we did last year. The interceptions and the turnovers that we had helped us. When you go against Lane, I don't think field goals are going to help you although in my opinion we have the best field goal kicker (Cade York) in the country. Anytime you get in scoring territory you're going to have to go for it on fourth down like we last year to score as many points as we can."
On the injury updates on Chasen Hines and Anthony Bradford; on play of Marlon Martinez Saturday
"Anthony's fine. Marlon Martinez played very well for his first time out. I was very proud of the way he played. Chasen Hines is questionable. We're doing more research; he's getting more tests. I don't know if he's going to be available. Right now, he's questionable."
On defense's performance against Florida
"I was pleased with the first half. I was really worried the second half. Dan (Mullen) is a great game day (play) caller. He's going to find stuff that can trick you and we got tricked with our eye discipline. He gave us some different things. All the stuff was eye discipline. We have to have great eye discipline against Lane. Here's what Lane's going to do. He's going to see all the plays that have given us problems and he's going to run it at us again and see if we fixed it."