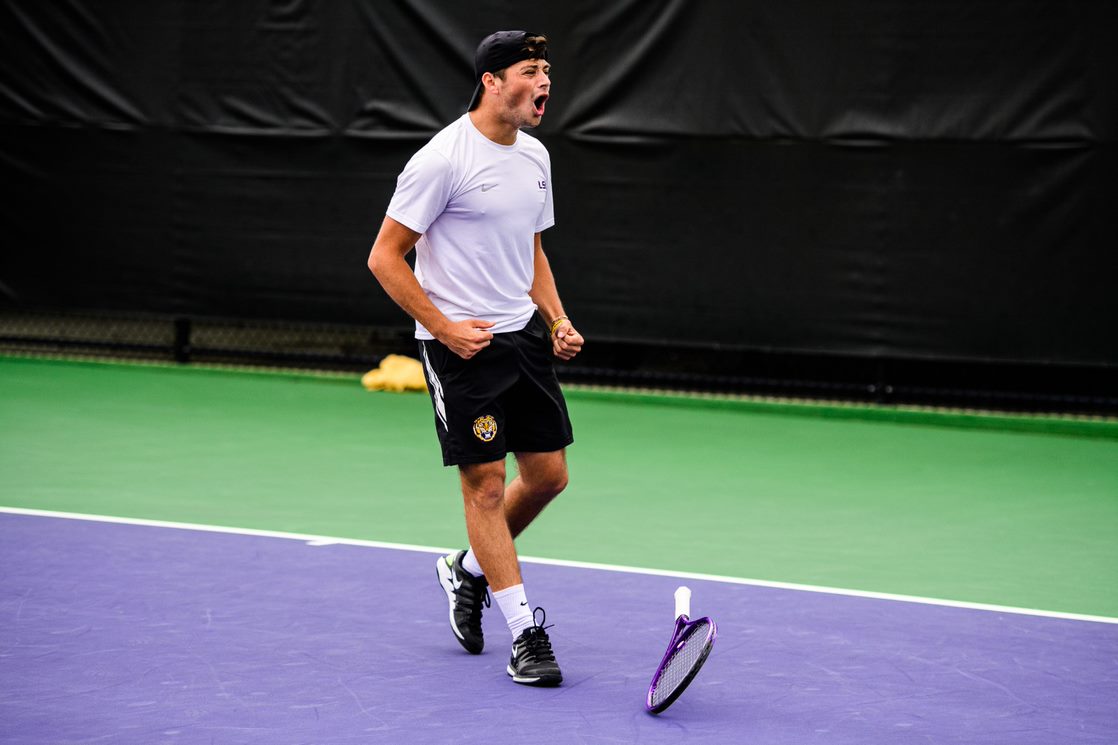 For the first time in the last five years, the LSU men's tennis program showed steady growth.
The Tigers, stocked with a lineup consisting of four freshmen, made it out of brutal Southeastern Conference play last spring and into the postseason for the first time in five seasons.
While LSU had a quick NCAA tournament exit, falling 4-0 to Stanford, there was enough for co-head coach Chris Brandi to believe last season was a stepping stone. As the fall season starts Friday at the Alabama Four-In-The-Fall, those same players are a year older and will blend with a roster that welcomes a pair of graduate transfers.
"Last year we felt we didn't have enough experience in the lineup," said Brandi, who coaches LSU with his father Andy. "This year we feel all of the guys that have already played. Now they know the deal."
With such a youthful lineup, LSU had its share of challenges in the competitive SEC. The 14-school league sent 12 teams to last season's NCAA tournament with Florida winning the national championship.
The Tigers, who finished 12-14 overall, found building blocks down the stretch in league play with a pair of encouraging wins over Auburn and Alabama. In their 4-1 loss to Ole Miss in the SEC tournament, they dropped one three-set match and had two other matchups that had advanced into third sets before the Rebels clinched the match.
"We knew it was kind of a gauntlet of a schedule," Brandi said. "That makes you stronger, makes you better. We learned some lessons and our guys know they have to get to work in the fall if we're going to keep improving."
LSU returns its top three players in sophomore Ronald Hohmann, junior Boris Kozlov and sophomore Benjamin Ambrosio. The Tigers expect a boost from graduate transfers Vlad Lobak from Minnesota and Gabriel Diaz Freire from Alabama.
Hohmann earned first team All-Louisiana honors last season with a 13-14 singles record and topped LSU with a 18-12 mark in doubles at the No. 1 position. Kozlov had a 13-12 mark, going 5-4 in SEC play at the Nos. 3-4-5 singles and teamed with junior Nick Watson to go 11-5 at No. 3 doubles.
"When he plays his best, he's literally the best player in college," Brandi said of Hohmann. "He's improving in terms of his consistency level, but he's not quite there. He's a great kid who works hard. He's taking steps to be one of the best guys in college.
"Boris is one of the best competitors I've been around. He's kind of the heart and soul of our team. He leads by example, and I don't think he's ever had a bad practice since he's been at LSU. He's won a lot of big matches for the Tigers."
Lobak collected 53 singles wins and was part of 35 wins in doubles at Minnesota, the latter of which he was ranked as high as fourth nationally and qualified for the NCAA tournament. LSU marks the fourth stop for Diaz Freire, who also played at Loyola-Marymount, Clemson and Alabama, rising to No. 1 singles and doubles player for both Loyola-Marymount and Clemson where he combined for 42 wins in singles.
Diaz Freire was an All-West Coast Conference first-team performance in doubles and second-team in singles as a freshman.
"You've got to do what's best for your team," Brandi said of adding graduate transfers. "That will be the formula for the next two or three years. The cool thing with these guys is they're not going to be overwhelmed. They've already played in big matches. What's fun is they're super excited to be here. They understand the opportunity they've got."
Ambrosio was 9-6 overall while playing Nos. 4-5-6 singles but seemed to find a niche with a 6-2 mark in the sixth singles slot.
LSU's doubles pairings will undergo a change with the loss of senior Rafael Wagner, who teamed with Hohmann to go 18-12 as the No. 1 team, while Kozlov and Watson were 14-11 at No. 3.
Brandi also added a pair of promising freshmen to his roster in Dakotah Bobo of Lafayette and Will Cubitt of Spartanburg, S.C. Cubitt's sister, Maggie, is a member of the LSU women's tennis team.
"For us, it's a matter if we have the maturity," Brandi said. "We have the talent to be a really good team, but we'll have to see if we've learned our lessons."
LSU Men's Tennis 2021 Fall Schedule
September
17-18-19 – at Alabama Four-In-The-Fall, Tuscaloosa, Ala.
18-19-20 – at Milwaukee Classic, Milwaukee, Wisc.
October
2-3-4 – at ITA All-American Championships, Tulsa, Okla.
6-10 – at ITA All-American Championships, Tulsa, Okla.
8-10 – at Georgia Invitational, Athens, Ga.
14-19 – at ITA Southern Regional, Auburn, Ala.
November
4-7 – at ITA Southern Regional, San Diego, Calif.
5-6-7 – at Ralston/Neufeld Coaches Challenge, Dallas