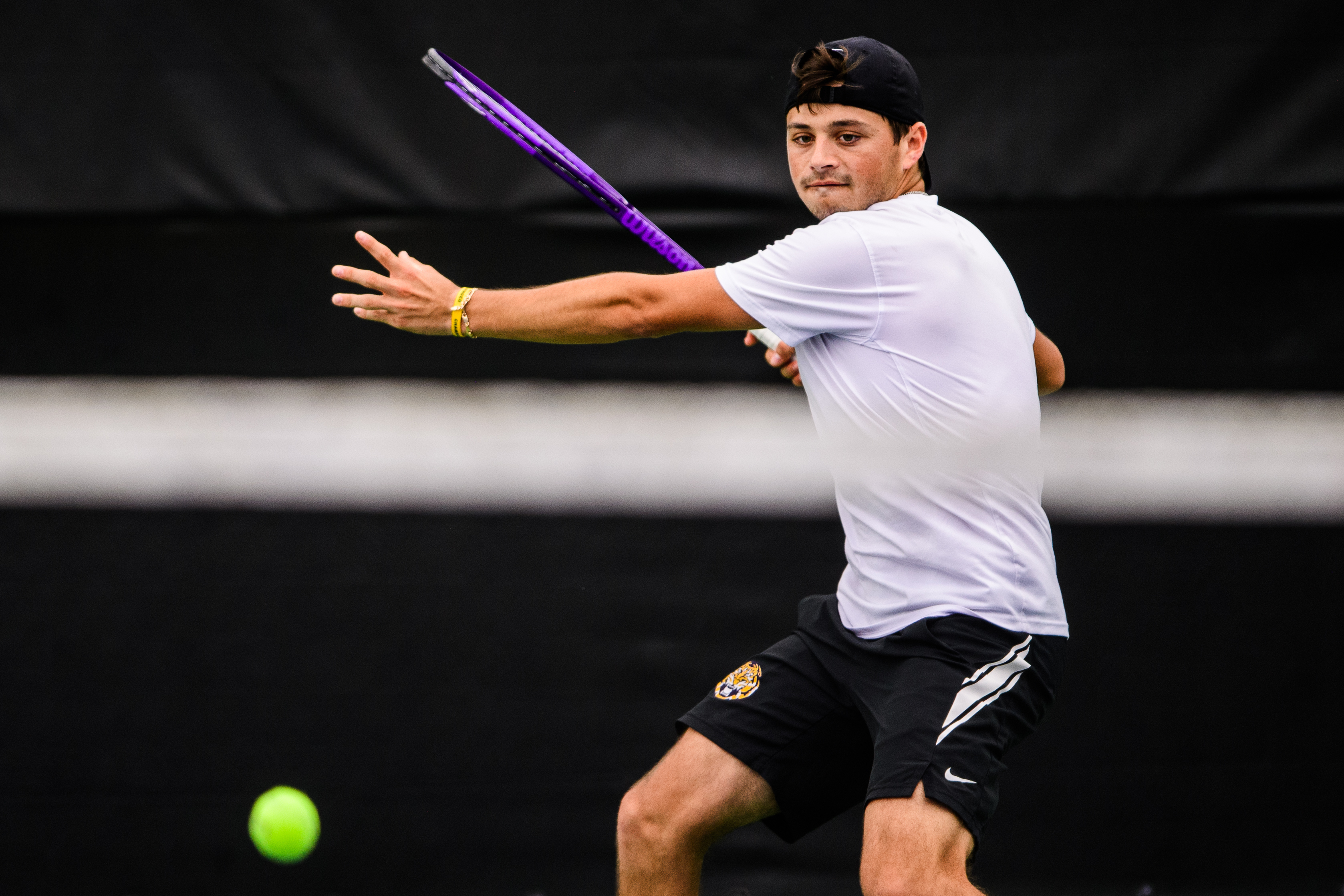 LSU co-head tennis coach Chris Brandi paid his top singles player Ronald Hohmann the ultimate compliment.
"When he plays his best, he's literally the best player in college," Brandi said. "He's improving in terms of his consistency level, but he's not quite there. He's a great kid who works hard. He's taking steps to be one of the best guys in college."
Hohmann found himself in 11 matches involving ranked opponents during the 2020-21 season, finishing with a 6-5 record that included a highwater mark of a three-set victory over No. 14 Finn Reynolds of Ole Miss.
However, it was final match of the spring season involving another ranked opponent, that's served as a motivator over the summer and early portion of fall season when Hohmann forced North Carolina's No. 21 Rinky Hijikata into three sets, only to suffer a first-round exit from the NCAA Tournament.
"To get in there (NCAA) was definitely a step in the right direction for me," Hohmann said. "I went in there not really knowing what to expect and I had a very close match with the guy, and he would up winning his next match or two. I was this close to being an All-American. I know this year I'll have more experience, more maturity, and more discipline. I think I can definitely make the NCAA Tournament and hopefully do well this year."
Hohmann, a native of Oyster Bay, N.Y. and nation's top-ranked and five-star recruit, was part of a youthful lineup for LSU that featured five freshman and sophomores that battled through a rigorous Southeastern Conference schedule and took part in the NCAA Tournament with a first-round loss to Stanford.
After a freshman season in which he played primarily No. 2 singles, Hohmann graduated to the team's No. 1 singles player last season where he was 13-13 overall in singles play. He rose to as high as No. 29 nationally in singles and was voted second team All-SEC and first team All-Louisiana.
Hohmann also proved a very adept doubles player (was ranked as high as 32nd nationally) where for the second straight year he teamed with Rafael Wagner as the Tigers' No. 1 team went 18-12.
"The main thing is to be consistent with everything," Hohmann said. "Discipline of shot selection, be disciplined with my emotions on the court. I worked a lot on that this summer and have noticed that it's getting better. Hopefully by the spring I don't lose a match because of those things."
Hohmann, who was 7-5 in singles and 9-3 in doubles as a freshman, began the 2020-21 season (he's been given back a year of eligibility by the NCAA because of COVID-19) by losing his first three matches. He broke through in his next match against Tennessee's top player, Adam Walton, in three sets to start a stretch in which he won eight of his next 10 matches heading into the start of SEC play.
That was a growing trend during the fall season that Hohmann could play some of best tennis the longer matches went, evidenced during his 5-1 record in three-set matches. However, that didn't continue into the SEC play where Hohmann, who was 3-7 in league play, wound up 7-7 overall in matches that went three sets.
In another three-set match against Kentucky's Liam Draxl, Hohmann led 3-2 in the final set when the Wildcats clinch the match on another court.
"You've got to stay in the moment and give it everything you can," Hohmann said. "Four of five them, I could have done something different; keep my emotions in check. At certain points I may have forced it a little too much. I could have won a bunch of those matches and done a little bit better. Overall, it's tough when the match goes three sets. The opponent wants to win just as much as you. You've got to give it everything you've got and hopefully it goes your way."
After a 2-2 showing as a freshman in SEC play, Hohmann believes there were plenty of lessons he learned last season from his struggles in going 3-7 in his 10 matches against competition from the SEC – regarded as the nation's best – that will serve him well next spring.
Hohmann put together a nice showing at the ITA All-American Championships Oct. 6-8 in Tulsa, Okla. by reaching the Round of 16, including a straight-sets win over No. 48 Arthur Fery of Stanford (6-3, 7-6(5) before falling to No. 86 Ben Shelton of Florida (6-3, 6-2).
"I didn't know what to expect," he said. "The majority of guys I played are a lot older with most of them being juniors or seniors, so they had a little more experience playing college matches. They had the experience; they knew what it was like to be in certain situations. This year I know more of what to expect and I can use that to my advantage a little bit.
"I'm going to hopefully have more of a role of a leader this year. I'll look for help whenever I can get it, especially with the two graduate transfers (Vlad Lobak and Gabriel Diaz) coming in. In dual matches, I'm going to try and set a tone. Be somebody where people can see I'm being a leader and doing everything I can to help this team."