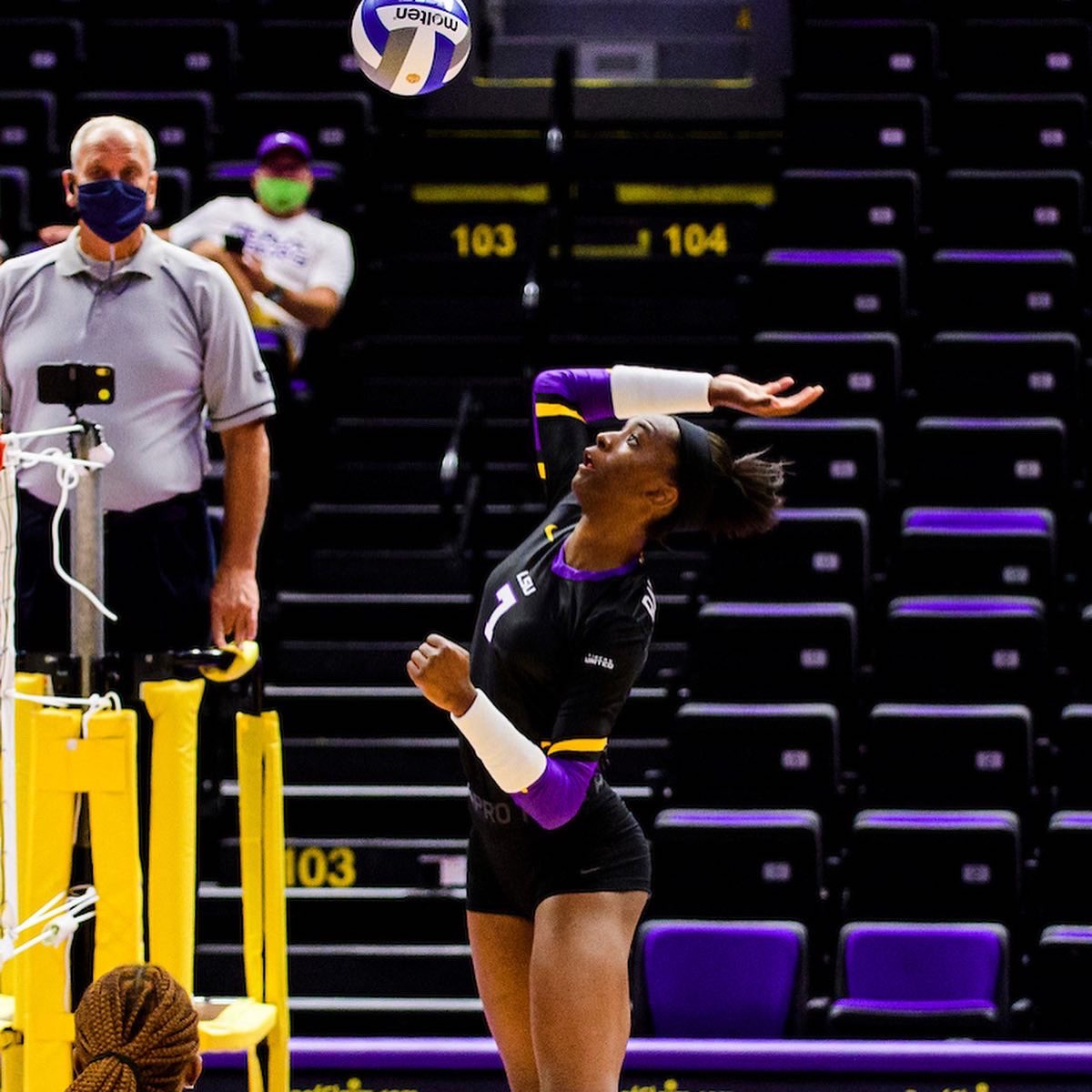 LSU head volleyball coach Fran Flory's been waiting on a breakthrough moment this season.
With a team beset by injuries, going back to the spring season, the Tigers were finally able to piece some of their lineup back together and notched a potentially pivotal victory.
After 19 consecutive losses dating 11 years to Florida, LSU finally vanquished the No. 20 Gators 3-1 to create a jolt of momentum going into a Southeastern Conference home series with No. 5 Kentucky, the defending national champion.
The Tigers (7-9 overall, 3-4) host the Wildcats (11-3, 4-0) at 7 p.m. Thursday, which will be streamed by SEC Network+, and again at 8 p.m. on Friday which will be televised by the SEC Network.
"We have some great pieces now and we're going to go forward," Flory said. "We've stayed on the positive train. Let's just go do our jobs and do what you're capable of doing. Our kids have been resilient. There's a lot of the right matches left. We can turn it (around). This weekend will be really important. Having a nice crowd in there will be vital."
Having Kentucky visit the Pete Maravich Assembly Center represents a milestone of sorts for LSU, which has never hosted a reigning national volleyball champion under Flory, how in her 24th season with the Tigers where she's won 399 games.
LSU's extraordinary task of SEC games began with consecutive home series with Florida and Kentucky but will also include a visit Oct. 23-24 from second place Tennessee.
"We can still be in NCAA tournament," Flory said. "The chances of us winning the SEC, that's still mathematically on the table with us facing the heart of league's top teams in the next two to three-week window. Timing is everything in scheduling."
Especially with the personnel available to play.
Much to Flory's chagrin, the starting lineup she envisioned during the preseason hasn't materialized because of a litany of injuries that included the loss of senior Whitney Foreman with an ankle injury against Florida.
Junior outside hitter Samarah Hill had shoulder surgery in the spring and then tore her Achilles which sidelined her for the rest of the season.
Sophomore outside hitter Paige Flickinger suffered an injury before the start of the season and was finally able to come back to the court during her team's series with Florida, albeit not at 100%, Flory said.
Graduate student outside hitter Hannah Brister missed three matches early in the season, senior All-American right side hitter Taylor Bannister missed five matches, sophomore middle blocker Alia Williams is just returning after playing in one match Sept. 3 vs. Iowa State and junior setter Karli Rose has only played in seven of 16 matches.
"We'll never be with the lineup we expected to have for the season," Flory said. "I keep telling everybody the Good Lord is telling me something or telling us something. I just need to find the message so we can get past it."
Maybe the win over Florida served such a purpose where after losing 3-1 to the Gators last Saturday, the Tigers responded with a 22-25, 25-17, 25-21, 25-21 victory.
Three-time All-American Kylie DeBerg, a graduate transfer from Missouri, led the way with 21 kills and 11 digs and teamed with Bannister who had 15 kills and 11 digs. She's tied with Nyla Sheppard for the school's career lead in kills with 1,735.
Freshman setter Ella Larkin has emerged in Rose's absence and recorded 41 assists and 19 digs, while the school's career leader in digs, Raigen Cianciulli had 26 digs.
DeBerg (261 kills) is third in the SEC in kills per set (4.22), Anita Anwusi third in blocks per set (1.40), Cianciulli second in digs per set (4.89) and Larkin ninth in assists (176).
"We finally sustained our discipline and game plan and executed," Flory said. "We just found a middle ground which we've been searching for the whole time."
LSU faces a similar dry spell against Kentucky as it did against Florida before Sunday's win. The Tigers have lost 10 straight matches and 13 of their last 14 to the Wildcats who are riding an overall five-match win streak.
"It's a great challenge and a great opportunity for us," Flory said.