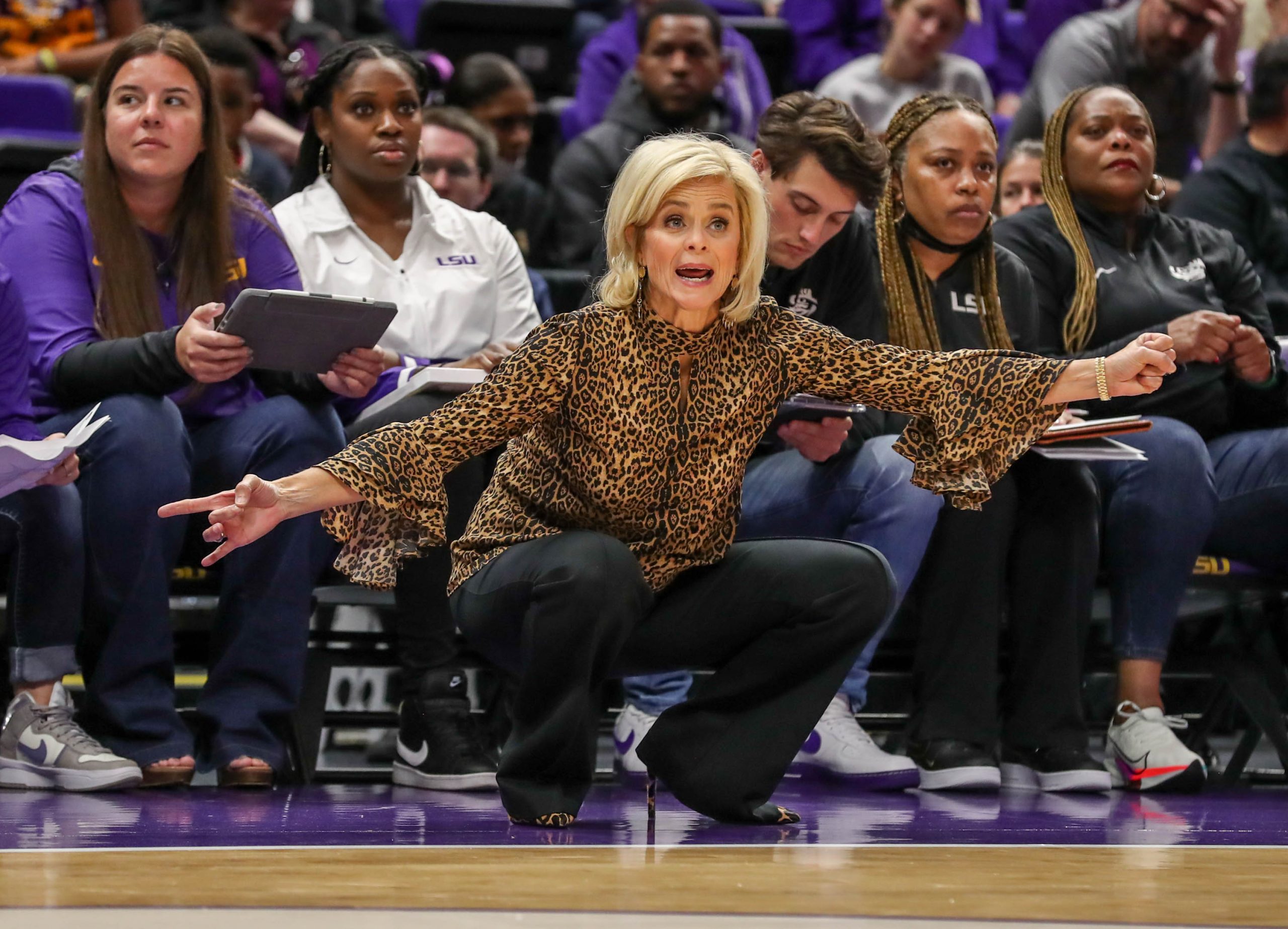 Kim Mulkey wanted that trophy.
She was 12 years old and there was a roller-skating marathon at Nettles Skating Rink in Hammond just down the road from her home in Tickfaw, La.
The objective was simple – the last person still skating won the trophy. Skaters got a 10-minute break each hour but had to continuously move the other 50 minutes.
Mulkey was five minutes shy of skating for 24 straight hours when her grandfather walked into the rink to check on her.
"I was sleep skating and I didn't realize it," Mulkey recalled. "When he walked in, I just skated right up to him, stood there and carried on a conversation. Because my skates stopped, I was disqualified and finished in fourth place.
"I was so determined to win it and I didn't realize I had done that until I kind of woke up and said, `Oh wow, I'm done.' I didn't like it. I was very upset."
And that's the first time Mulkey knew she HATED to lose and LOVED to compete.
"I wouldn't say I'm a sore loser," said the 59-year-old Mulkey, who stunned the college basketball world in late April when she was introduced as LSU's new women's coach after building a rarely beatable dynasty at Baylor University over the last 21 seasons. "I just try to figure out how I'm going to beat you the next time we compete."
She's only been in that situation 185 times in her 44-year love affair with basketball, which spans 1,536 games in those 21 seasons as Baylor's head coach, 15 as a Louisiana Tech assistant coach, four as a Tech point guard who also played for four Team USA squads and four as the one-time second-best national girls' high school career scoring leader.
Her record: 1,351 wins (1,062 as a head/assistant coach, 289 as player), 185 losses (172 as a head/assistant coach, 13 as a player), a winning percentage of 87.9.
She's the only person ever to win national championships as a head coach (three), an assistant (one) and a player (two). Then, there's the Olympic and Pan Am Games gold medals and four state high school championships she won as a player.
Finally, she's a member of four Hall of Fames culminating with her mid-May induction into the Naismith Memorial Basketball Hall of Fame where she was presented by the legendary Michael Jordan.
"I love to compete," Mulkey said. "It's just who I am. I don't know where it came from. It's internal because it's not something you teach somebody. You just find things in life that make you feel good, and sports made me feel good."
Born to compete, raised to win
There are other things that make Mulkey happy such as her married daughter Makenzie Robertson Fuller who has given her mom two grandchildren. She's also fiercely proud of her son Kramer Robertson, a former LSU baseball star now in the St. Louis Cardinals minor league system and one step away from the major leagues.
Her kids understand better than anybody that she is a straight-forward, uncomplicated person who believes in a set of unwavering principles.
First and foremost is learning to compete is a required life-skill.
"A lot of people just participate and that's good to a certain degree," Mulkey said. "But you better make sure you teach them you've got to be at your best to get jobs later in life. You can't slouch, you can't come unprepared, you must compete in your job or somebody better is going to get it."
For Mulkey, the game of basketball has been and will forever be based on well-executed fundamentals.
"Some of the fundamentals and drills we work on every day in practice will always remain in game settings," Mulkey said. "The game is simple. You've got to score, shoot, dribble and rebound. Give me a point guard, a shooter and a post-player and I can compete with you."
Also, for as many four and five-star recruits Mulkey and her staff have recruited through the years, she believes her best players aren't necessarily the most talented.
"In the pros, it's more `What do they look like, do they physically fit the prototypical pro model?'" Mulkey said. "It frustrates me because I will take a winner every day over a prima donna. There's a place in college for a kid who's just a flat-out winner."
Mulkey knows this better than anyone because she's been that 5 foot, 4-inch refuse-to-lose burning flame of intensity since she learned to walk.
As the older of two daughters raised by Leslie and Dru Mulkey (who divorced while Mulkey was in college), Mulkey was a natural athlete from the jump.
Her father, who had been in the air wing of the Marines at El Toro Air Base in Irvine, Calif. when she was born six miles away in Santa Ana, had played football in high school. Dru, an Alexandria, La. native, had played a bit of basketball in her day.
When her dad would go play in recreational basketball leagues, little Kim would usually attend just to fire up shots at halftime.
"She was a little bitty thing, but she was making shots," Dru recalled. "People would say `Look at what that little girl is doing.' "
Mulkey was a better athlete than most boys her age, beginning in elementary school. But there was no jealousy because she was usually the first player chosen in such schoolyard games as Red rover.
"She could run real fast," Dru noted.
Leslie Mulkey pushed the envelope when his daughter at age 12 became the first girl in the Hammond area to play on all-boys summer Dixie Youth and Dixie Boys baseball teams.
"In her first season in Dixie Youth, Kim's team went to the sub-district tournament in Ponchatoula," said Larry Hymel, former long-time Southeastern Louisiana University sports information director who was an assistant coach in Mulkey's Dixie Boys season. "When she went on the field, the district director stopped play. He was just going to call the whole thing off.
"After several threats of lawsuits, he relented and play continued."
Hymel said the 12-to-14-year-old Kim, who played several positions including pitcher and second base, was well accepted by her all-male baseball teammates and approached the game like she has her entire athletic career.
"Competitiveness was her trademark," Hymel said. "She was very heady, fundamentally sound and held her own. She was good enough to make the all-star team."
Baseball quickly fell by the wayside once Mulkey entered Hammond High as a freshman in 1976. As a pig-tailed point guard, her basketball skills and poise were far beyond her age.
That was immediately noticed Leon Barmore, the man would become her co-head coach at Louisiana Tech and eventually Mulkey's mentor, when he laid eyes on her for the first time when she was in the 10th grade.
"Just watching her warm-up, the girl had charisma and it was like every eye in the gym was on her," said Barmore, now 77, who's a Naismith Basketball Hall of Famer like Mulkey and so beloved in Ruston a statue of him was unveiled outside Tech's Thomas Assembly Center on Oct. 21 with Mulkey speaking at the ceremony. "When she started to play, the other nine players weren't close to her in talent. I saw a little point guard who could get it done."
Mulkey checked every box on and off the court.
She led her team to four straight state championships under two different coaches her first two and last two years and finished with 4.075 career points (then the second-best all-time high school scorer ever and now 37th just more than 40 years later).
In the classroom, she was her senior class valedictorian with 4.0 GPA. Just after Mulkey won a gold medal on the 1984 U.S. Olympic team, her fourth-grade teacher pointed out to Dru Mulkey that her daughter had perfect attendance starting in the first grade until she graduated from Hammond High in May 1980.
"Kim had a lot of good teachers," Dru said, "but she studied hard. She was mature. It always seemed to me she was ahead of her age, even when she was little.
"She grew up eating, drinking and sleeping basketball. I could see great things happening for her."
The quarterback of the Lady Techsters
For someone who loved to win, Mulkey and the Louisiana Tech Lady Techsters were a perfect match.
There wasn't a college president that valued athletics and its relationship to increasing student enrollment more than Louisiana Tech's F. Jay Taylor.
In 1974 three years after the Association of Intercollegiate Athletics for Women (AIAW) was founded to govern collegiate women's athletics in the United States, Taylor hired Sonja Hogg, a 28-year-old P.E. teacher from Ruston High as Tech's first women's basketball.
Hogg's strength was recruiting as well cultivating the Lady Techsters' image as fierce competitors who also were well-mannered, feminine young women off-the-court.
In 1977, she hired Ruston High boys coach Leon Barmore as her top assistant to handle the majority of the Xs and Os. The program immediately skyrocketed.
When Mulkey arrived on the Tech campus as a freshman in the fall of 1980, she was joining a team coming off two straight AIAW Final Four appearances including a loss in the 1979 championship game to Old Dominion.
She had never been coached by anyone as intense as Barmore.
"It was something I was told about, but not prepared for," Mulkey said. "You're homesick, you think `I can't do anything right.' Sonja Hogg was the soother. She made sure you understood Leon was coaching you, don't take it personal."
The Lady Techsters were built around twin towers 6-foot Pam Kelly and 6-2 Janice Lawrence and 5-8 guard Angela Turner.
That trio needed the ball on time at their best spots on the court, and it was Mulkey who became the consummate point guard who put aside her 30 points plus per game high school scoring average.
"I told Kim we just needed 4 or 5 points a game from her because we already had people like Pam Kelly and Angela Turner who could score," Barmore said. "She accepted that. What other kid averaging 38 comes to college and averages 4 or 5? That speaks volumes of her wanting to win."
Mulkey's 133-game Tech career scoring average of 7.1 points wasn't nearly as important as her 6.4 career assists average or the fact she never fouled out of a college game.
"Everybody played their role," said Angela Turner-Johnson, now a 61-year-old grandmother who was elected to the Louisiana Sports Hall Fame Class of 2021. "Kim was our quarterback on the floor. She'd pick us up when we were down."
It was Barmore, through his relentless demand for excellence, who showed his players the sacrifices it took to annually remain national championship contenders.
"He was always pushing us and always encouraging us to go above and beyond if we want to be the best," Turner-Johnson said. "Even when we played games that I would consider `good' games, if there was a certain aspect that wasn't right, he'd call us out on it. Sometimes, he even had us practice after the game.
"A lot of times it didn't seem like it, but we knew deep down he really cared for us. He wanted to win and he wanted us to become winners, too."
Mulkey thought she was finished with Barmore when she graduated in 1984 after four straight Final Four appearances, including an AIAW national championship in 1981 and an NCAA national title in 1982 in the first year the organization began governing women's college athletics.
She considered her basketball days in her rearview mirror after collecting a gold medal in the 1984 Summer Games as a reserve on the U.S. Olympic team coached by Tennessee's Pat Summit.
Mulkey returned to Louisiana Tech for postgraduate work enhancing her bachelor's degree in business.
She didn't consider becoming a coach until F. Jay Taylor used campus police to summon Mulkey to his presidential office out of a graduate class in the spring of 1985.
Hogg was stepping down as co-head coach and Taylor told Mulkey she needed to become an assistant coach under Barmore. Of course, Barmore was in cahoots with Taylor about arranging the meeting.
"Miss Hogg is gone and I'm thinking who in the hell is going to recruit for me because she was great," Barmore said. "I'd got out and recruited some, but I knew Kim would fit that role perfect. I just coached Kim for four years and I knew she was a competitor."
Mulkey had other career aspirations.
"I never thought I wanted to be a coach," she said. "Not because I didn't respect the profession, but I honestly aspired to just make a lot of money.
"Those CEOs of those Fortune 500 companies and flying all over the country was intriguing to me. Maybe because I thought they were smarter than coaches and I didn't want to be thought of as `just a coach.'
"As I got older and got talked into becoming a coach by F. Jay Taylor, I realized, `Wow, this is what I was really meant to do.'
"And coaches do make a lot of money. Maybe I didn't realize that. But yes, the money was intriguing, but maybe it was a perception I had that anybody can be a coach but only a few people can be Fortune 500 CEOs."
Mulkey was Barmore's top assistant for 15 seasons as the Lady Techsters advanced to seven Final Fours, won the 1988 national championship and lost in the finals three times.
Along the way besides soaking in Barmore's coaching knowledge, Mulkey married former Louisiana Tech quarterback Randy Robertson in 1987 (they divorced in 2006) and gave birth to daughter Makenzie in 1991 and son Kramer in 1994.
By the time Barmore was set to retire at the end of the 1999-2000 season, he wanted Mulkey to replace him. She turned down head coaching offers in the past from South Carolina, Missouri and Texas A&M, because she wanted to take over at her alma mater.
Mulkey wanted a five-year deal to coach Tech, basically a standard contract length for new coaches building a program. Also, five years would make her fully vested in the Louisiana state pension system.
F. Jay Taylor had long been retired as Tech's president. Dan Reneau, Taylor's successor, said to Mulkey that a four-year deal was his final offer.
She fell to her knees in his office, crying and begging Reneau to give her what she wanted. He wouldn't budge.
Finally, Mulkey got to her feet, wiped away her tears, turned without saying a word, walked out of the office and soon called Baylor to accept its head coach offer that was still on the table.
Of course, it was still available. Who wanted to resuscitate a program that just finished last in the Big 12?
Grin and Bear it
It took Mulkey five years to win her first national championship for Baylor in 2005 and it came at a time that the school desperately needed something positive to happen.
The school's men's basketball scandal began with the 2003 murder of Baylor player Patrick Dennehy by teammate Carlton Dotson. Baylor men's coach Dave Bliss was heavily involved trying to cover up the crime and the program was being investigated by the NCAA for allegations stretching from drug use among players to improper payments to players by the coaching staff.
The one constant source of public pride in Waco became the Lady Bears establishing a dynasty that could be mentioned in the same breath as Connecticut and Tennessee.
When Mulkey arrived at Baylor, she hit the ground running.
"When I first got there, you saw me in the community a lot because my kids were involved in sports," she said. "You saw me at every event they played in, every ballgame, so I networked the program through my children and my visibility. I spoke at every Rotary Club, every Kiwanis. You name it, I would do it."
Baylor fans flocked to see the Lady Bears play consistently hard and together for someone who coached like she was still playing. A strong bond developed between a coach, a program, a school and a city.
"It's the people, the teams and the players I coached, the people embraced me and my family, they came out in droves," Mulkey said. "Some of the best women's players in the game came to Baylor University and they just allowed me to be me."
Mulkey assembled a well-oiled juggernaut that won three NCAA national championships (2005, 2012, 2019), 12 Big 12 regular season titles and 11 Big 12 tournament championships. The Lady Bears averaged 30 wins, played in 17 straight NCAA tournaments (discounting the COVID-19 cancelled tourney) and every one of Mulkey's players graduated who stayed all four seasons.
What turned out to Mulkey's last game at Baylor, a 69-67 loss to Connecticut in a regional final on March 29, was a tough defeat to shake.
The Lady Bears led by double digits in the second half. But when they lost DiDi Richards, the national Defensive Player of the Year for most of the game's last 12½ minutes, UConn went on a 19-0 run for a 69-67 victory.
The defeat was doubly bitter because replays showed Baylor's DiJonai Carrington fouled by two UConn players in drive to the basket in final seconds with the Lady Bears trailing by a point. The officiating crew chose not to whistle a foul.
"One kid hits her in the face, one kid hits her on the elbow," Mulkey said in a postgame press conference. "It doesn't matter what you write, it doesn't matter what I say. It doesn't matter what we saw. Life goes on."
Meanwhile in Baton Rouge, the LSU women's basketball program was a shadow of its once-proud self that advanced to five straight Final Fours from 2004 to 2008. Nikki Fargas, a former Tennessee standout who succeeded Van Chancellor as the Tigers' coach in 2011-12, resigned after 10 mostly unremarkable seasons.
After her first four LSU teams qualified for the NCAA tourney, only one of her last six squads made it to the Big Dance. Unfortunately, her 20-10 2019-20 team was destined for an NCAA tourney invite until all sports were shut down at the start of the COVID-19 pandemic.
Fargas didn't recruit well, and the Tigers' 1-4 start last season led to a 9-13 record. Scott Woodward, hired as LSU's athletic director in April 2019, had a two-season sample size of Fargas. He saw fan interest in the program was non-existent and decided to make a change.
Woodward stayed true to his past hiring philosophy – swing for the fences – that served him well as A.D. at Washington and Texas A&M. Less than a month after the end of Baylor's season, Mulkey's phone rang. On the other end of the call was Stephanie Rempe, an LSU executive deputy athletics director and chief operating officer.
"Basically, she asked me if my athletic director at Baylor had communicated with me, that she had communicated with him and was vetting me," Mulkey said. "I said, `No, he has not.'
"She was as surprised as I was. Then, she asked me, `If LSU were interested, Coach, what do you make, what is your contract?' She said she needed to know those things and then we hung up.
"Maybe the next day I heard from Scott. He introduced himself and said, `Kim, I feel like we should know each other though we don't. I went to Catholic High and you went to Hammond High. I went to LSU and you went to Tech.'
"And we just started the conversation there. He said, `I'm calling to offer you the LSU job, it's time you come home and help us.'
"I listened. I think my response was, `Scott, are you certain about this? Are you going to invest the resources and the money that it's going to take to bring not just me, but also my staff?' He said, `Stephanie will be in touch with you on that.'
"Then he said, `I want you to not only come help us win at LSU, I want you to help me in two other areas (LSU's Title IX issue being one of them).
"I said, `If I come home Scott, it will be to help with a lot of things. It just won't be to win basketball games. I'm going to come home to be a positive in all aspects that I can be for our state.'
"The conversation lasted about 10 minutes. Within the hour, Stephanie called back with the financial details. Then, I told them I had promised the athletic director at Baylor I'd talk with him before I made a decision because he did finally call me and tell me Scott was going to offer me the job."
She immediately told her staff about the offer.
"I've been with her in the past when schools have called with job offers," said Sytia Messer, now LSU's associate head coach who had been on Mulkey's staff for her final eight Baylor seasons. "Those times she was like, `No Sytia, not at this stage.'
"But this time, her voice had a different tone when she told me LSU called. I went, `OK, she's going to take a serious look at this.' She loves challenges and it was a chance to go home."
Mulkey checked in with her kids, especially son Kramer who became a key figure on the Tigers' 2017 College World Series team.
"Late one night, she called me and told me LSU offered her the job with more money (an eight-year, $23.6 million deal) than she thought they could ever offer, but it wasn't about the money," Robertson said.
"We had a difficult conversation, weighing the pros and cons. She was very emotional. It tore her apart to think of leaving Baylor and Waco because she loved and cared so much for that school and the people in that city."
Mulkey also called her mom Dru and told her she was leaning toward accepting LSU's offer.
"Kim, are you sure?'," Dru said to Kim.
"Yes Momma, I know what I'm doing," she replied.
It took Mulkey almost a week to decide to leave. There was an agonizing debate going on inside her head.
"I would be leaving a Final Four (caliber) team, I knew how good that team was going to be this season and I would be leaving that on the table knowing coming here I wasn't going to have that kind of team," Mulkey said. "My decision wasn't about the money, yet I wasn't coming for a cut in pay for me and my assistants as well.
"This was an opportunity to be challenged the last third of my coaching life in a conference that's outstanding. And I'd be working for an athletic director who came home, too. We understand our state, we understand its people, we understand our strengths and weaknesses. I felt a sincere want-to, a `Come back home, Kim.'
"You make the right decisions based on timing and sometimes you don't. Timing is everything in life. The time felt right to do this, it just felt like this was a time to go home."
The hardest part for Mulkey was telling her Baylor team she was leaving. For one of the few times in her life, she was at loss for words.
"I'm going home and nothing I say will help our hurt, your hurt right now," Mulkey told her team. "I love all of you but I'm going home."
The players, especially a freshman like center Hannah Gusters who had just one season with Mulkey, were stunned.
"It was so surreal. I didn't know what to think," said Gusters, the only Baylor player who followed Mulkey to LSU. "What were we going to do? It was like everything happened so quickly, it was shocking for all of us.
"But Baylor isn't Baylor without Kim Mulkey, so I knew I was going (to follow her to LSU). I trust Kim 100 percent with my career and where she'll take me."
The reverberations of Mulkey's decision to leave were almost as strong in Baton Rouge, especially by Tigers' players who had already decided to return (three as graduate students) before they knew who their new coach would be.
Returning starting center Faustine Aifuwa admitted she was temporarily dazzled when Mulkey met briefly with her new team the day she was publicly introduced last April 26 in the Pete Maravich Assembly Center as the Tigers' head coach.
"Seeing her that first day," Aifuwa said, "I was in shock, like `This is really Kim Mulkey in the locker room talking to us.' I was like a little fangirl, but then it was like `Let's get to work, let's get back to business.'"
At Mulkey's PMAC coronation, it was as if she had never left Louisiana.
She spied Louisiana Governor John Bel Edwards in the audience and cracked, "John Bel is not as good-looking as his daddy Frank was, nor is he as smart as his momma who worked at Lolly Kemp charity hospital in Independence."
She spoke of her love of crawfish, Ponchatoula strawberries and Boudreaux and Thibodeaux jokes. She reminded the crowd that "national championships don't happen overnight, give it time."
And then she went to work.
The homegirl starts laying the foundation
Uprooting everything after being firmly planted for just more than two decades is unimaginably difficult.
Step one for Mulkey was buying a house in Baton Rouge with a nice yard, which she found at the end of quiet dead-end street in the Southdowns area 15 minutes from her office.
"When I go home, my therapy is my yard, just to be out there away from the phone," she said. "I love yardwork, I love a manicured yard."
Mulkey also likes a smoothly, functioning staff, from on-floor assistants to the behind-the-scenes administrators. She brought just about her entire staff from Baylor, including staples Johnny Derrick as director of operations, Messer as her top assistant and Jennifer Roberts as director of player personnel.
Derrick, 63, a former insurance agent from Ruston, was hired by Mulkey when she began coaching Baylor as an assistant coach. He immediately took charge of many off-court responsibilities Mulkey dislikes such as budget, travel and scheduling.
"There were a lot of days when we first started at Baylor," said Derrick, a Dubach, La. native, "that I said to Kim, `What do I need to do today?' We needed to get the business side of the program in place and the basketball side would come."
Messer, 44, was a ninth-grade basketball player in Waldo, Ark., when then-Louisiana Tech assistant Mulkey began recruiting her.
"I decided to go to Arkansas, which I don't regret," Messer said. "I didn't choose Louisiana Tech, but the way I handled going to Arkansas impressed her. To tell you a lot about Coach Mulkey's character, we stayed in contact throughout the years. I tell players I've coached it's how you handle things that counts."
After Messer became a college assistant coach and a head coach at Tennessee Tech for three seasons, Mulkey never lost track of her. Nine seasons ago when Mulkey had a staff opening, her sales pitch to Messer was more of a command.
"Sytia, you're not going to turn me down twice," Mulkey said.
Messer said she's learned much from Mulkey, from how to balance career and family to consistent game preparation.
"It doesn't matter if we are playing Grambling or UConn, we're going to approach the game the same," Messer said. "We're going to prepare our kids the same. We never overlook any opponent.
"She (Mulkey) does the same thing every day in practice. She coaches hard. So, in games, it's second nature to her. She's so passionate. I've never met a person who's so passionate about everything they do."
One of Mulkey's strengths is realizing games are won more on execution than strategy. Her preseason practices are heavy on repetitive fundamental drills that hone game situations while providing conditioning.
Mulkey's October practices – three hours of constant motion and energy – initially were a shock to the entire LSU team except for Gusters and Alexis Morris, who each have played a season under Mulkey.
"Last year we had (practice) breaks and this year is more high intensity, which is right up my alley," said Khayla Pointer, a senior All-SEC preseason first-team honoree. "She (Mulkey) lets us think the game more and in more game-like situations."
Mulkey said her fast-paced practices are part of her personality and stem from when she played.
"It's hard to focus when you're on the sideline and you're not getting the reps," Mulkey said. "So, I make sure players are constantly getting reps and if you're on that sideline you're going to get your reps. I hold them accountable if they mess up. Because if you don't, how are you ever going to correct it?
"I don't want them to play scared. But I want them to understand we're not going to slop around out there and turn it over."
Watch one Mulkey practice and it's easy to see why her old college teammate Turner-Johnson refers to Mulkey and her former coach and boss Barmore as "twins."
"We were together almost 20 years and you can pick up things from me," Barmore said. "But then you've got to go out and do it for yourself and Kim's done it. That kid has made herself a top-notch coach. She's got some grit."
Like Barmore, Mulkey demands things be done correctly and won't accept anything less.
"You don't spend that many years together (with Barmore) and not take what was positive and good with you," Mulkey said. "You incorporate it into your own personality.
"A lot of what I do, if not the majority of what I do, on preparation, paying attention to detail, demanding excellence, those are things that were ingrained with me from the time I was 18 years old with Leon through the Olympics being coached by Pat Summit. Pat was very similar (to Barmore) in her approach to the game."
Like Barmore, Mulkey can rather blunt with her on-the-spot coaching critiques to her players, such as the following examples from one of her preseason practices:
"I can live with somebody who doesn't understand the game. But I can't coach lazy ass people. Go ahead and get into the (transfer) portal because I can't coach lazy ass people."
"A ball player in all sports has got to prove they belong. So, prove you belong."
"You've gotta get some dog in you. Don't say `I'm sorry.'"
"I will never sugarcoat anything. When Kramer was a freshman (at LSU), he committed an error against Florida and they pulled him off the field in THE MIDDLE OF THE GAME!
"So, when I get on you freshmen, you're Kramer all over again."
There is another side of Mulkey that pleasantly surprised the Tigers' returnees.
"She's a people person," Pointer said. "I expected her to be hardcore and all about basketball. I didn't expect her to be funny."
Apparently, Mulkey's ability to lighten her team's mood – "Kim always laughed a lot, that's just who she is," Turner-Johnson said – comes from her playing days at Louisiana Tech.
Derrick said Mulkey has an innate sense when to stop breathing fire and momentarily chill the vibe.
"She may be in the huddle during a timeout cracking a joke to get the kids to relax," said Derrick, who has been at Mulkey's side for every game of her head coaching career. "Two minutes later, she might be completely different because that's what the game calls for."
Gusters understands after one year of playing for Mulkey that she will be coached hard every day. Also, she must expect the unexpected, like the day in a Tigers' preseason practice when Mulkey introduced one of her favorite drills which she uses sporadically.
It's basically a three-player offensive rebounding war with no fouls called. Mulkey tosses a shot off the rim. The first player to score off three offensive rebounds wins. A new player joins the remaining two. This goes on and on until every player on the floor rotates into the battle.
"I don't want you to hurt each other," Mulkey said after a player gets elbowed in the mouth, "but I damned sure don't want to lose, either."
It is two to three minutes of bumping, shoving, grabbing and slapping. And it's also exhausting.
"The shock comes in where you see what everybody is made of," Gusters said. "You don't know who's going to go hard and who's going to be a dog until you're in the middle of it."
Mulkey embraces the drill but understands she can't use it often.
"It's very tough, it tells you a lot about each of them that maybe they didn't know about themselves," Mulkey said. "Some of them run from that, they don't want to get in there and do it. Some of them just embrace it. It reveals a lot."
Ready for the season opener
Which is exactly what Mulkey wanted in the preseason. Just like when she became Baylor's coach, she's had to learn her team and they've had to learn her.
As her first season begins, LSU fans will delightfully discover few people coach harder each minute of every game than Mulkey.
Her in-game coaching is a blend of sideline gymnastics and well-timed dramatic reactions while maintaining coaching focus as situations unfold. She often doesn't realize until later what she may have said or done that could be considered out of the normal realm of bench decorum.
"It comes natural for me to get out there and give you every ounce of energy I have as a coach," Mulkey said. "I'm so focused on what is happening on that floor and just competing to win a ball game, I don't hear the noise around me.
"Sometimes, my coaches will say, `Do you realize that you said this?' I'll say, `No, I didn't.' They say, `Yeah, you did.' I say, "Well, that had to be what they call in the heat of moment because I don't remember.'"
It's such fervidness that has made Mulkey a perennial winner and why she'll continue to win in her return home because great players who want to improve always are attracted to her fire.
"You see a coach all locked in for 40 minutes, it makes you want to be locked in for 40 minutes and go hard for her," Aifuwa said. "You've seen on TV how much effort she puts in for her players and now I see it in practice and in games.
"I know I can play my heart out for a coach like Kim Mulkey because she's going to do the same for me."