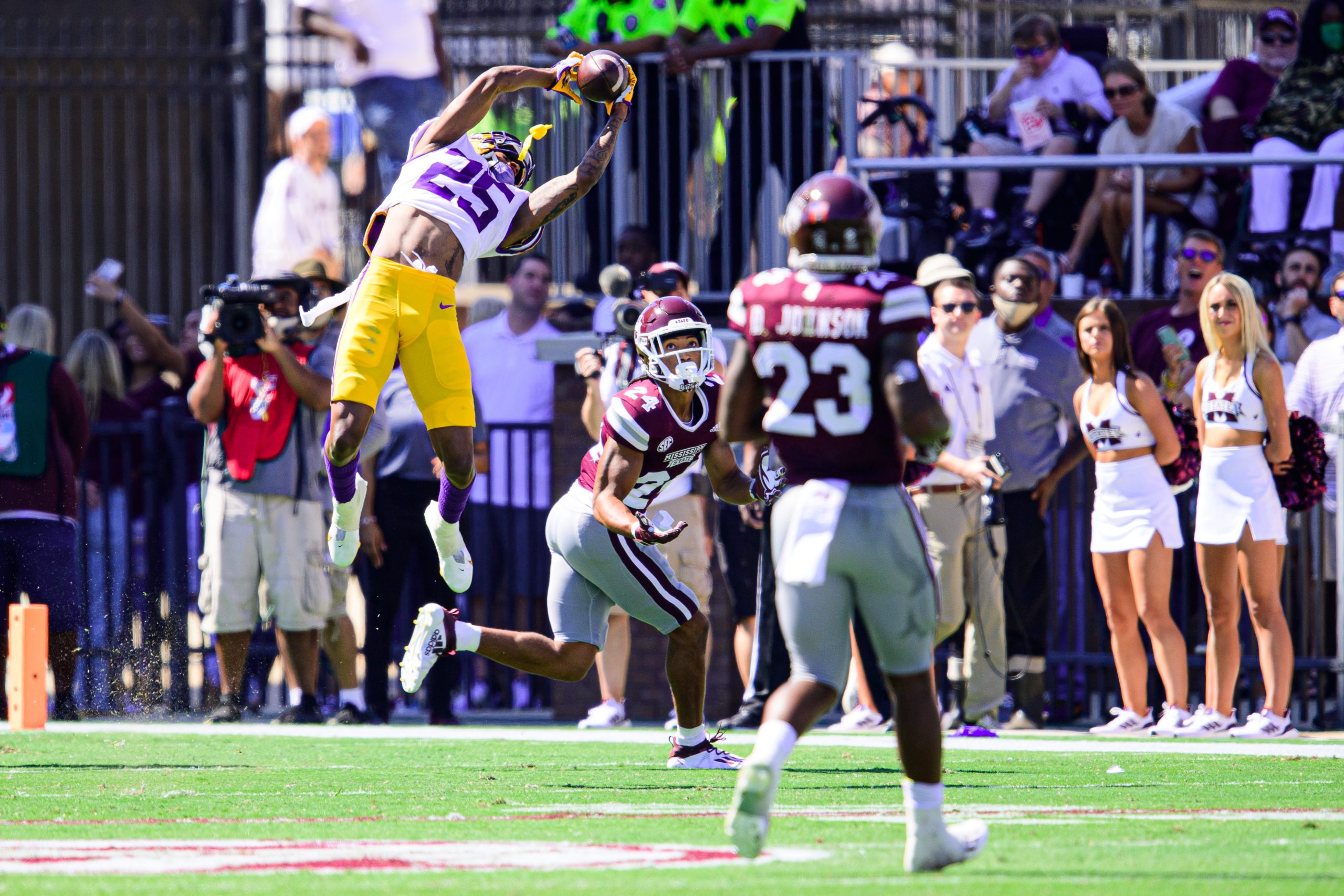 One of the hardest hit areas of LSU's football team this season will be without two starters when the Tigers (4-4 overall, 2-3) visit No. 3 Alabama (7-1, 4-1) for a 6 p.m. kickoff Saturday in a SEC Western Division matchup.
LSU head football coach Ed Orgeron confirmed during his appearance Wednesday on the SEC Coaches Teleconference that starting cornerback Cordale Flott "was very questionable" to play along with starting nickel back Sage Ryan would also miss the game.
"We have to play our defense, that's what our guys have been playing all season," Orgeron said. "That's what our guys know. But we have to put in a couple of new wrinkles. We're going to play with the guys we have, and they have to step up and I know they will."
LSU's already playing without starting cornerbacks Elias Ricks who is out for the season with a torn labrum, while fellow cornerback Derek Stingley Jr. has been out indefinitely since the Central Michigan game after undergoing a foot procedure.
Flott moved from the team's staring nickel position to replace Ricks and Dwight McGlothern took over for Stingley where he's registered 19 tackles, returned an interception for a touchdown and has broken up three passes.
Flott's made eight starts overall and six at cornerback where he's made 32 tackle and an interception.
Sophomore Raydarious Jones is listed second on the depth chart behind Flott. He's made four tackles and broken up a pass in two games this season.
Ryan, a heralded five-star signee from Lafayette, moved into the starting lineup at free safety when Jay Ward moved to cornerback and picked up five tackles in start starts.
Ward started in six games – four at free safety and two at cornerback – in place of Ricks and made 41 tackles with an interception and is backed up by Jordan Toles (12 tackles in 5 games).
Senior Cameron Lewis became a starter at strong safety when Major Burns suffered a leg injury and remains sidelined and is backed up by senior Todd Harris Jr., who hasn't played in the last four games.
Lewis or Harris could replace Ryan because LSU no longer has the services of linebacker Navonteque "Bugg" Strong, who after seeing action at the nickel position in two games, entered the NCAA transfer portal two weeks ago.
Here's what else Orgeron has to say:
Opening statement
"We had a very good practice yesterday; a lot of guys were back from injuries. Armoni Goodwin is ready to play. Chasen Hines is ready to play. We had a very spirited practice and ready to go for Alabama."
On the results your self-scouting producing changes in schemes
"When you self-scout you're looking for things you've done well, you're looking for things that you don't do well, and you try and fix it. We were a little too vanilla on defense. Obviously, you can't put a lot of stuff in in the middle of the season, but we do have to mix it up a little bit to give the opponent a challenge."
On the flexibility of the running back's with the addition of Goodwin and Tre Bradford
"Yesterday was the first day with them but we ran some specific plays with both of those guys. They looked very good. They've got some fresh legs."
On return of running backs coach Kevin Faulk to the team
"He's back with the team and it's great to have to him. He's an outstanding coach, an outstanding man and it's good to have him back with us."
On finding a running game that rivals the success against Florida
"We're going to have run the football. We have to be 50/50. We can't be one dimensional. It's always tough sledding against Alabama because they're so good up front and so well coached. We have a challenge, but we have to run the football."
On the play of Alabama's defensive line
"Very impressive, they always have been every year I've been here. They're coached great, they recruit great. Some of the best linemen in the country that play with great technique. They're very impressive."
On the play of Alabama running back Brian Robinson
"He has patience, he knows where his holes are going to be and makes one cut. I've seen linebackers overrun him. He knows how to miss tackles, to break through tackles. I think the guy's having a fantastic year."
On the reception expected from Alabama fans after his locker room comments after the 2019 game
"That was something that was made in the privacy in the locker room. I wish it wouldn't have gotten out. I meant no disrespect to anybody at Alabama. I wish that wouldn't have gotten out and it wasn't intended to."
On getting contributions from running backs Corey Kiner and Josh Williams
"They're good zone runners. They have patience. Kevin's done a great job. We run some gap plays and they know how to run them. Armoni is really quick, he's elusive. He has quick feet and can make you miss in the hole, can run inside and outside. Tre Bradford has some good breakaway speed. The outside runs with those are guys are very favorable. Ty's (Davis-Price) is our running back and we need him to play the game he had against Florida."