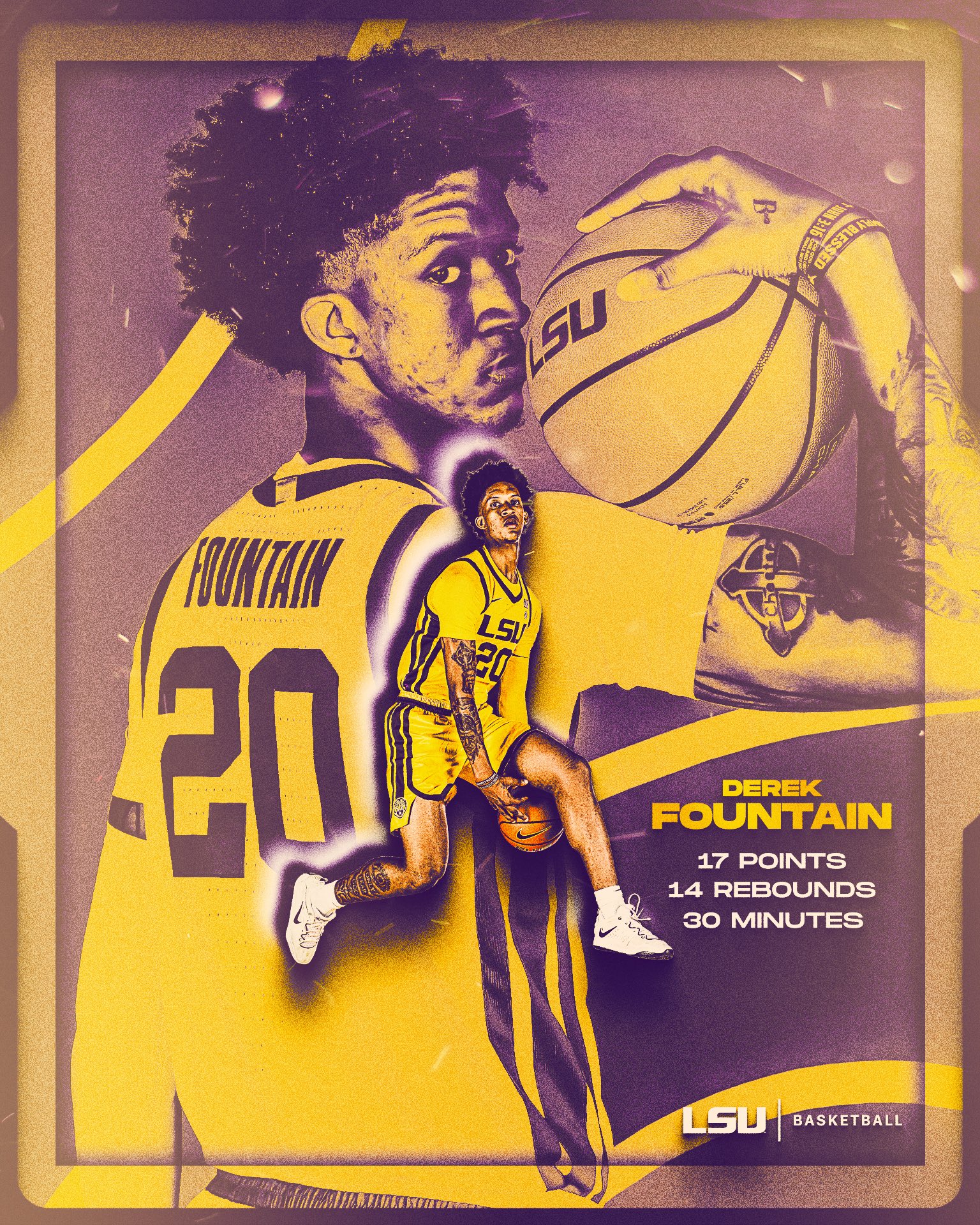 KJ Williams scored 18 points and grabbed 11 rebounds while Derek Fountain added 17 points and recorded a career-high 14 rebounds, leading LSU to a 67-57 win over North Carolina Central on Tuesday in the Pete Maravich Assembly Center.
Fountain, starting his second consecutive game, scored 15 points in the first half and was 6-for-9 shooting on the game.
LSU (9-1) remained unbeaten at home. It was the Tigers sixth win at home this season and LSU has now won 10 straight in the PMAC with its last loss coming on Feb. 1 against Ole Miss.
With the game tied 23-23 at 5:29 left before halftime, Williams threw down a dunk followed by three foul shots, igniting a 17-3 run to close the half.
The Tigers led the remainder of the game.
North Carolina Central (5-6) scored the first seven points in the second half to trim LSU's lead to 40-33, and Justin Wright's 3-pointer brought the Eagles within 49-45 with 11:07 left in the game but they couldn't get any closer.
Cam Hayes, who started for the first time this season along with Williams, Fountain, Justice Hill and Adam Miller, added 14 points for LSU.
"It's always good to celebrate winning," LSU coach Matt McMahon said. "I'm proud of our players finding a way to get a win today. I thought we had stretches where we played very well but were still continuing to search for consistency like every team in America.
"I thought we had some tremendous individual efforts," McMahon added. "The front court with KJ (Williams) and Derek (Fountain) in the first half; I believe they were 29 points and 14 rebounds (and) were great. And then, Cam Hayes just continues to play at a high level. Overall, we want to win the game – that's the ultimate goal, to go 1-0. But also searching for improvement."
LSU plays host to Winthrop on Saturday at 6 p.m.
Wright scored 14 points to lead UNCC while Brendan Medley-Bacon and reserve Devin Butts each added 10 points.
"A tough loss," UNCC coach LaVelle Moton said. "We thought we game-planned well. I think we let the lead get away from us in the first half at the four-minute mark. We did not close the half like we would like to. (LSU's) Front court really dominated in the first half. (LSU's KJ Williams and Derek Fountain) They are great players, so they do not need any additional help. We had some defensive breakdowns at that end of the floor that allowed them to get going.
"I thought we did a great job defending their guards, Cam Hayes came in and made some huge shots," Moton added. "We were only two-for-eight from the free-throw line, I thought that was the difference. We allowed them to shoot only 41 percent, which is great, but they made up and supplemented that point differential from the free-throw line. They shot 18 free throws and that's always tough. We have got to do a better job of finishing and getting better on the defensive end of the floor."
LSU and UNCC have played only one other time – in 2016, and the Tigers beat the Eagles, 70-66, also in the PMAC.