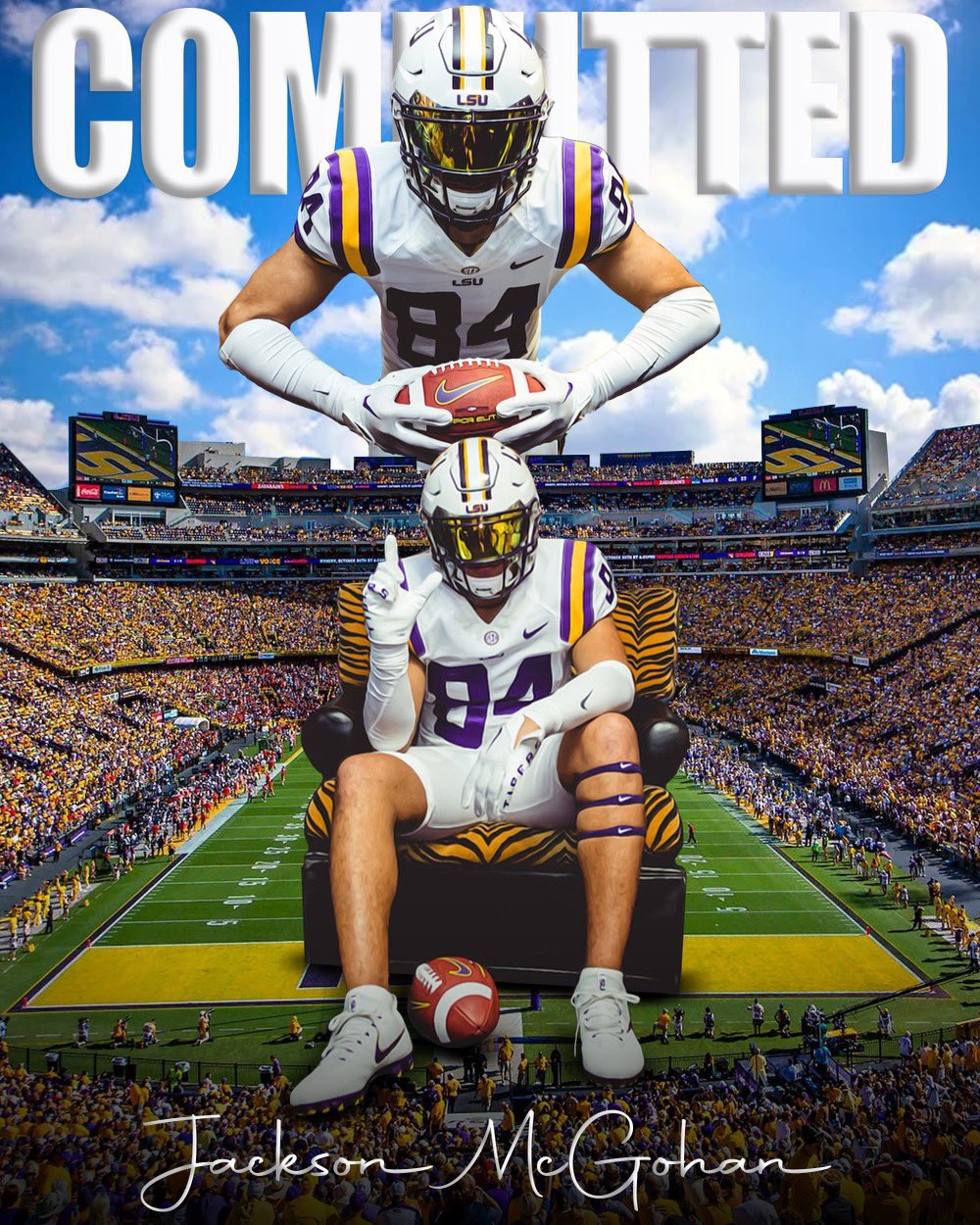 LSU struck gold the last time it went looking for a future tight end in Ohio.
So, with offensive coordinator Mike Denbrock, a former assistant at the University of Cincinnati, leading the way, the Tigers were able to pick up a commitment Tuesday from Class of 2023 three-star tight end Jackson McGohan of Miamisburg, Ohio.
"Relationships, people," McGohan told On3 of why he picked LSU. "I loved Baton Rouge. It was really fun. The people (stood out most). My whole time down there I didn't encounter a single unkind person. It was a really good experience, especially coming from the Midwest."
The 6-foot-5, 220-pound McGohan recently took an official visit to LSU on Dec. 10. He became available earlier this month when he decommitted after coach Luke Fickell left Cincinnati to become head coach at Wisconsin.
McGohan gives LSU its 24th overall commitment and second pledge from a tight end that will join four-star prospect Mac Markway of St. Louis, Missouri. He plans to sign with the Tigers during the early signing period which begins Dec. 21 and selected LSU over scholarship offers from Miami, Oklahoma, Auburn and Iowa.
The Tigers also ventured into Ohio to secure a commitment in their Class of 2024 with a pledge from Tayvion Galloway of Chillicothe, Ohio.
"It's always been awesome. He's a really good guy, he knows what he's doing," McGohan said of Denbrock. "I definitely trust him, and he trusts me. They told me that since I'm more of a receiving tight end, the offense could definitely expand a lot. I'll be playing the 'Y' spot, making plays for them."
McGohan was named to the All-Southwest Ohio team for the second straight season and was a first team member of the Greater Western Ohio Conference team. He's listed as a hybrid because of his ability to play the traditional tight end position attached to the offensive line or split out in the slot or out wide.
McGohan led the GWOC with 52 catches for 941 yards (18.1 yards per catch) with 11 touchdowns with a high of 11 receptions for 102 yards and two TDs against Springboro in the season finale. He's the nation's No. 26 tight end according to 247Sports and No. 15 overall prospect in Ohio by On3Sports.
McGohan caught 47 passes for 699 yards and 10 touchdowns in 2021.