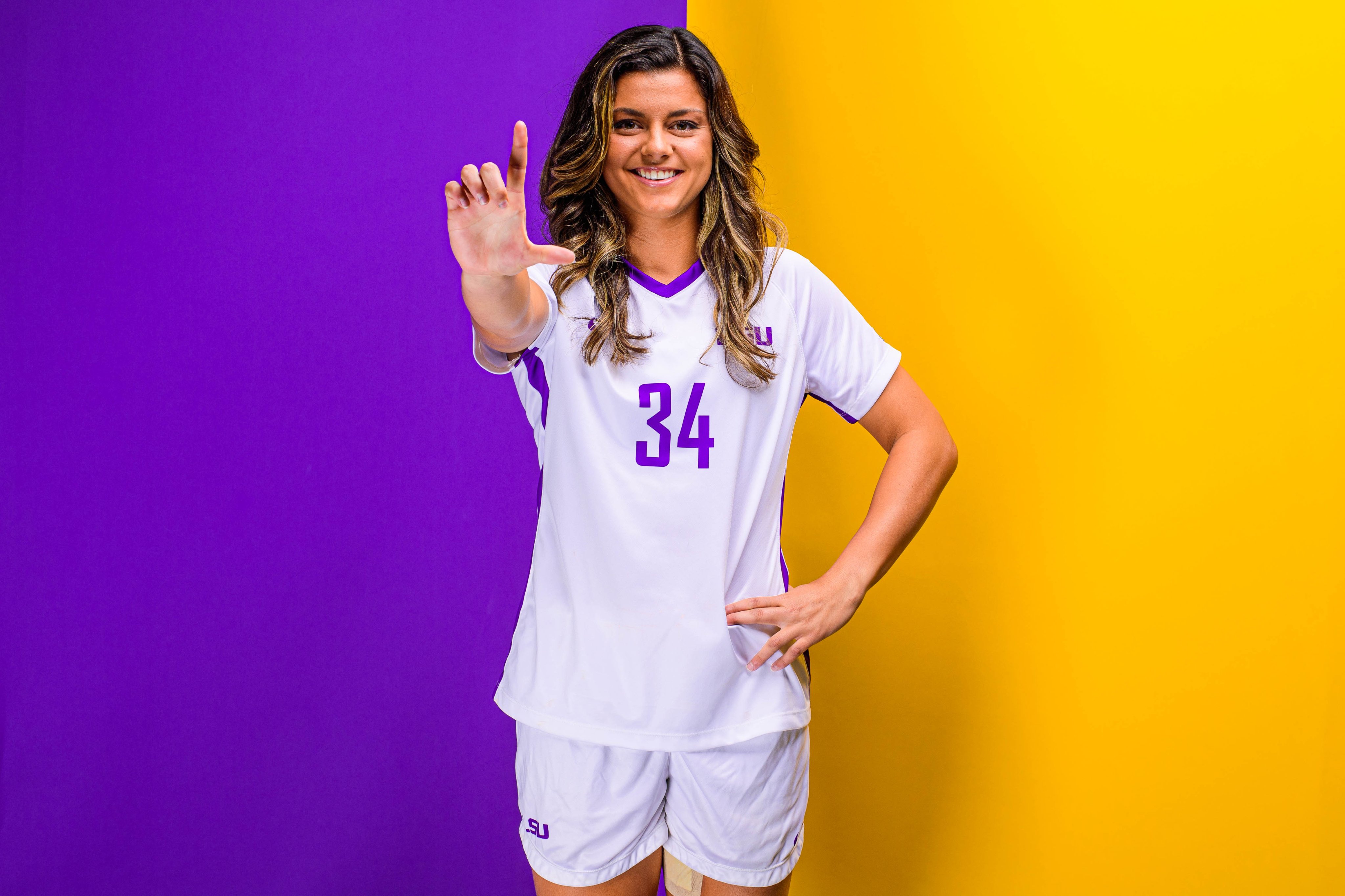 Molly Thompson could sense the angst in her father's voice.
Claude Thompson has called Houma his home his entire life, meaning he's experienced some of the worst fury Mother Nature could dish out, especially during hurricane season which is not always for the faint of heart.
So, with Molly, a senior forward on LSU's nationally ranked soccer team, headed to Florida for the start of a five-game road swing, her full attention was on her hometown which was squarely in the crosshairs of Hurricane Ida which made landfall as a Category 4 storm Aug. 29 at Port Fourchon or 60 miles southeast of Houma.
She recalled imploring her parents – Claude and Amy – to evacuate ahead of Hurricane Ida as had been customary in previous years when the family packed up for Texas to stay with with family.
"I was really worried with this being a Category 4 and my parents decided they weren't going to evacuate," Molly Thompson said. "It was really nerve wracking. My dad told me he was scared for our city, our homes. That scared me. He's usually never one to worry about that."
With an opening win over South Florida to its credit, LSU drove to Orlando to complete its two-game swing through Florida with an afternoon match Aug. 29 against Central Florida which provided its own share of adversity before the match even started.
LSU's team's bus broke down trying to leave its hotel for the UCF soccer field, forcing a combination of Uber/Lift drivers and LSU soccer parents to successfully transport an entire team and its equipment to the match.
The upset in the team's routine wasn't exactly what Thompson needed. Already distracted by the projected path of Hurricane Ida, she also had trouble getting in touch in advance of the match.
LSU went out and scored first and added a goal from Thompson to secure a 2-0 victory, the Tigers' second straight over a ranked opponent.
Because of deteriorating conditions in the Gulf Coast region of the state, Thompson's parents lost power around the time of their daughter's goal, but because of generator power, were able to review it later on social media.
Thompson tried celebrating her team's fifth-straight win to start the 2021 season but deep down the concern grew for her parent's safety and her hometown in Terrebonne Parish.
"That was a chaotic moment before that game," Thompson said. "I wondered why my parents didn't evacuate with a Category 4 hurricane coming. There was a chance they could be seriously harmed. They had a generator, food and water. I had to trust their judgment.
"I used that (Hurricane Ida) to almost drive me to want to beat UCF, do it for my state and for Houma," Thompson said. "My parents were telling me not to worry about them and just focus on my game. I shifted my focus from worrying about them to fighting for them."
With Ida's nighttime arrival in Louisiana on Sept. 29, LSU's soccer team avoided any impact Hurricane Ida may bring with it and flew directly from Orlando to Phoenix for their next two matches with Arizona and Arizona State.
During that time Ida made landfall along Louisiana's coast at 150 miles per hour and made its way into Terrebonne Parish, still as a Category 4 storm, and caused immense damage.
"This is the worse Houma has had," was the description Thompson's father portrayed to her in one of their first conversations in the storm's aftermath.
Nearly 1,500 miles away with her hometown turned upside down by one of the most powerful storms ever recorded in Louisiana history, Thompson found additional purpose in soccer, an opportunity to carry the banner for a devasted region to provide a ray of hope during dark times.
LSU stacked two more wins over Arizona and Arizona State, the latter another ranked team, when after 12 days the team returned to Louisiana with Thompson's first order of business being a trip to Houma to survey the damage.
It was unlike anything Thompson ever witnessed.
Thompson's home with its three-car garage, long walkway from the house to the mailbox, and nearby streetlight had survived the worst. Debris cluttered the yard, and a few shingles were missing off the roof.
"I saw the power lines down, so much devastation around," she said. "Just being there with my family. They were roughing it for a while. That was kind of hard to take in. Just growing up down that street and really never seeing that was a lot to take in."
Thompson realized how fortunate her family fared, especially after one trip around her neighborhood and seeing the home of former LSU teammate Hannan Cuneo and the damage it sustained. She also saw photos of Houma's downtown area that were devastating.
In the wake of Ida's destruction many heroes jumped into action to bring comfort to those in despair.
Two such people have been Thompson's parents.
Her parents have made monetary donations to local relief efforts. They also help deliver gas to people whose cars were on empty or to those with generators that had run out of fuel. Her mother helped prepare lunches for relief workers.
Thompson followed suit, either making monetary donations or supplies to assist the efforts of such groups as the Cajun Navy or Second Harvest Food Bank. When time permits, she plans a return trip to continue providing an assist to a place that means so much to her.
Thompson's Labor Day trip, while quite unsettling, was also therapeutic. It was the first time since the storm she was able to see her parents where they all shared a warm embrace. She was also able to check on the status of her grandparents and other family members who had evacuated.
The visit wasn't nearly long enough but provided a sense of comfort Thompson took back to Baton Rouge where she resumed her normal routine of going to school and soccer practice.
LSU would finish its season-long five-game road trip Sept. 9 at UL-Lafayette.
Through the first three years of her career Thompson had proven to be a capable offensive threat with 11 goals going into her final season, but nothing that approached the level of success in the Tigers' 5-0 win over the Ragin' Cajuns.
Only once had Thompson scored more than one goal in a game with a brace in last spring's 3-0 victory over Southern Miss. Thompson reached that total in 25 minutes into the first half with a pair of goals – including a header on a terrific long cross from Rammie Noel – and in the 50th minute added another goal for her first career hat trick on an assist from Tinaya Alexander.
Not only did Thompson's career milestone help fuel her team's victory, but it came with her parents enjoying a respite from relief efforts in Houma and watching from the stands.
They couldn't have been prouder of their daughter and her teammates, while their daughter couldn't have been more ecstatic to deliver such a moment for her parents and entire bayou region.
Afterward, they celebrated with a family embrace.
"It meant the world to have my parents there," Thompson said. "They've always supported me through everything that I've done. It was nice to almost give them a break from helping out with relief efforts, to distract them. It was nice to see smiles on their faces and nice to be with them."