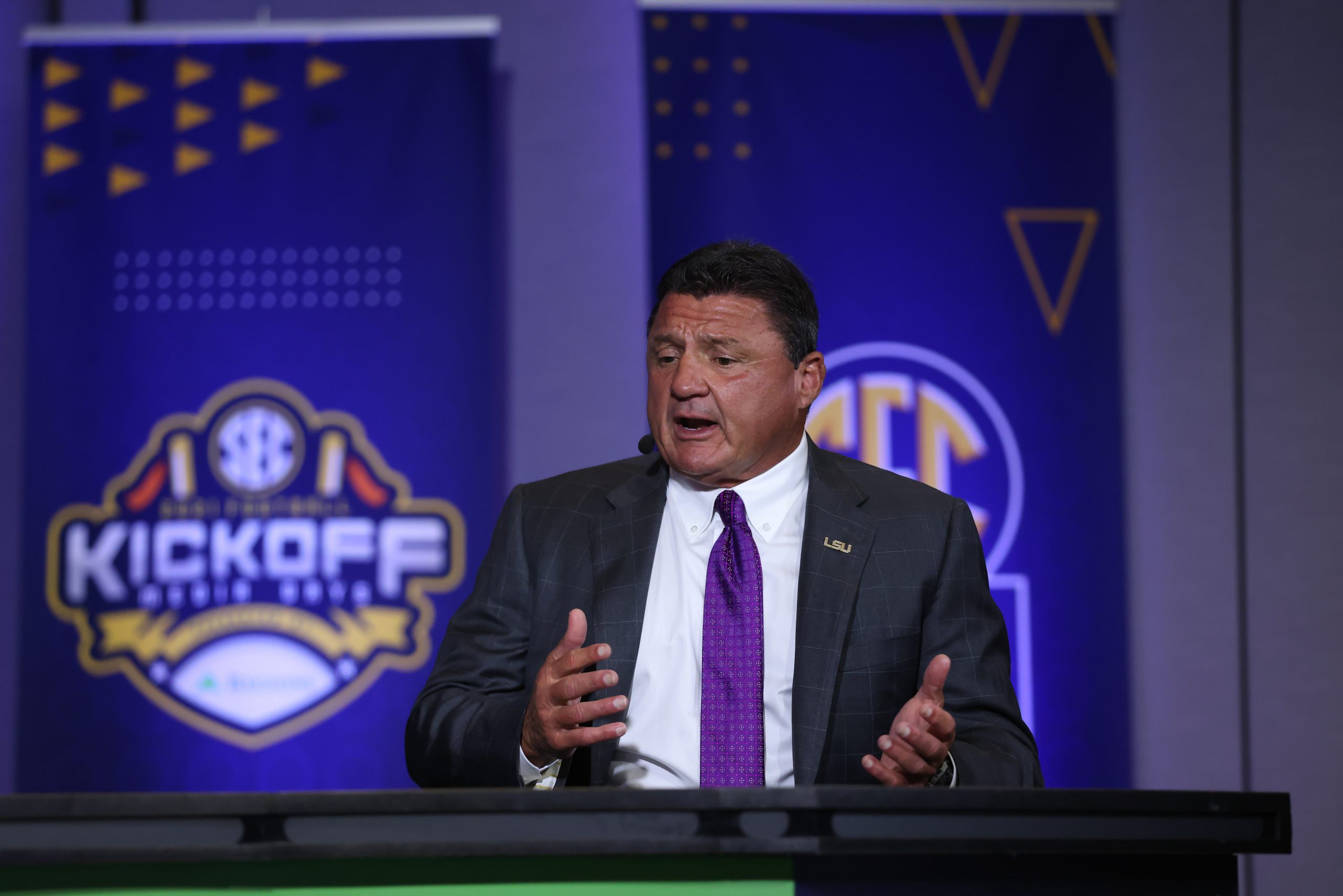 The possibility of LSU's offensive line returning to full strength moved a step forward when Tigers head football coach Ed Orgeron said left tackle Cameron Wire was able to practice for the first time without wearing a no contact (gold) jersey.
"I think he's going to play," Orgeron said after Thursday's practice. "He had been in a gold jersey most of the week but today that jersey was off. I think that he can play. We haven't made a decision yet, but I think you're definitely going to see him play."
LSU's offensive line, which experienced several injuries during the preseason fall camp, has missed three starters at different times this season going into Saturday's home Southeastern Conference game against Western Division rival Auburn at 8 p.m. in Tiger Stadium.
Wire, who started in the team's season-opening loss at UCLA, hasn't played since, opening the door for a trio of players – Marlon Martinez, Xavier Hill and Garrett Dellinger – to start in his place.
Right guard Chasen Hines, who didn't start in the first two games of the season, has started the past two weeks, while right tackle Austin Deculus has started in three of four games when he missed the Tigers' matchup with McNeese State.
Charles Turner, who started in place of Hines against McNeese, has also been cleared to play and can fulfill a variety of roles.
Seniors Liam Shanahan at center and Ed Ingram at left guard have been the only two constants in LSU's starting lineup this season.
Here's what else Orgeron had to say
Opening statement
"It was a very a challenging week to get ready for a big-time game. A physical opponent with physical running backs, the physical style they run. They're very sharp in the run game and our guys have worked very hard on that. Our offensive line has worked very hard on protecting the quarterback, coming off the football and getting the run game better. Special teams, as know over the years, it's come down to a big special teams play here or there to win the game. It's been a very challenging week, but our guys have worked very hard. Our coaches have worked very hard. We still have some work to do. But 8 p.m. central standard time we'll be ready to play. We look forward to playing. We look forward to a great crowd."
On the play of your secondary
"I'm really pleased with the play of Dwight (McGlothern). The guy's answered the bell. He's come back from an injury that most guys might have been out for at least another month. He worked very hard and came back and played very well and made very few mistakes. I'm really pleased obviously with Cordale (Flott) and having Jay Ward back is really helping us out. I think those guys have played really well. You have a guy like Elias Ricks who hasn't played his best game yet. He's got some improvement to make. We're going to have to tackle and we're going to have to cover those guys man to man. We'll be singled up on the receivers and we have to cover them. We're going to have to pass rush. The object of the game is stop the run and tackle."
On the status of Derek Stingley Jr.
"I don't think there's any way he plays."
On the preparation to play a physical-style team
"The running backs run very low. We assimilated their running style all week, practiced tackling. We practiced our runs fits to the style of running where those plays are going to hit, wrapping up, gang tackling. One thing we've improved on is our tackling and we're going to get tested this week."
On the evaluation of Maason Smith's first start at defensive end
"If he would have been a five tech(nique) he would have been great. What happened is he had to play a four technique which he never played. He played OK, so did Ali Gaye, but there were put in bad positions. That wasn't their forte. You're going to see him at end playing a regular end and regular technique and I think you'll see them play better."
On Jay Ward's impact
"He gives everybody confidence. He's a playmaker, he seems to be at the right place at the right time. He has a great knack for getting to the ball and is a good tackler. He's good in coverage. He's really a cornerback playing safety, so obviously a cornerback can cover very well. If you're a safety, you can tackle very well. He can do both. He's a tough player, a really great young man. It just gives us a lot of confidence he's going to be at the right spot at the right time and he's an open field tackler."
On the progress of linebacker Mike Jones Jr.
"Mike has been in every rotation this week. There are some situations where I think he can really help us and there are some positions we can play him at, and he can do very well. He's making tremendous progress, especially about taking on blocks and playing the run inside the box."
On the possibility of the running game taking off this week
"I'll be able to answer that Saturday night. You just never can tell until you get tested. There's some new techniques we tried up front to be more aggressive in our blocking schemes. There's some different plays we think our guys can do a very good job."
On whether running backs coach Kevin Faulk will rejoin the team Saturday
"I don't think so. I told him this is about your family. I'm sure they're still grieving, it's very hard. I told him to take care of his family. They're first. Take the time to take care of your family."
On what you've seen from Auburn defensive coordinator Derek Mason
"You can see that he's very multiple. He can switch his fronts from a 4-3 to a 3-4, play man, play zone and blitz. Derek was basically a 4-3 guy and attacking protections. He's got some talent, he's got some talented corners, he's got some speed, he's got some great linebackers. When you look at Auburn it's their front. Averaging giving up 99 yards a game. They're very good at getting to the football. They play a four-man front, those guys get a lot of tackles for loss, a lot of sacks. They're very active. Their cornerbacks play off, their safeties are very involved. It's a regular 4-2-5 defense, a 4-3 defense and blitz when they have to."
On the impact turnovers have had in your last two games
"We sell winning the turnover battle. Since we started that we're 31-4 when we won the turnover battle, so we've sold that stat to the team. It helped us jump-start our game last week. We say big plays fuel emotion, so causing turnovers is a big part of our game."