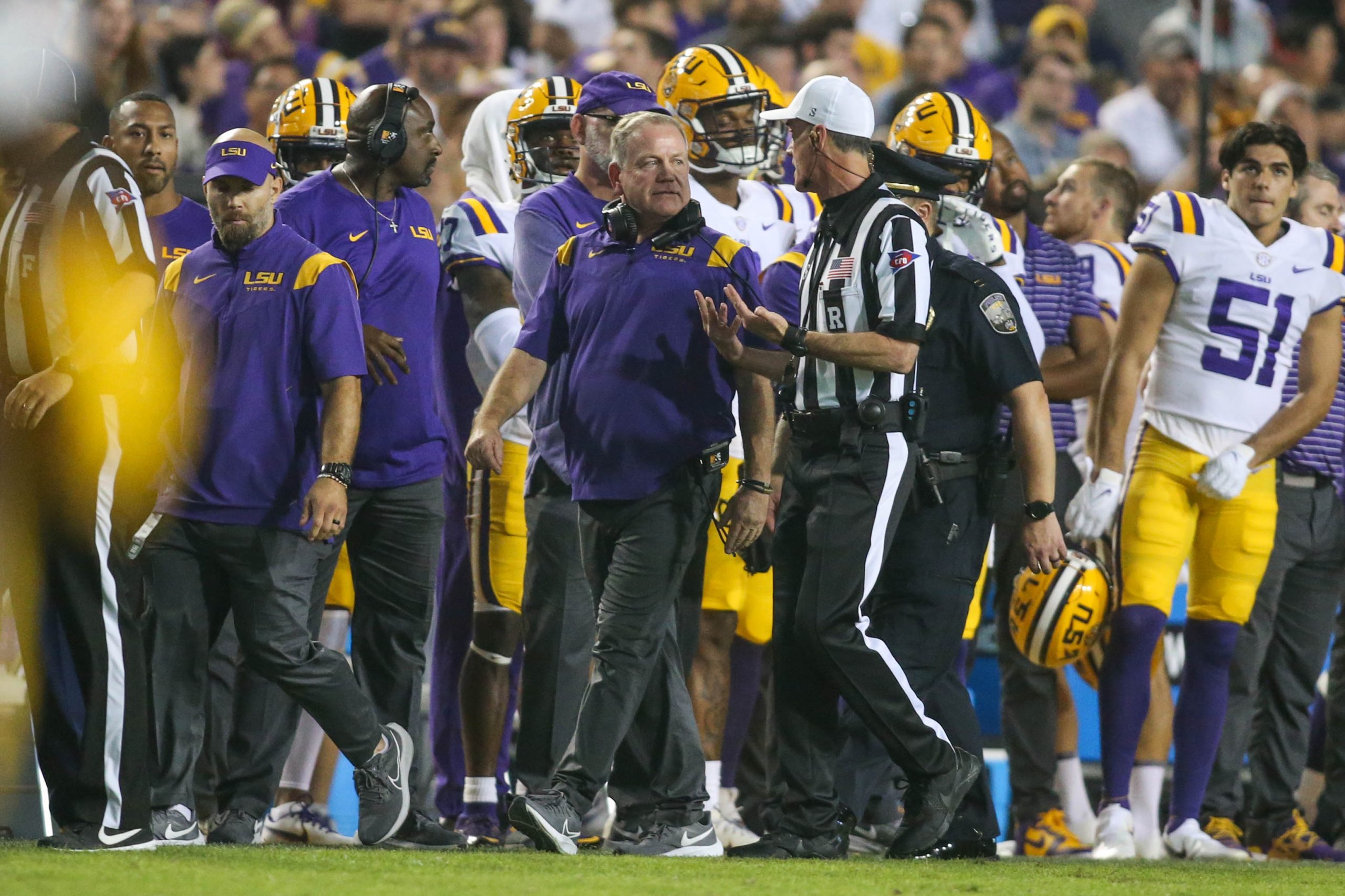 There was plenty of ground for Brian Kelly to cover in his first year at LSU. He found more than a badly depleted roster of 39 scholarship players waiting. There was also the fragile state of a program in dire need of direction and guidance to get back to relevancy.
The fall from the high-rent district of college football for LSU was immense and sudden. Two years before Kelly's arrival, the Tigers were the toast of the nation, a 15-0 team that's been voraciously discussed as one of the best teams ever.
If LSU's team in 2019 was the best, complete with Heisman Trophy-winning quarterback Joe Burrow, then what awaited Kelly upon his arrival in December of 2021 with a $100 million contract was the anthesis of that.
Before he could bring victories and national rankings Kelly had to instill discipline and a systematic plan for accountability, both in the classroom and the culture in the locker room.

The more buttoned-up, CEO approach of Kelly proved successful with a 10-4 record, SEC Western Division championship and appearance in the SEC Championship game opposite eventual two-time national champion Georgia. For good measure, the Tigers clobbered Purdue 63-7 in the Citrus Bowl.
"The culture here was opposite of the blueprint," said LSU punter Jay Bramblett, who spent the first three years of his career playing for Kelly at Notre Dame.
Those who cover college football believe LSU's in the midst of developing something special.
But even Kelly, who has been coaching for 33 years, pumped the brakes somewhat on some of the gaudy praise. He welcomes the respect for his players, some of which were around during the final two seasons of tumult under Ed Orgeron, but realizes there's still some ground remaining before his Tigers are truly elite.
"Alabama and Georgia are the benchmark for what we're looking for," Kelly said in July at SEC Media Days. "It's that consistency in performance year in and year out. We did it one time, so we're not in the conversation."
LSU created some relevancy for inclusion in such debates after Kelly's worst-to-first first year debut. The Tigers, who were last the previous year in the SEC West, flipped the script and finished first behind dynamic quarterback Jayden Daniels and freshman highlight-reel Harold Perkins Jr.
Now the Tigers, with 14 starters returning, are held in a different regard. They were the preseason choice to narrowly finish second to Alabama in the SEC West and were the choices behind Georgia and Alabama to win the SEC Championship Game.
LSU's a team that's thrived from the stability of Kelly and a competent coaching staff that nearly returns intact. Eight starters are back on offense with Daniels gaining early traction for Heisman Trophy mention. The offensive line, with four of five starters returning, is a source of strength instead of uncertainty and junior 1,000-yard receiver Malik Nabers and sophomore tight end Mason Taylor are two of Daniels' top targets.
The defensive front will arguably be among college football's best with redshirt sophomore Maason Smith returning from a knee injury and will team with third team junior All-American Mekhi Wingo. Smith will also have to overcome an opening-game suspension handed down by the NCAA against Florida State. Perkins' immense talent has found a home at linebacker and should complement Oregon State transfer Omar Speights and junior Greg Penn III, the team's leading returning tackler.
Bramblett was one of the SEC's top punters in his first season and sophomore placekicker Damien Ramos was the team's leading scorer a year ago. Alabama transfer Aaron Anderson is expected to provide a boost to the Tigers' sagging return games of last season.
LSU's a consensus top 10 team – ranked as high No. 4 in the preseason by Sports Illustrated – opens on Sept. 3 against another preseason top 10 team, Florida State. Because of their maturity in Kelly's second season, the Tigers appear built to deal with a manageable schedule in a season that could be determined by a Nov. 4th trip to Alabama.
"You see how something works over coach Kelly's tenure and the number of games he's won," Bramblett said. "It speaks to what he's done and what we've got going."