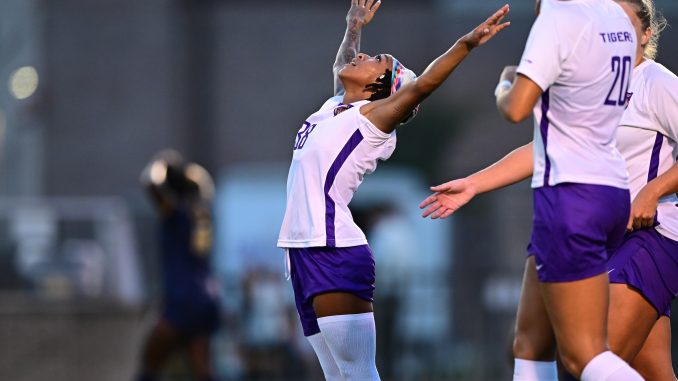 LSU broke open a one-goal halftime lead with four second-half goals for a 5-0 home win Sunday over Southern at LSU's Soccer Stadium.
It was the third straight win for the Tigers (3-1-0) who visit Wisconsin on Thursday.
"We talked about how this was a huge game for Southern, with it being a local derby. They came out and impressed us in the first half," LSU soccer coach Sian Hudson said. "Overall, we had five different goal scorers for us tonight and we kept a clean sheet, which is really important to us. It's been great to see the response since our season opener with three back-to-back wins."
"I'm really looking forward to our road game on Thursday against Wisconsin and seeing if we have another performance like we did last week against Texas."
It was a season-high for LSU in goals and shots on goals (13), while goalkeepers Mollee Swift and Bella Zanotelli combined on the shutout.
Rammie Noel picked up her first goal of the season and seventh of her career on a cross from Ava Galligan that stood for a 1-0 lead at halftime.
"Rammie has been outstanding for us this season, so I was really excited to see her get her name on the scoresheet." Hudson said. 
Swift recorded three saves on four Southern shots.
LSU quickly established control with a goal a couple of minutes into the second half on a set piece that involved Raelyn Prince finding Britney Bertram for her first career goal.
Sage Glover made it 3-0 less than a minute later, using her speed to get past Southern's defense and goalie for a goal.
Jordan Johnson scored again even minutes later with a long range shot into the right corner of the net and Mollie Baker took a pass from Ida Hermannsdottir and scored from the middle of the box with a shot into the right-hand corner of the net.