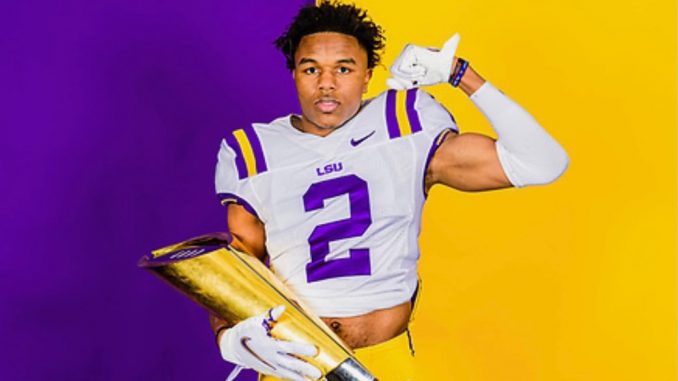 LSU's first-year head football coach Brian Kelly made it known that he planned to be aggressive in expediting the revamping of his roster through the NCAA's transfer portal.
This week alone Kelly's convinced a pair of New Orleans natives playing for the University of Arkansas to come back home and on Friday, secured a second commitment from a player whose collegiate career had blossomed just 58 miles down I-10.
LSU picked up a commitment from UL-Lafayette wide receiver Kyren Lacy, a native of Thibodaux, after the 6-foot-3, 212-pounder made an official visit to Baton Rouge the past two days. He also visited Auburn and garnered scholarship offers from Oklahoma, Ole Miss, Arkansas, Penn State, Baylor and Central Florida.
"It's time to take this up a notch," Lacy posted on his Twitter account. "Why not do it in Da Boot."
LSU also picked up a commitment this week from Lacy's teammate, cornerback Mekhi Garner. The Tigers also gained pledges from Arkansas' Joe Foucha and Greg Brooks Jr. to go along with earlier commitments from offensive lineman Miles Frazier of Florida International and deep snapper Slade Roy of East Carolina.
Schools can sign up to seven players to replace those who entered the transfer portal. Should the Tigers, who lost wide receiver Devonte Lee to the transfer portal on Friday, gain any additional players through the transfer portal, they would count against the school's 25-man signing class which featured 13 signees during the early signing period in December.
"Coach Kelly and (offensive coordinator) coach (Mike) Denbrock really showed me how they play to use me over the field," Lacy told G-Sportz.com. "They made it clear that I was a need and not a want."
Lacy was a key contributor during his two seasons with UL-Lafayette, which finished ranked No. 16 nationally with a 13-1 record and a win in the New Orleans Bowl.
During his time with the Ragin' Cajuns, Lacy caught 50 passes for 864 yards and 18 touchdowns – averaging 13.5 yards per catch. His best season was in 2020 with 28 catches for 364 yards and tied for the team lead with 4 TDs.
Lacy helped Thibodeaux to the Class 5A state playoffs in his senior year with 54 receptions for 864 yards and 18 TDs. He signed with the Ragin' Cajuns over Miami, Virginia, Houston, Southern Mississippi and Louisiana Tech.
He also averaged 20 points and 10 rebounds for Thibodaux's Class 5A state championship basketball team in 2019.
"Coming out of high school I felt like I was a Power 5 (Conference) player," Lacy told G-Sportz.com. "Now I get to showcase my skills on the biggest stage."