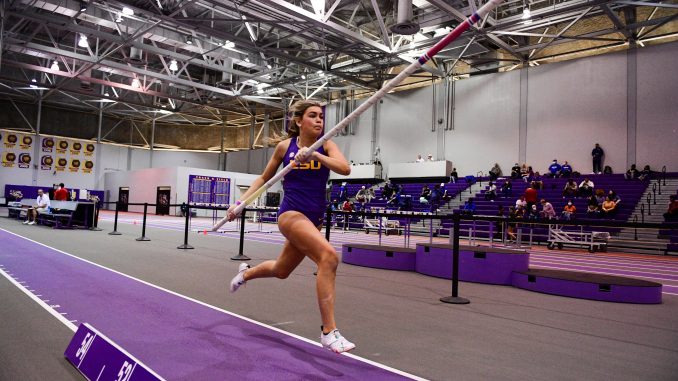 LSU senior Katy-Ann McDonald opened the indoor track season Friday by winning the mile with a time of 4 minutes, 48.70 seconds to open the 2022 indoor season at the Purple Tiger Invitational at the Carl Maddox Fieldhouse.
McDonald, who last ran in the NCAA cross country championships, finished with the school's 10th fastest time in the mile. Her performance was part of a team effort that resulted in eight individual victories for both the LSU men's and women's teams.
Alia Armstrong and Eric Edwards Jr. won titles in the 60-meter hurdles. Armstrong opened up her third season with a winning time of 8.17; teammate Leah Phillips, who clocked a personal best of 8.29 in the prelims, finished in second with a time of 8.41 in the finals. Edwards Jr. ran times of 7.81 (prelims) and 7.78 (finals) on the men's side for his win.
Adam Wise led a group of distance runners that captured the top nine spots in the men's mile; Wise won with a time of 4:19.34 and was followed by teammates Thomas Daigle (4:22.60) and Garrett Hamilton (4:22.91), who finished second and third with personal bests by each.
LSU had three women win field events from Morgan Smalls (long jump) and Johanna Duplantis (pole vault), and Nyagoa Bayak registered the first win of her collegiate career in the high jump. Smalls, a transfer from USC, opened her LSU account with a leap of 20-7 to win the event; Serena Bolden (19-4.25) and Kyndal McKnight (18-9.75) both collected personal bests in the event as they finished in second and third.
Bayak, a 2021 indoor All-American, won the high jump with a clearance of 5-11.25, and teammate Abigail O'Donoghue finished second (5' 9.75). Duplantis, the fourth member of her family to compete solely in the pole vault for LSU, won her collegiate debut with a clearance of 11-11.75.
Former LSU sprinter Aleia Hobbs broke her previous meet record of 7.13 seconds with a blistering time of 7.10 seconds to win the 60-meter dash. Fellow LSU sprinter Mikiah Brisco finished in second (7.17).
LSU sprinter Favour Ofili took the top collegiate spot and finished fourth overall with a personal best (7.25) in her first 60-meter dash race.