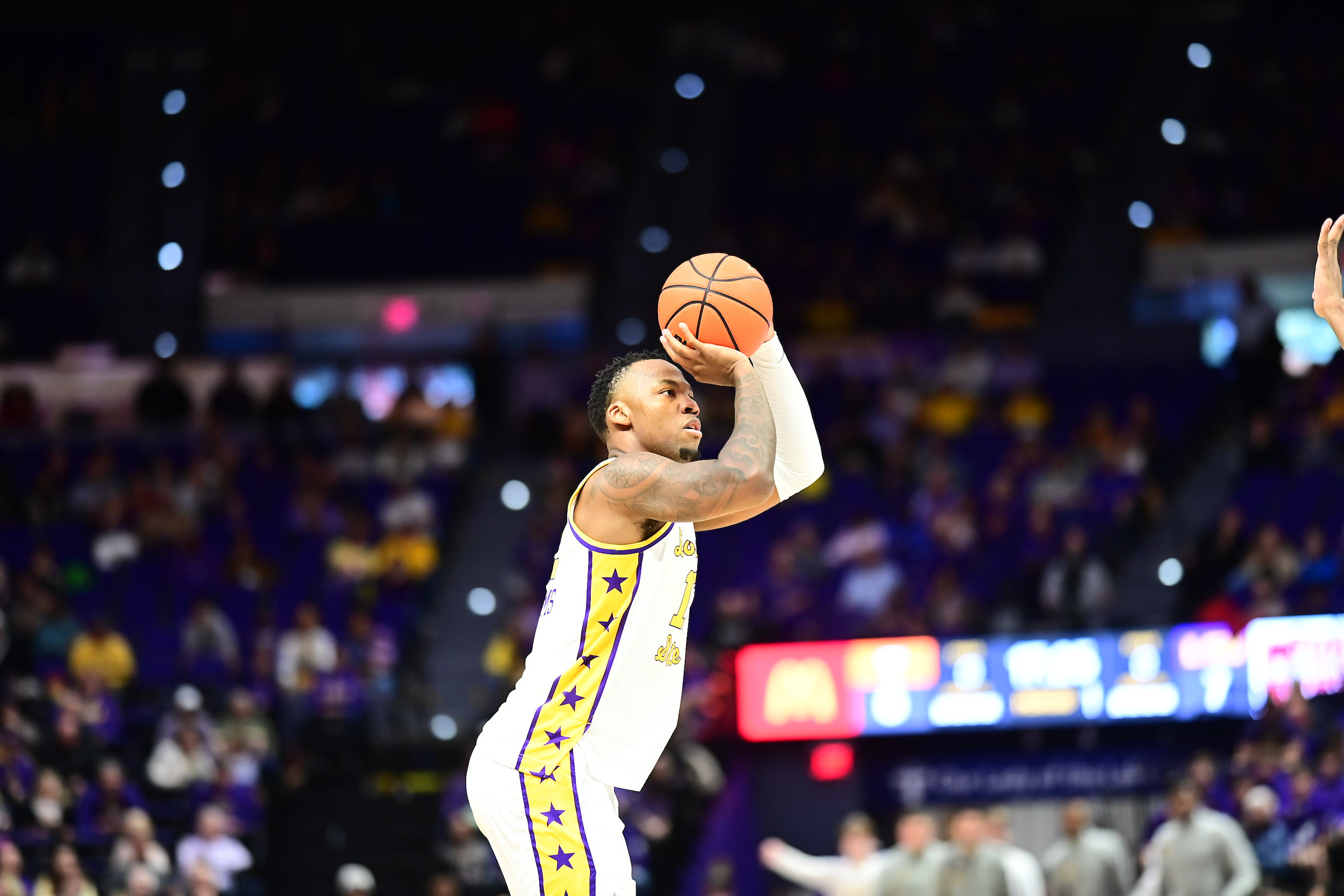 Ninth-ranked Tennessee was hot, LSU was not.
Tennessee hit 12 3-point shots on 32 attempts from beyond the arc and converted 19 turnovers into 33 points, and the No. 9 Volunteers beat LSU, 77-56, on Saturday in the Pete Maravich Assembly Center, the sixth consecutive loss in a row for the Tigers.
LSU made only 4 of 16 3-point attempts and scored seven points off eight Tennessee turnovers. The six consecutive Southeastern Conference losses are the most since losing 14 straight in 2017.
It was also Tennessee's first win against LSU in Baton Rouge since 2015.
LSU's last five losses have all been by double digits. It has been 56 seasons since the Tigers lost five consecutive conference games by double digits.
"Credit to Tennessee, there's a reason they are a top five team in the country," LSU coach Matt McMahon said. "I think, from our standpoint, when you have an opportunity in a game like this you have to find some way eliminate a lot of mistakes.
"You don't see numbers like that often where you turn it over and it leads to so many points," McMahon said. "When you are playing a top five team, they make you pay for every mistake, every single mistake and that's what they did today. Both from points off turnovers, missing a switch, you miss a coverage on a flair screen, and they make you pay every time. So, credit to them."
LSU honored legendary coach Dale Brown and his 1979 Southeastern Conference Championship team. The Tigers celebrated by wearing throwback "Louisiana State" uniforms from that season decorated with stars on the jerseys and shorts.
Brown and several members of the 1979 team were honored at halftime.
But LSU did not have much to celebrate before and after halftime.
Josiah-Jordan James scored a season-high 22 points to lead Tennessee. The Volunteers started slow but consistently outplayed LSU after taking their first lead a little more than two minutes into the game.
James, who missed eight games in November and December due to injury, made his second straight start for the Volunteers (16-3, 6-1 SEC). James had 13 points in 34 minutes against Mississippi State on Tuesday.
Tennessee point guard Zakai Zeigler scored 12 points and had 10 assists. Julian Phillips and Tyreke Key each had 10 points.
KJ Williams led LSU (12-7, 1-6) with 16 points, surpassing 2,000 points in his career early in the second half. Trae Hannibal added 10 points.
Williams, the second-leading scorer in the SEC currently, transferred to LSU from Murray State where he played for McMahon for four seasons.
McMahon said he was proud of Williams for achieving a rare feat in college basketball.
"It's a great credit to him for his work ethic and commitment. He is an elite teammate who just wants to help his team get better," McMahon said. "He wants to help his team find ways to win. I know he's had the bonus year here (LSU), but not many players in their college career go over 2,000 points. It's an even smaller fraternity of players who go over 2,000 points and 1,000 rebounds. Obviously very proud of him and the work he has put in over these four and a half seasons."
Tennessee, which had lost six of its last eight games against LSU, had two runs in the first half to build a 39-22 halftime lead and put the game away.
LSU turnovers fueled both first half runs for the Volunteers.
LSU jumped out to 7-6 lead in the first two minutes, but then went cold and did not score for nine minutes. Zeigler hit two field goals during the LSU's drought – a 3-pointer – to help put Tennessee up, 16-9.
Hannibal hit a driving left-handed layup to pull LSU to within four points, 19-15, with 7:13 to play in the half.
But LSU only scored two more field goals the rest of the half, meanwhile Tennessee heated up from outside.
Key made two 3-pointers while Phillips, a one-time LSU commitment, added a 3-pointer and a pair of free throws to start a 20-7 run to close the half.
LSU never pulled closer than 15 points to Tennessee in the second half.
"We actually came out, executed well offensively (at the start of the game)," McMahon said. "We got some high-quality looks, took care of the basketball, Justice Williams knocks down a three. We got the ball inside to KJ on our first action, there was a good action, a great screen from Ace (Adam Miller).

"But then the turnovers started in that next segment – from the 16-minute to about the 12-minute mark and that media timeout. We had four (costly turnovers) in that four-minute segment, and that's when they were able to start to extend the lead," McMahon said.
LSU's last win came on Dec. 28 against Arkansas when the Razorbacks were ranked No. 9. In that contest, LSU only turned the ball over four times in a 60-57 upset.
McMahon is planning to show his team the tape of that game several times, he said, between now and Tuesday night at 6 p.m. when No. 25 Arkansas hosts LSU in the rematch.
"We're being tested and we will find out what we are about as we start preparation for the next opportunity on Tuesday," he said.

LSU's biggest issue during the losing streak is primarily mental, Hannibal said.
"Really, we have to find ways to come together as a team. In spurts throughout the game, we lose ourselves mentally," Hannibal said. "Staying together through everything and learning that this is part of the process.
"It's not going to be easy," Hannibal said. "Non-conference, it was what it was, but now we're here. We can't look back and dwell on anything. We just have to prepare for Arkansas at this point and put it behind us."