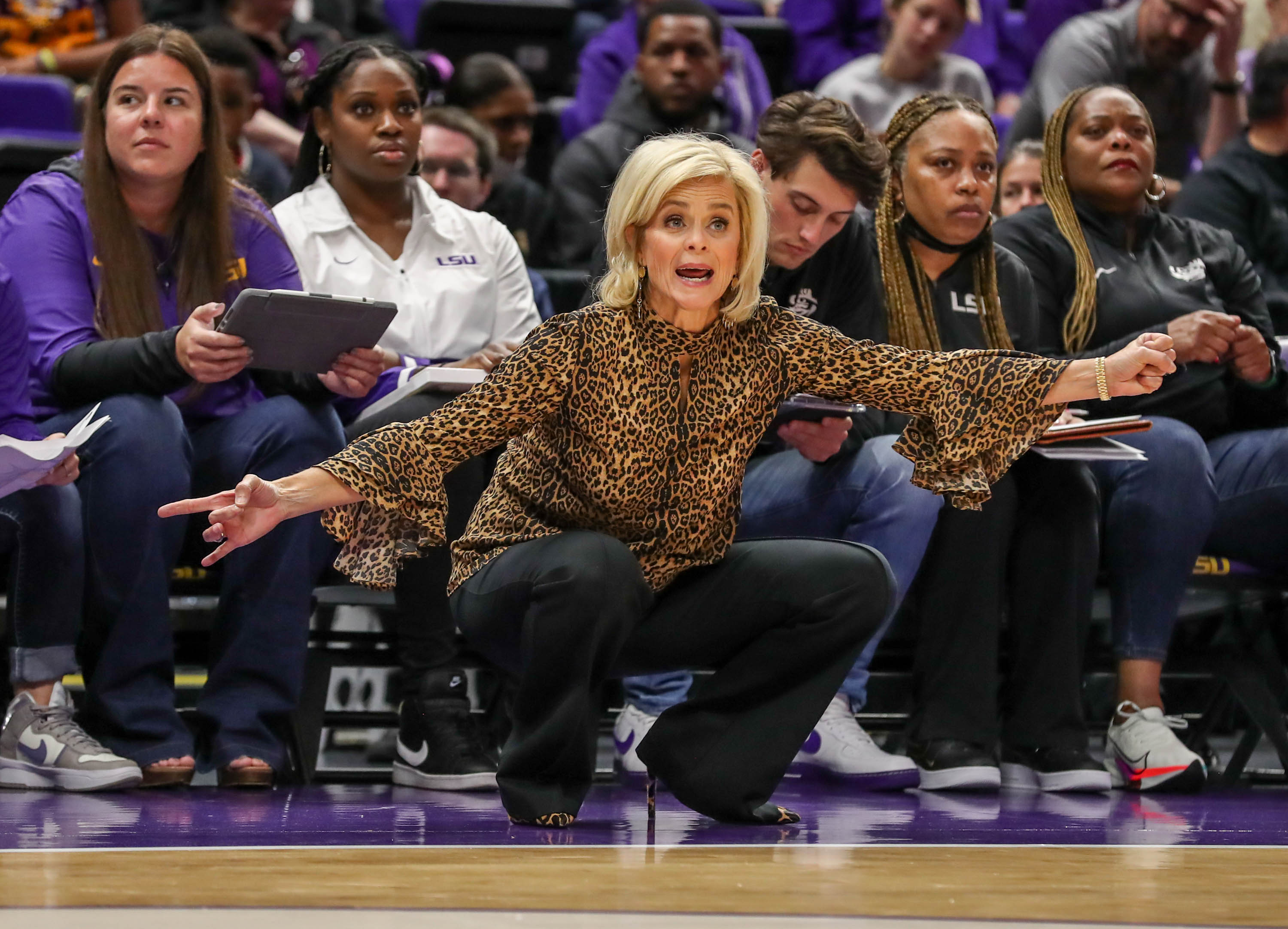 The template for Kim Mulkey took five years to produce her first of three national
championships at Baylor.

The Bears, who had never tasted such success, made two straight NCAA Tournaments which included a first-round win in her second year. There was a step back, albeit a trip to the WNIT Finals, before the program displayed additional growth with its first Sweet 16 appearance and finally striking gold at the end of the 2005 season.

Baylor went 33-3 in Mulkey's fifth season in Waco, a journey that coincided with a national semifinal 68-57 win over a red-hot LSU team in Indianapolis before defeating Michigan State, 84-62, to win its first national championship.

Outfitted in a baby blue pant suit that seemed like a subtle dig at her alma mater Louisiana Tech for not hiring her five years before as head coach, Mulkey enjoyed her moment as the buzzer at the RCA Dome sounded. She proudly displayed her first national championship as a head coach, a familiar setting for the former standout point guard at both Hammond High and later Louisiana Tech.

She guided Baylor to two more national championships in 2012 and 2019, giving her a total of six national titles, including the two she won as the feisty point guard at Louisiana Tech and one as an assistant with the juggernaut Lady Techsters' program.

LSU didn't come to close to reaching such a stratosphere in her first season, but Mulkey's first season produced hope. It left everyone wanting more.

After 21 years of building her own program where she won 632 games and three national crowns, Mulkey left her posh stature in Waco, Texas for the rare opportunity in the second half of her coaching career to return to her native Louisiana, where a basketball program and athletic department were hurting.

The story goes that the conversation last April between LSU athletic director Scott Woodward and Mulkey wasn't long but contained some powerful words that struck a chord with the Tickfaw native. Not only could she return to her native roots to shine a positive light for a university in the midst of a Title IX calamity but also breathe life into a moribund program.

"I wanted to be a positive for LSU," Mulkey said after her team's 79-64 loss to Ohio State in the second round of the NCAA Tournament on March 21. "I wanted to be a positive for the state of Louisiana. And that's why it's so enjoyable. There is just something in your heart and gut that tells you in your career this is where you need to be."

It had been 14 years since Mulkey had a record such as 26-6 but there was a big difference between her eighth season at Baylor when the Bears were 26-8 and lost in the second round of the NCAA Tournament and her first season at LSU where she was almost hailed as a miracle worker.

Most of the milestones the Tigers obtained were more than a decade old and attendance went beyond the wildest imagination as an average of 7,167 fans – the second highest ever – showed up to fill seats that hadn't been sat in for a while.

LSU was a must-see program again and graduate players that decided to hang around for another year such as Khayla Pointer, Faustine Aifuwa and Jailin Cherry were the benefactors. They provided Mulkey with a foundation that grew throughout the season where the Tigers, just 9-13 the previous season, grew by leaps and bounds.

Mulkey had her fingerprints on the physical changes, imploring her team to play aggressive man-to-man defense and be demons on the offensive and defensive glass. They weren't the most gifted offensive team, but she found a formula of unselfishness play coupled with energy and confidence, which produced wins.

The latter became obvious during the season when the talent lines separating LSU from the opposition was marginal at best. But with Mulkey and her coaching staff pulling the strings, the Tigers won the close battles and were 12-2 in games decided by 10 points or less. They were 8-9 the year before.

LSU won six games against ranked opponents and vaulted into the national rankings before conference play. Despite a preseason prediction of finishing eighth in the Southeastern Conference, the Tigers were only second to eventual national champion South Carolina.
Consistency was a byword for LSU, which never lost more than two games at any time during the season. That covered time playing without starters Alexis Morris and Autumn Newby, who suffered injuries. They were an even-keeled team that, when all else failed, they played from the heart.

That's where Mulkey comes in. The 59-year-old didn't win the SEC Coach of the Year. That award when to USC's Dawn Staley. But she later claimed her third AP National Coach of the Year honors – her 10th overall national plaudit – for what the AP award's moderator termed, 'one of the more impressive turnarounds in all of college basketball.
Arguably it was the best job she's ever done